Travelling in a campervan is one of the best travel experiences there is. But it's not always perfect and at times, you may be wondering why you left home comforts! Once you have everything sorted these thoughts should (hopefully) disappear. This post is written to enable you to have the best possible campervan trip you can in the land of the long white cloud (aka New Zealand) no matter how long you are on the road. Written below is everything I could think of including in a campervan packing list based on personal experience and advice from expert van lifers. If I have done my job right by the end of this post you should be well equipped for an epic adventure in New Zealand.
If you want to save time and grab a downloadable, beautiful (and printable) campervan packing list please fill in the form below, check your inbox and grab your helpful checklist!
[convertkit form=1143969]
HANG ON!
Are you still in the construction phase? Completing a DIY van build? I have written a post all about the process here in New Zealand! Pop on over to my article: How to get your van self contained in New Zealand.
Keep in mind this post contains affiliate links. If you purchase anything through them, I will get a small referral fee and you will be supporting me and my blog at no extra cost to you, so thank you! 
---
Alright, let us continue the conversation about your best campervan packing list!
Campervan Packing List: Kitchen items
Sink with a hand pump– If you're still in the construction phase and can build a sink in your van I highly recommend it! Pop on over to my post article specifically about the best, cheap and easiest sink conversion options.
Cooking stove- There are many different options to choose from. Lots of rental companies have portable stoves with gas canisters that easily fold away. I like the Gasmate 2 burner camping stove because it is easy to use and folds away nicely in the little nook I created for it in my van. There are endless options so just pick one that you think will suit your set up!
Gas-There are all sorts of gas bottles/canisters to choose from. When hiking I like to get the tiny circle ones, whereas my campervan cooker is a mini gas bottle like the one you see on BBQs! The gas you get will depend on the type of cooker you chose. Just ensure you have this on board!
Chilly bin– Icebox, beer fridge- whatever you call it the purpose of this box is to keep your items cold! I absolutely love my Dometic icebox.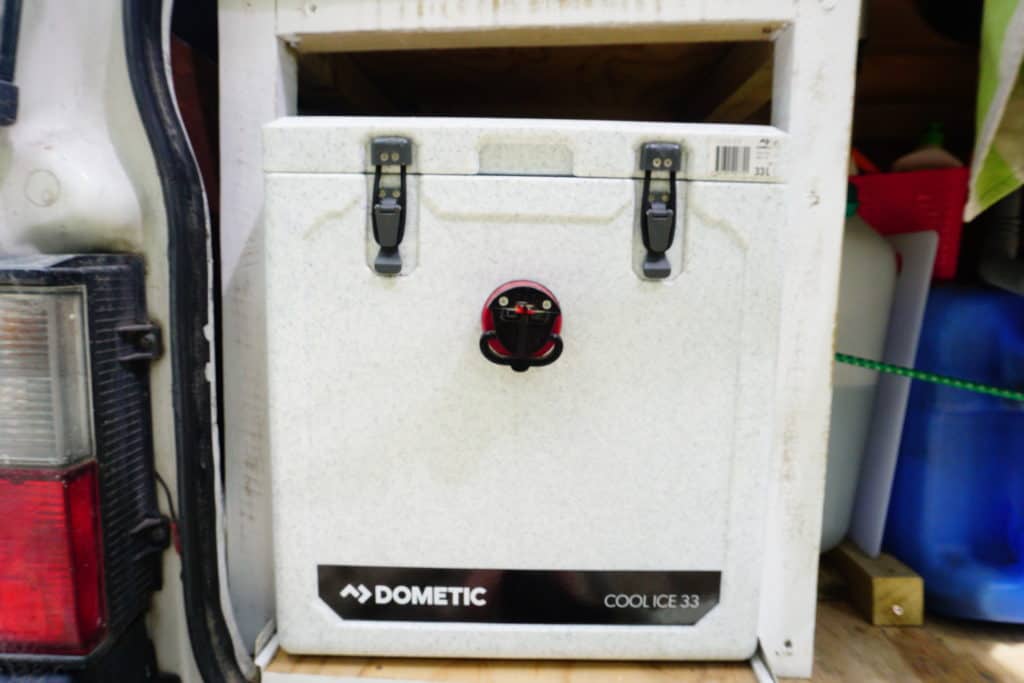 We purchased this instead of a fridge and got by travelling through NZ for 3 months with it. We filled it up with ice every 5 days and it kept all our veggies, drinks and milk cold! The trick was to purchase salted ice as it has a lower melting temperature. But if you have access to a camping ground freezer and can freeze some ice packs this works great too. If you're prepared to buy ice every 2-5 days then your standard chilly bin will do.
[wp_ad_camp_1]
Soap- Incredibly handy when you have a sink. I kept my soap in a little pouch right next to my sink for easy access.
Scrubbing brush and dishwashing liquid- This was an everyday item we used on our campervan trip. Most camping grounds supply these but not free ones.
Dishwashing bucket- Goes hand in hand with the scrubbing brush and dishwashing liquid mentioned above. We used this every day and was great when we were at free camping spots that had no facilities. We tipped our wastewater down our sink and managed to have clean dishes morning and night!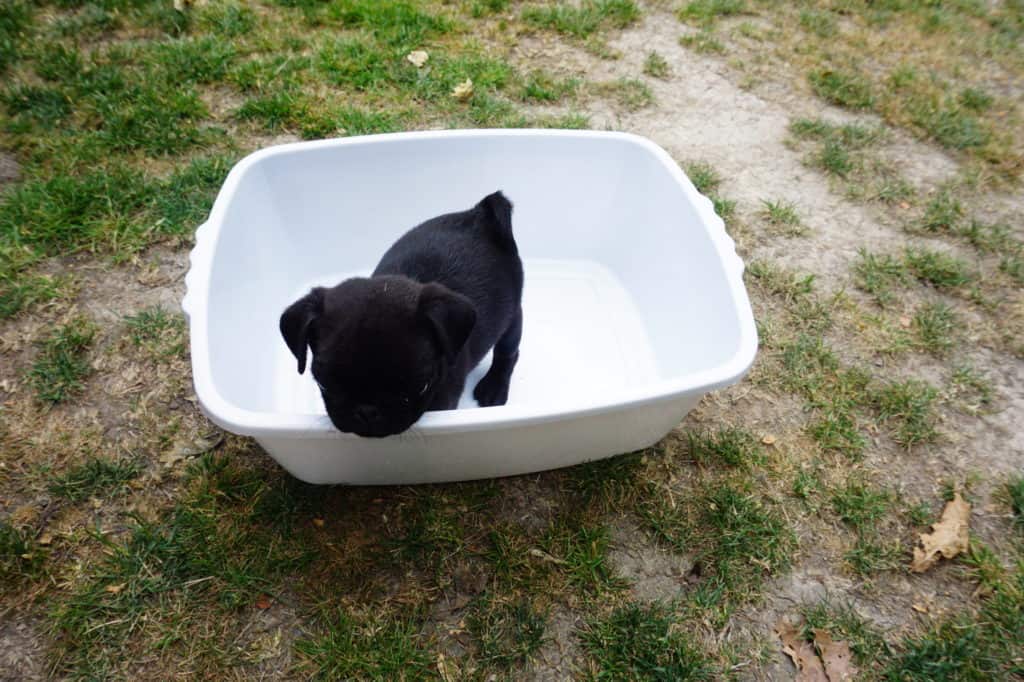 T-towel, hand towel and dishcloth- Incredibly handy items that you would use back home.
Long lighter- These work well to light your gas stove and avoid your hands getting burnt! They can be brought from $2 convenience stores and supermarkets.
Rubbish bin and bags-Be a tidy kiwi and keep your waste contained until you have the facilities to dump it 🙂
Wooden spoon- Just think about the items you would usually use at home and chuck them in a container!
Cheese grater- I like the flat ones as they fit into small spaces easily!
Pot and pan- Consider 1 big pan and 1 medium pot. This depends on how many people you are travelling with and the type of food you cook. I enjoyed having 1 of both and using them for everything. This saves space and dishes!
Tongs and spatula– An essential kitchen item you can't live without!
Tupperware- Great for storing leftovers in your chilly bin and packing food for day trips and hiking adventures.
Plates and bowls- We used 1 small plate (for things like toast), 1 big plate for our main meals and 1 bowl that was used for everything that bowls are used for! I highly recommend bamboo or melamine equipment as it is lightweight, easy to clean and unbreakable.
Cups- Hot and cold- A mug is an essential camping item! And you don't want to forget the wine glasses! I used a melamine wine/beer glass and a bamboo mug. Just ensure your mugs are made out of material that won't break and will last the journey!
Knife, fork, spoon- We used a container to keep our utensils in check!
Potato peeler- Boil em mash em put em in a stew. Lord of the Rings anyone?
Can opener- This will be an item you will use time and time again. Ensure you get a good quality one to avoid frustration
Chopping knives- I recommend 2 or more knives especially when chopping meat and veggies. There are some great knives that come in packs of 3 but I like long sharp and universal ones.
Chopping boards- How many do you normally use at home? I am sure you know how many to pack. We cooked vegetarian food so managed to have 1 big board and a tiny wooden one used for chopping cheese!
Kettle- Perfect for heating up water to do your dishes or for that morning coffee!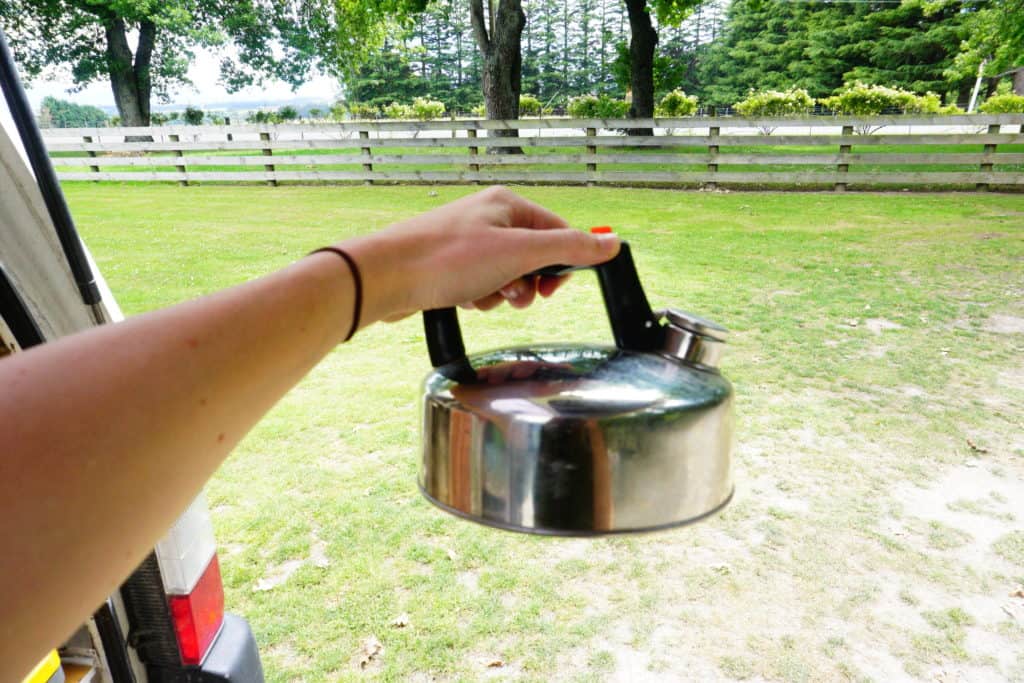 Supermarket shopping bag- You won't be able to travel to an NZ supermarket and purchase a plastic bag anymore. Keep a few in your car for trips to the supermarket and to store your recycling until you are able to get rid of it at the right bins.
Paper towels – Incredibly handy when you can't do the dishes straight away.
Oil- No cooking can get done without it! Coconut oil is a great option as it stores well and tastes great.
Water container – I suggest having one drinking water container to avoid endless trips to drinking fountains and one container for your hand pump (if you have one).
---
Campervan Packing List: Bathroom items
Okay so you may not literally have a bathroom but these are some items to consider bringing with you that fall into this category!
Toiletry bag/carrier – Include all of the necessary items you would back home e.g. shampoo, conditioner, face wash, toothbrush, toothpaste, comb and deodorant.
Body wipes- I can not recommend getting your hands on a pair of these while travelling on the road. Often you will go DAYS without a shower and using a body wipe helps to keep you fresh and clean in between.
Bug spray- This is a no brainer especially when travelling through Northland or the West Coast.
Pawpaw- When you have windburn lips from bodyboarding down the sand dunes at 90-mile beach. If you're keen to learn more about the fun adventures on offer in NZ pop on over to my article: 15 unforgettable things to do in NZ.
Laundry powder- There is nothing worse than getting to a laundry mat and finding out you have forgotten the detergent! Most camping grounds supply powder for a small fee but I suggest having this on board to save you a few extra dollars.
---
Campervan Packing List: Clothing & Personal items
Sunglasses- There are some alright options at gas stations but I recommend bringing your favourite pair from home! It's always good to have a couple of pairs just in case you stand on one or can't find them.
Sunhat – Personal preference here again. I am in love with the sunhats from Fallen Broken Street. They are absolutely stunning and I am sure you agree! When hiking my partner uses a quick-dry Nike cap.
Pack 2 weeks worth of clothes MAXIMUM this well save you space.
Underwear
T-Shirts
Long-sleeve top/hoodie
Shorts
Pants
Socks
PJS
Raincoat
Puffer jacket
Sturdy footwear
Jandals/sandals
Togs (swimsuit)
---
Campervan Packing List: Entertainment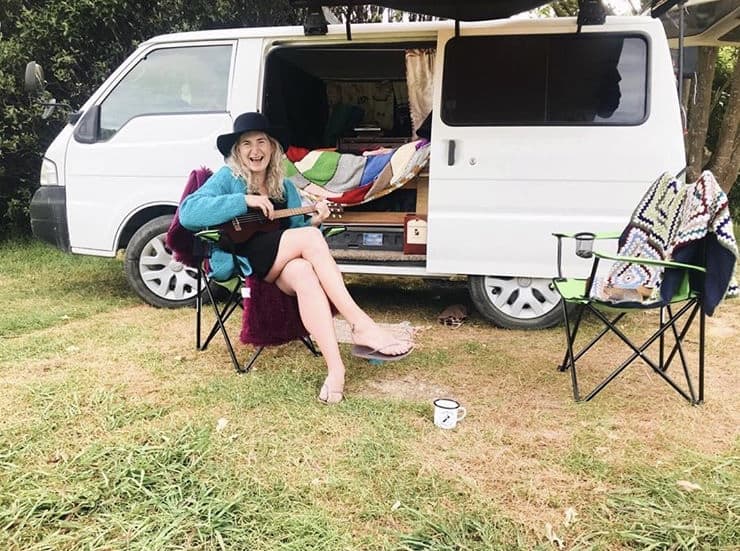 Battery pack- This is an essential item you must pack on board. Especially if you do not have power or a second battery in your campervan. We stayed at paid camping grounds every few days and charged up the battery pack before we left. While on the road we would charge our phones with the USB car charger that fits into the smoke lighter area. When we were parked up for a few days we would use the battery pack.
Phone charger– One that fits into the smoke lighter area. A dual charger is incredibly handy.
Bluetooth speaker– Nothing beats music while camping! We used our mini UE boom every day until the battery ran flat.
Laptop- Only if you need to take it with you. Lots of nomads travel and work on the road and have incredible systems set up to always be connected. However, I simply carried mine on board and when I was parked up at a paid campsite I would write a blog article and charge my laptop at their facilities.
Books- I have heard about Kindles and they seem like an awesome way to travel and read however, I enjoy the good old hard copy. The great thing about travelling in NZ is you will see cute little book swap depots in quirky little towns. In St Arnaud (on your way to Nelson lakes) you will see a cute old telephone box with books. Simply, take a book and replace it with the one you have! A great way to add to the life cycle of a book and keep your campervan clutter-free.
---
Campervan Packing List: Hiking gear
If you are travelling through NZ it is likely you will want to nip into the outdoors for an adventure or two. Having all of the right equipment on board makes this possible.
Tent- There are many options to choose from but you will want to carry a lightweight tent to save your back extra discomfort. I use the Weka 2 hiker tent from kiwi campers and it has been great!
Hiking boots- Again, there are many boots to choose from. It isn't essential that you carry a pair of hiking boots as I suggest in my article: Hiking Boots Are Not Needed In NZ. But if you want to save your ankles and are carrying a heavy pack then they are recommended. I suggest grabbing a leather, waterproof pair as you will be tramping through streams and mud in the NZ outdoors.
Hiking backpack- The size will depend on whether you are just going day hiking or doing an overnighter. I really like my Osprey 30L for day and 1-night hikes. I love it because of the comfortable back support and handy side pockets. If you are completing a multi-day hike then a 35L pack should do the trick. Again I love Osprey for their comfort, durability and support but I personally used a second hand Kathmandu backpack for longer hikes.
Hiking stove- I love how compact hiking stoves are! And the tiny little gas bottles that come with them. They are easy to use, just read the instructions. But for a little background, all you do is open up the claws until they click into place, grab your gas canister and simply twist the connection of your cooker onto the gas bottle until you hear a 'shhhhhh' noise. Once the 'shhhhhhh' noise stops your cooker should be on properly. Now just turn the dial on your cooker and use a lighter to ignite the gas. Here is a video running you through how to use a backpacking cooker. 
Sleeping bag- The type of sleeping bag you get will depend on the time of year you are hiking. I suggest getting an all-season sleeping bag to save money. Duck down sleeping bags are really comfortable to use and warm.
Sleeping mattress-  Compact and lightweight mattress' are key. I really like the inflatable mattresses from Kathmandu as it folds down to nothing, easily fits in my pack and is comfortable to sleep on.
For a full, printable, in-depth guide of what to bring hiking please grab my free checklist delivered straight to your inbox below. I created this guide to help make your life easier and have peace of mind so you don't forget a thing!
[convertkit form=946847]
---
Campervan Packing List: Safety items
First aid kit- This is essential! For an in-depth guide of what to include in your first aid kit and for a printable checklist please grab my free safety guide below. It will give you everything you need to know about the NZ outdoors and save you time when packing your first aid kit.
[convertkit form=1067242]
Car emergency kit – This should be in your vehicle whether you are camping or not. The essential items include a jack, jumper leads, tool kit, roadside assistance number and a spare tyre plus, anything else you think you need!
Windshield cover- Perfect for the added bit of privacy and to keep the heat out.
---
Campervan packing list: Extras
Okay so these items aren't really extras they are more like essentials. But they didn't fit in any of the above categories!
Mattress- Hopefully you have thought about this essential before heading off on your campervan trip. Also, your rental company should supply this. But, Para Rubber is a great shop to purchase mattresses if you are still in the building phase. We purchased the medium density and got it cut to fit the measurement of our van bed. For extra comfort we pop a memory foam mattress on top.
Pillows- Memory foam pillows are amazing! But again, personal preference is to be used here.
Clothes hanger-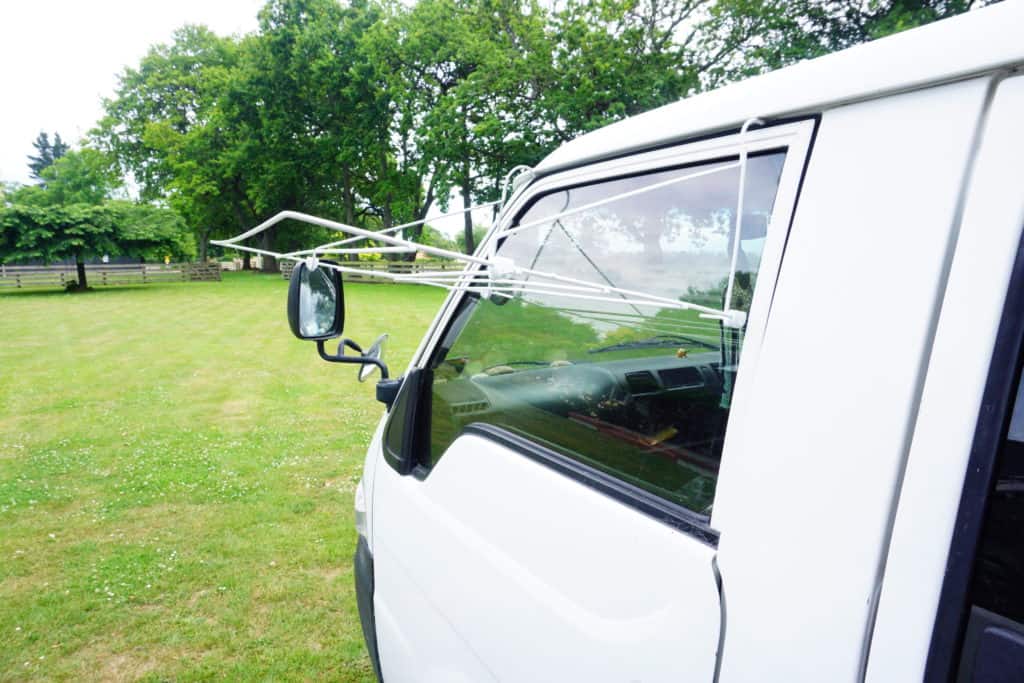 This may be an underestimated campervan packing list item but one that has supplied me with great value especially after an afternoon at the beach. We purchased a door clothes hanger from the Warehouse and fitted it over our passenger or drivers door to get our clothes dry. It saved us clogging up our curtain rail with clothes to air dry while we were driving. Pegs may be an added item you will want to purchase to ensure your washing stays on the line!
Doormat-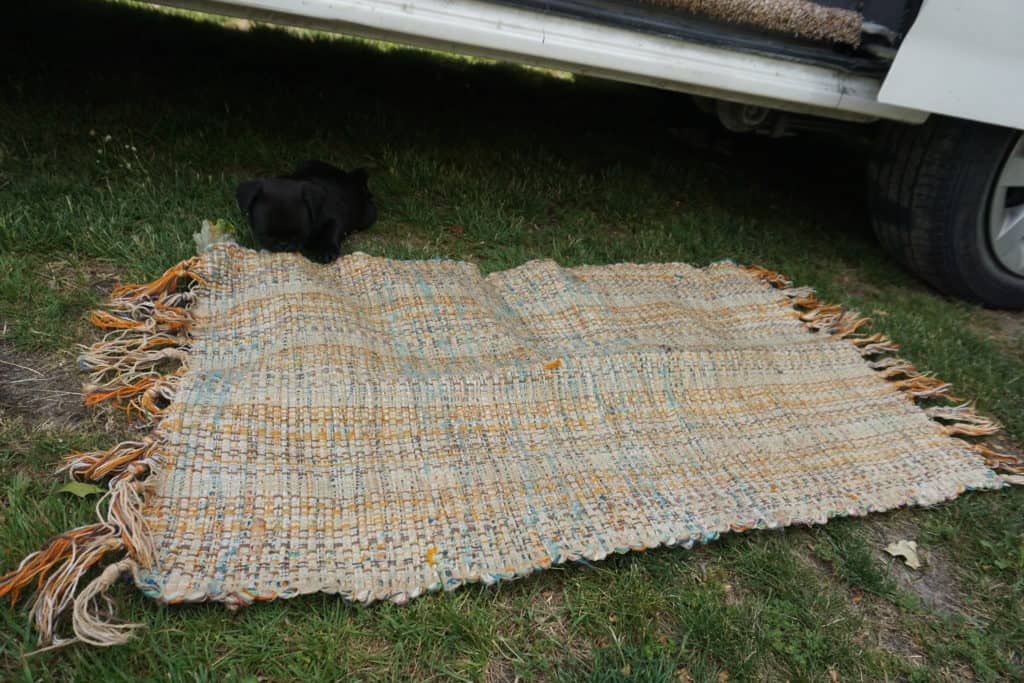 I loved my little $7 door matt from Bed Bath and Beyond. Jumping out of the van straight onto the cold ground or gravel was made a little more enjoyable with a door matt. And, it rolls up easily to a little nook in the van.
Dustpan and brush- Be a tidy kiwi!
Bungee cords- These are great to have on board for various reasons like keeping your equipment in place while travelling but also to be used as an extra washing line on your roof rack!
Torch- You don't want to walk to a long drop without one of these, trust me!
Phone charger – I am sure you will remember this!
Jet boil- I can not recommend this enough! When you can't be bothered getting the kettle out and wait 10 minutes for it to boil you can whip out the jet boil and have a coffee in as little as 2 minutes! I honestly can not rave about this cooker enough and highly recommend taking it camping with you.
Solar charger- There are some pretty cheap and crap ones on the market so just beware when you are shopping around. We purchased 2 from Adventure Kings and they didn't work.
Sewing kit- You may be surprised how often you use this. I sewed up my cushions, ugg boots and shorts a few times throughout my 3-month journey.
Microfibre towel- Another extremely useful item! They dry extremely quickly and dry your body quickly too.
Toilet paper- Sometimes camping grounds you come across just don't have any!
Day pack – For when you've parked up and are exploring a new city or town.
Fairy lights – They add an extra bit of comfort to your campervan and make it easier to see at night.
Mosquito net- These are great to put over your campervan windows when you want to have them open at night.
Blankets – As many as you need!
Camp chairs- An essential item for camping.
Fanny pack- The craze is back. They make travelling around new places so easy when you don't want to cart around a backpack!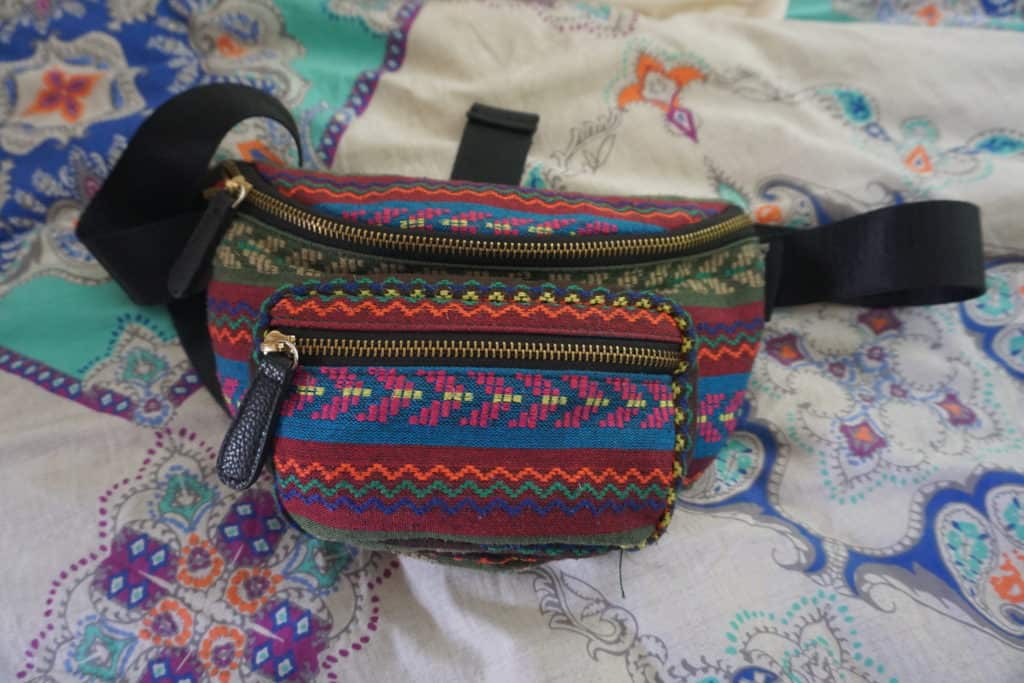 Yoga mat- If you're into that kinda thing. I really love my one from Dear Wknd! 
Awning – This created unlimited space for us in wet and dry weather. We purchased ours from Adventure Kings and we love it!
Laundry bag – Where else are you going to store your dirty laundry? Just beware that it might start to smell.
Bag for electronics- We had a specifically designated bag for our battery pack and chargers. It makes like a whole lot easier!
---
Questions to ask yourself before setting off in your campervan:
Travelling in a campervan is not always rainbows and lollipops. But, it can be! If you're interested in finding out what living in a van is really like pop on over to my blog post: 10 things no one tells you about living in a van. 
Below are some important questions to ask before you set off…
Do I have everything I need to make me feel comfortable?
What luxuries do I need? 
Do I know where to get gas?
Do I have a budget for the trip?
How long do I want to spend driving each day? 
Do I have coins for laundry?
Does someone know where I am going?
Am I able to charge my devices?
Do I have a map?
Do I have a roadside assistance number?
Is my vehicle roadworthy?
Do I have all the necessary safety equipment onboard?
If you are travelling with a partner you may find this article useful from Two Wandering Soles: 20 Questions to ask your partner before moving into a campervan. 
You might also like…
Let me know if you have any questions in the comment box below! And be sure to check out more Van Life travel articles! Or, pop on back to the home page.
Planning a campervan trip? Save these for later!