The Catlins are a rugged untouched part of NZ often kept off people's "must see" lists. Why? Because the Catlins are not apart of the usual tourist route and I think the locals like it that way! There are so many incredible things to do in the Catlins and I am embarrassed to say last year was my first time visiting! I have lived 5 hours drive from the Catlins pretty much my WHOLE life.
Rightly so I decided it was about time to explore more of the Southland area! And I absolutely loved it! The Catlins are exceptionally beautiful and provide some of the best untouched scenery in the country.
The good thing is it is only now being promoted as a tourist route (probably why I started to hear about it) so, you will feel completely off the grid! You could spend 1 day driving through the whole of the Catlins as it is only roughly 197 km but to get the best experience I would recommend spending a weekend or 2-3 days exploring as there is plenty to see and do.
What are the Catlins?
Just to give you a little background: The Catlins is a place made up of a coastal region situated in the southeastern corner of the South Island of NZ between Balclutha and Invercargill in the Southland region. (Invercargill is almost as far South as you can go, except for Bluff and Stewart Island. To learn more about Stewart Island check out this awesome article from A Solo Passport).
The Catlins area is full of beautiful rugged beaches, forests, natural attractions such as sea caves, waterfalls and lakes as well as a mammal or two – The yellow eyed penguin, dolphins, fur seals and sea lions! The area has its fair share of shipwrecks and is also good for surfing.
Before we get started take a look at the official Catlins map below to give you a better understanding of the area, the roads and activity options.
You can download the PDF version of the catlins map by clicking here!
How to get to the Catlins
The Catlins are located in the Southland region between Balclutha and Invercargill. If you are heading in from the Balclutha end you will need to head towards Kaka Point or Romahapa and if you are coming in from the Invercargill end you will want to head towards Fortrose to start your journey.
To get to the Catlins you will need a car and the closest place to hire one is in Invercargill or Dunedin. Public transport in the Catlins is limited. The bottom bus is one of your only options. Check more information from wikivoyage below…
"The Bottom Bus is the only public transport. It runs from Dunedin through the Catlins to Invercargill (not the other way) on M, Tu, Th, Sa, Su, departing about 8am and arriving about 7pm. It's a hop-on hop-off service, so you can spend nights in the Catlins and catch the bus again another day. It stops at Nugget Point, Surat Bay/Cannibal Bay, Owaka, a forest & waterfall walk, and Curio Bay. Cost is $225 (adult)" (wikivoyage) and you can learn more/ book this service by calling:
(03) 477 9083 or 0800 000 432
or email:
What is there to do in the Catlins?
A whole range of activities such as:
Camping
Hiking
Swimming
Sightseeing
Kayaking
Biking
Fishing
Surfing
To name a few! Check out some of the best things to do in the Catlins below for a more in-depth guide of some incredible attractions!
The best things to do in the Catlins
Nugget Point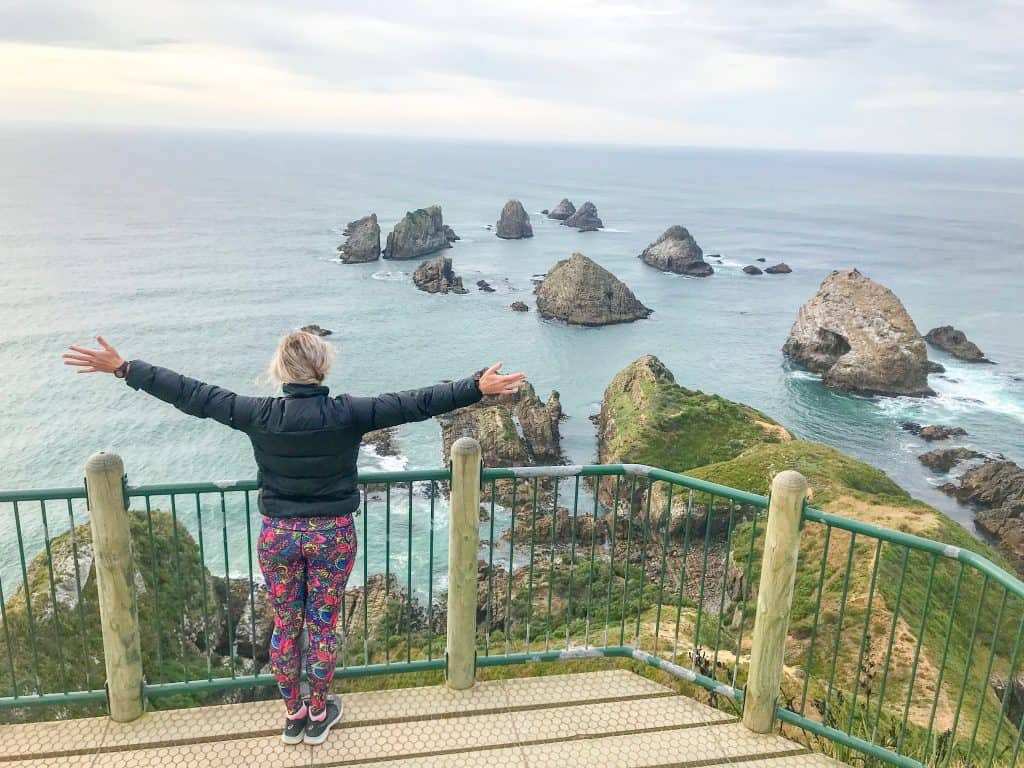 Perhaps one of the most popular things to do in the Catlins is a visit to Kaka Point lighthouse. Drive just 10 kilometres South of Kaka Point to Kaimātaitai carpark (down the Coast Road which is gravel) and you'll end up in this beautiful destination, which is actually a Wildlife Reserve (called Totara Scenic Reserve). Home to fur seals, sea lions, elephant seals, yellow eyed penguins, various sea birds, unique rock structures, a lighthouse and panoramic views.
You're in for a treat!
At first, you may be wondering where all the awesomness is as you will arrive at Kaimataitai carpark. What you need to do is park up, walk 10-20 minutes down a well paved track towards the lighthouse and then stop in awe at the 360 degree panoramic views, nugget rock structures sticking out of the ocean and seal & bird life on the rocks below.
For more information check out an awesome vlog from Tim and Fin on visiting Nugget Point, New Zealand. 
Purakanui falls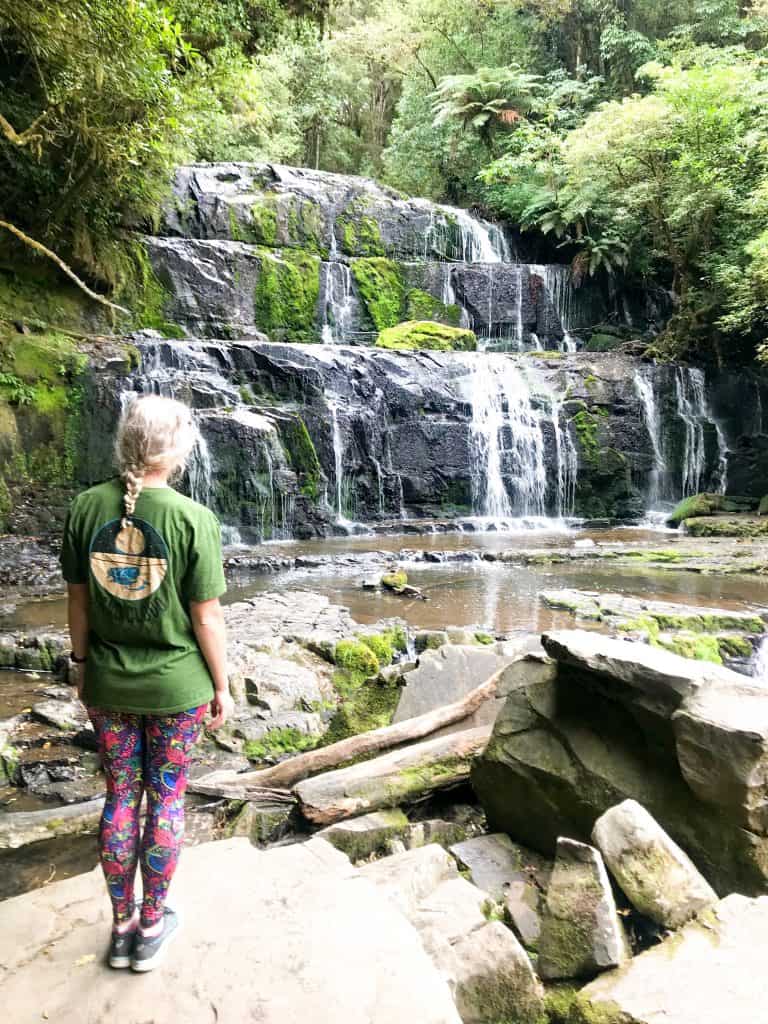 Keen to see NZ's most photographed waterfall? You'll soon see why they are iconic due to the three-tiered bridal like falls that flow rapidly down after a good amount of rainfall. The bushwalk is beautiful but I guarantee you will be wondering where the falls are. I remember thinking the falls would be in a wide open space but they were secretly tucked in between a mature beech forest.
To get to Purakanui falls head down Purakanui Falls road which can be accessed from Papatowai Highway or, Warnock Road. Either way, the falls are signposted and the walk from the carpark is just 5-10 minutes! Beware, Purakanui falls road is unsealed.
Enjoy!
Curio/ Porpoise Bay
These bays are within close vicinity and have a whole lot of activity going on! Firstly, Curio Bay is just a couple of minutes walk from the information centre car park. At low tide you are able to head down and view the incredible petrified forest (a whole forest that was burnt down and is now preserved as fossils). Curio Bay is also home to yellow eyed penguins that you can see in the evenings or early morning.
Porpoise Bay is absolutely stunning and could possibly be your favourite bay in the whole entire Catlins! What's fascinating about this spot is the pod of Hectors dolphins that call this bay home. They are often hanging out just off the shore! People swim out to try and reach the dolphins and when we were there a guy got pretty close but the water was freezing so he didn't stay in too long.
I hear that the dolphins make a frequent appearance so you will likely get to see them on your journey!
Porpoise Bay is also a great spot for kayaking, paddleboarding, learning how to surf, camping and a picnic or two! Doc have made a brochure about Curio Bay (click here to view) so be sure to check it out!
Curio/Porpoise Bay is signposted off the main Southern Scenic Route.
Cathedral Caves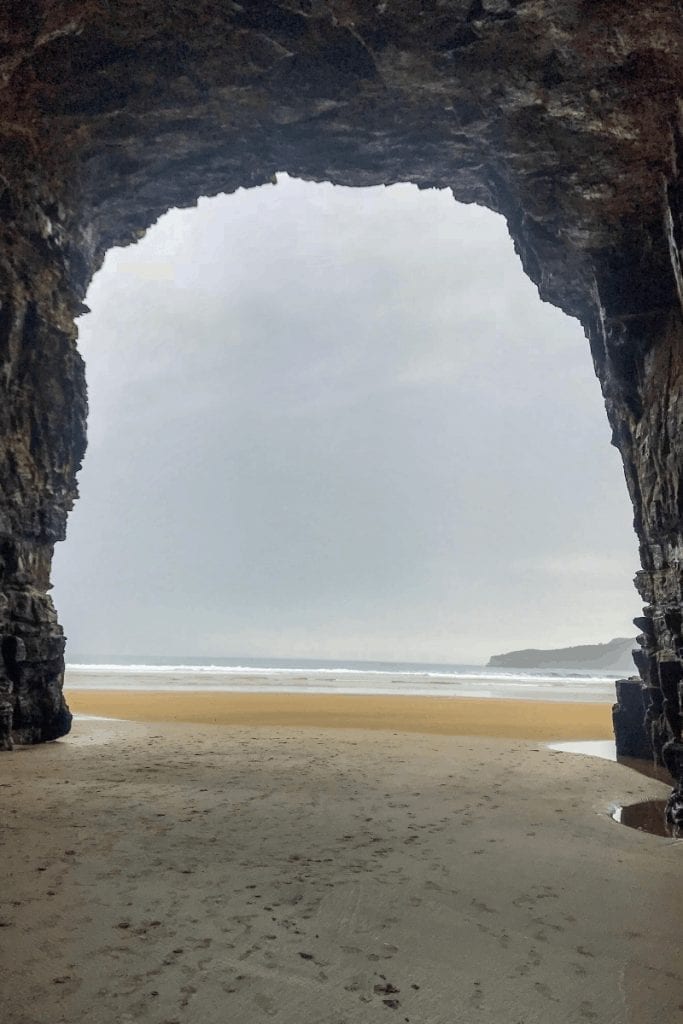 Quite possibly THE BEST ATTRACTION in the Catlins! These caves are incredible for their height, length and secret passages. The anticipation is real when you find yourself walking down a 1km coastal lush forest track to the caves, frolicking over a beautiful golden sanded beach and then finally arriving at the amazing natural structures.
The caves are located 15km south of Papatowai village and well signposted. The turn off to the caves is 2km long. Be careful on the 2km road because it is unsealed and full of potholes!
You are required to pay $5 per person to access the caves which can be paid to the person managing the car park. This is due to the fact the pathway down to the caves crosses Maori freehold land. There are also other things to be aware of when heading to the caves as taken from the Cathedral Caves website…
Top tips: 
The Caves are open for visiting between late October and May. Sometimes spring tides delay the opening a few weeks.
You can only access the caves one and a half hours before low tide and up to one hour after low tide. It is not available before 7.30am or after 8.30pm. Please refer to the tide timetables. Access is not available on Christmas Day.
The walk one-way takes about 30 minutes. Do not disturb  wildlife (sea lions, penguins) you see on the beach or in the Caves.
While visiting the caves be prepared to get your feet wet as there are often seawater pools forming in the sandy floor. 
A torch will be useful for the dimly lit inner reaches of the caves. The caves are not open to visiting at night.
A few smaller caves are located further along the cliffs but visitors should be wary of incoming tides and getting cut off. There is no alternative track back to the car park.
Insect repellent is necessary sometimes.
Visit Kaka Point
Kaka Point is a gorgeous little seaside village that really feels off the grid and a perfect place to unwind. This spot could be the first on your list of adventures in the Catlins if you're heading in from Balclutha (20-minute drive) or last if you're heading in from Invercargill (1 hour 50-minute drive).
Whichever way you are headed I'm sure you will want to make a stop here to wander down the beach, head to the bar or cafe or, even camp for the night! If none of these options tickle your fancy then maybe you would be up for a surf, fish, kayak, bushwalk, swimming or picnic (they have supplies at the general store!). Whatever you choose I am sure you will enjoy your time here and appreciate its "off the grid" feel.
Lost Gypsy Caravan Gallery
This is a truly unique experience that will leave you flabbergasted at the interesting inventions Blair Somerville has put together. His gallery has no entry fee! As you enter the caravan you will be greeted with numerous, quirky, gizmos that are guaranteed to make you smile. Perhaps you want to see more? Head into the garden gallery for more goodies for just a small fee of $8-$10 but, sorry kids! It's adults only!
Hungry? Thirsty? Good news! A coffee shack just below the bus awaits!
The gallery is located on Papatowai Highway and is hard to miss.
The hours of operation are:
In Summer: 10 am to 5pm (closed on Wednesdays)
In Winter: Closed from Late April (Anzac weekend) –  late October (Labour Day weekend).
Slope Point
The Southernmost point of the South Island is one to tick off on your list while travelling through the Catlins and is located on Slope Point road.
There is not a whole lot to see here and you are walking 20 minutes through a paddock but it is still worth the trip if you're keen to take a photo with the sign pointing to the equator and south pole, view the surrounding ocean and maybe see Stewart Island in the distance (on a good day).
The best part for me was actually the bent-over trees on the drive into Slope point that the Antarctic winds have permanently warped.
Top tip: Slope Point may be closed during lambing season. Running from September to November.
Camping in the Catlins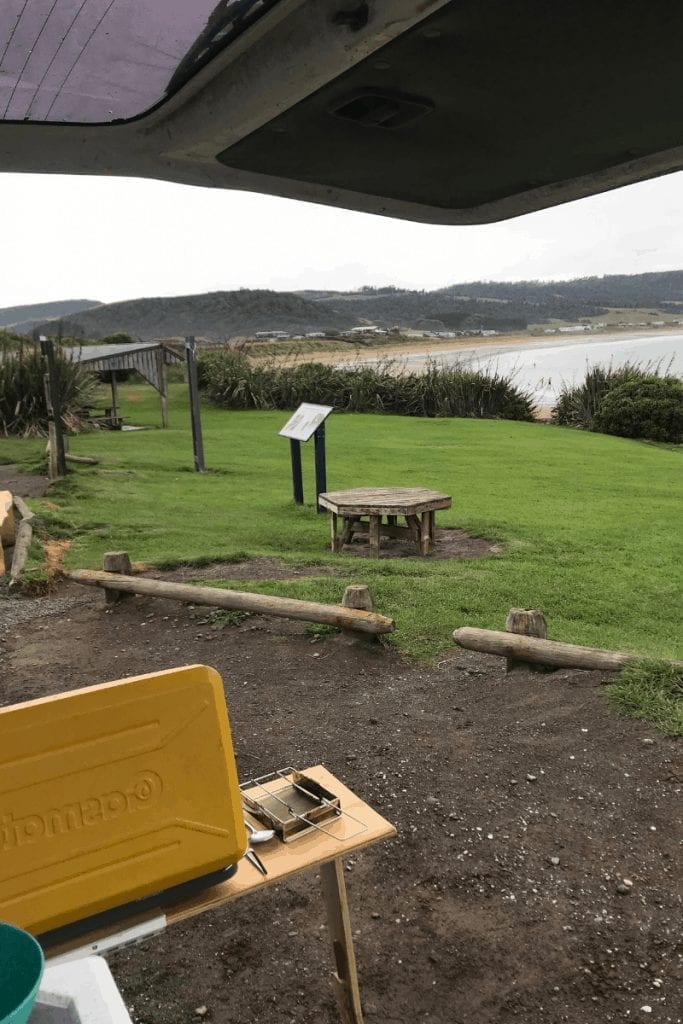 If you're travelling through the Catlins in a campervan I have good news for you!
The Catlins has many free and paid camping spots for you to enjoy. The best way to find spots to camp for the night is to check out the incredible app CamperMate which was a lifesaver on our journey. If you have a self-contained campervan there are lots of spots for you to camp. If like us, you're looking for a toilet spot then there are fewer options.
To find out how to get your van self contained in NZ check out my detailed post with everything you need to know!
Check out some spots we stayed while travelling South through the Catlins below:
Kaka Point Camp Ground: A great place to stop over for the night with all the necessary facilities. We arrived in March so it was a bit quieter and felt very remote. The best part was making friends with a little black cat. The worst part was waiting for a shower between 8am-9am. All in all, it's a good stopover and costs $32 for x2 adults for the night.
Papatowai Campsite: Doc campground that costs $8 per person per night at a self-registration booth. Very basic facilities with a toilet & kitchen but a great open space to park your vehicle. There is a little convenience store at the entrance of the camp which is rather pricey but good if you need a few supplies. Only a short walk to the beach but beware of the sandflies!
Weir Beach Reserve: A free campsite located next to a lagoon, just down the road from Slope Point. The reserve is pretty much a big paddock with a toilet, sink and water. (The water must be boiled before drinking).
If you're keen to learn more about van life camping check out my post with everything you need to know about living in a van!
Other Catlins accommodation options
There are many incredible accommodation options in the Catlins. Outlined below are some of the best options for different budgets.
The Catlins accommodation luxury: Kaka Point Spa offers luxury self contained accommodation with everything you could possibly need including a private double spa bath!
One of the best motel options in the Catlins: Kaka Point motel is a popular option with incredible coastal views they offer studio and 1-2 bedroom units.
One of the best bed and breakfast options: Breadalbane Bed and Breakfast is located in Kaka point overlooking the stunning beach. It is a self contained unit only 10 minutes drive from Kaka Point!
The best backpacker accommodation in the Catlins: Lazy Dolphin Lodge looks like an awesome place to stay with its own private beach access and everything you need for communal living.
Road, facilities & things to keep in mind
Roads: The Southern Scenic road is often narrow and windy. This means you have to take extra care while driving and even more so in wet weather (it rains quite often in the Catlins). There are not many pull over spots either. Most of the roads leading off to the various spots throughout the Catlins are down gravel or unsealed roads. Just beware you will have to take extra care!
Catlins food: The Catlins food scene is very average… There are very little places to get food throughout the Catlins with only a few cafes and convenience stores. You might want to take your own food, especially if you are camping.
Petrol: The only petrol stops available are Owaka and Papatowai in the North Catlins. Tokanui and Fortrose in the South Catlins.
Cellphone reception: The Catlins has very limited cellphone reception and is often patchy. I am on the Spark network and my partner is on 2 degrees. We couldn't get service until we were at Fortrose cafe and north of Kaka Point.
Changeable weather: The weather in the Catlins is often wild, wet and windy. Pack for all conditions!
Locals call the little arty houses along the way "cribs" not "baches". Which, is pretty foreign language anywhere North of Oamaru!
If you're keen to see more of NZ's off the beaten path destinations be sure to grab my FREE guide below!
There you have it! Some of the most incredible things to do in the Catlins! I hope you enjoy the Catlins as much as my partner and I did. If you're keen to learn more about the Catlins things to do I would head into a visitor centre in either, Invercargill or Dunedin. They will have free maps, itineraries and a whole lot more goodness for you!
I didn't talk about the Catlins forest park as I mainly travelled along the coast but there is plenty to see and do in there as well!
Loved this article on the Catlins things to do? Pin the images below for later to help with your travel planning!
Other articles you might like: