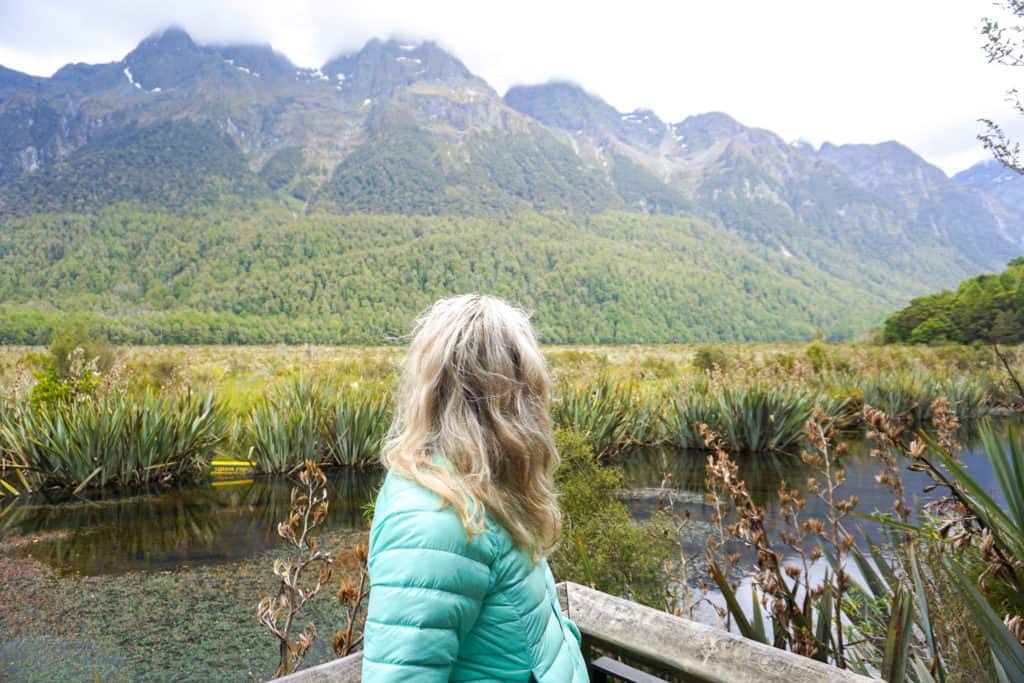 The drive from Queenstown to Milford Sound is an epic experience with so much to see and do. This article outlines some of the best stops along the way with the majority being along the Milford Road!
---
The Milford Road is an out of this world experience. Imagine yourself situated in the middle of Lord of the Rings off on an adventure towards Mount Doom. Except better and not as daunting.
Once you have crossed through the Milford Sound tunnel it literally feels as though you have entered a new world. Words can't describe this remarkable piece of landscape and pictures can't really do the place justice. It's one of those places that needs to be seen to be believed.
Below are some of the best stops on the way from Queenstown to Milford Sound.
Keep in mind this post contains affiliate links. If you purchase anything through them, I will get a small referral fee and you will be supporting me and my blog at no extra cost to you, so thank you! 
Where is Milford Sound?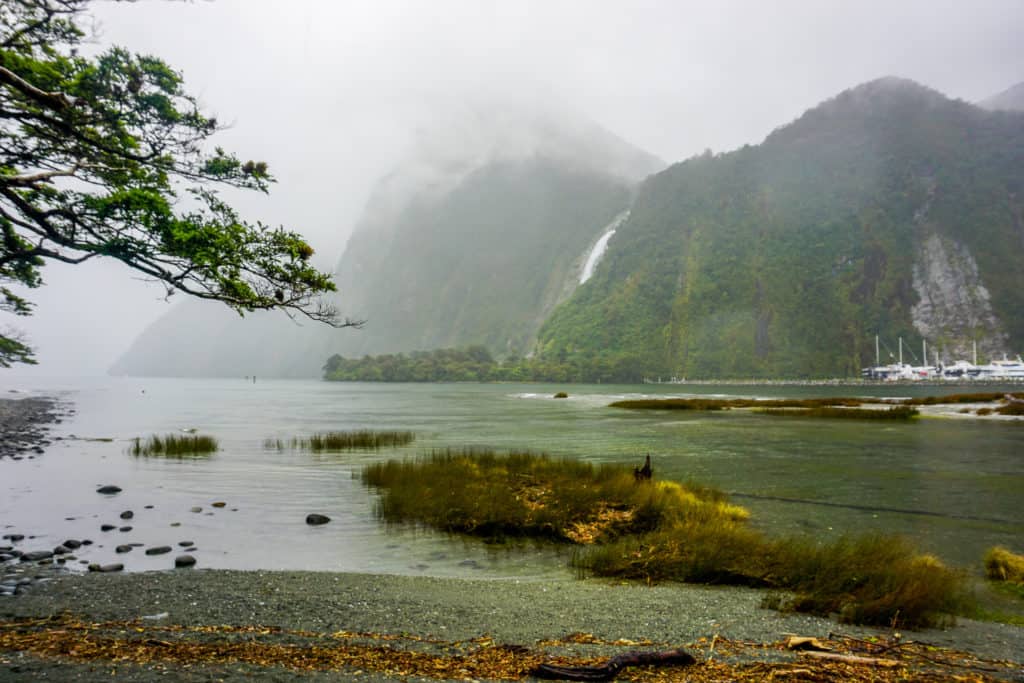 In the Fiordland National Park in the Southland region of New Zealand. Located at the South-Western corner of the South Island. Fiordland is home to the biggest National Park in New Zealand and, the wettest!
Milford Sound is located 90 km or 2 hours drive (depending on bus tour traffic) from the small town Te Anau (starting point for the Kepler great walk). The road from Te Anau to Milford Sound is where all of the beauty begins.
Tip: The Milford Sound road is windy much like the rest of NZ. There are narrow and one-lane bridges throughout the trip. Take your time and be aware of the tour buses. During winter it is recommended to carry snow chains and check the road report on the NZ Transport Agency website (here). For more important things to note check out the bottom of this post!
How to get to Milford Sound from Queenstown
Milford Sound is located 2 hours drive from Te Anau and 5 hours drive from Queenstown. Access to Milford Sound is by car, bus or flight. The closest airport to Milford Sound is in Queenstown. It is possible to self-drive the Milford road or catch a tour bus from Queenstown to Milford Sound (via Te Anau). It is likely in Queenstown where you will find the best rental car options. 
Follow State Highway 6 and State Hwy 94 to access Milford Sound. 
---
Related: If you are looking at renting a campervan in New Zealand check out my related article on how to find cheap campervan rentals! 
---
The best stops from Queenstown to Milford Sound
Driving the Milford Road in and of itself is a phenomenal experience and there are amazing spots to visit just off the road's edge.
There are endless locations to stop for photos and to enjoy the incredible beauty surrounding you. Pretty much anywhere you stop will be amazing and leave you with a good taste of the Fiordland National Park. However, I have outlined a few of the best spots to stop by on your drive from Queenstown to Milford Sound (because there are many) and the side of the road the stop-offs are on.
Okay now let's get into the best places to stop from Queenstown to Milford Sound! 
1. Stop in Kingston
To enjoy a different perspective of Lake Wakatipu on the border of Southland and the Otago region. The stunning landscape is the reason to visit and take a photo! Drive down to the lakefront to see the view like above.
2. Stop in Te Anau
Te Anau is a gorgeous little town on the way to Milford Sound. It is an awesome place to base yourself when exploring the Fiordland area. A nice place to stop is by the lakefront and taking a walk down the lakefront walkway – Probably one of the most popular T
e Anau attractions
. It is also a good place to grab a bite to eat or any supplies you need.
3. Eglinton Valley
If you have ever wanted to experience what it is like to feel like an ant in the face of humongous mountains then you are in the right place. Seriously, you will be awestruck at the mighty mountains before you and get a good understanding of where the glacier lay that used to run down the valley.
If it has just been raining you will be pleasantly greeted with many waterfalls dancing off the cliff faces around you. 
This stop is on the left-hand side of the road and has a safe place to stop just off the road's edge.
Don't worry about missing this stop as the tour buses and photo signs will lead you directly to it. 
4. Mirror Lakes
If you have looked up any photos of Milford Sound I am sure these lakes have caught your eye. The funny thing is they are actually tiny little pools of water that reflect the mountains surrounding them. The viewing platforms are located 30 seconds walk from the road and w
ell worth the stop if the weather is nice.
I found the best spot for a photo was from the second viewing platform once all of the tour buses had left!
This stop is on the left-hand side of the road and has a safe place to stop just off the road's edge.
While personally I did not make it to this spot because I had my little pug puppy I have heard wonderful things! Accessing the lake requires a short hike of 3 hours return and is possible to do in a day if you are not taking a cruise. The lake is well known for its photo opportunities as it is a beautiful Alpine lake.
Pop on over to Destinationless travel's post (here) about the lake Marion track to learn more, including how to get there. 
6. Homer Tunnel
Alright, so you can't actually avoid this spot on your drive to the Milford Sound but, if, for some reason you weren't thinking of driving all the way there I have included it in this list, as the Milford Sound tunnel was quite possibly one of my favourite attractions of the trip! 
There are traffic lights at the tunnel as it is only one way driving and if you're lucky you will catch a green light. But, this isn't necessarily a good thing as it is a beautiful location to stop, get out, stretch the legs and enjoy a Kea or two! Seriously, there are always Kea's there!
If you do catch a green light you can always pull over in one of the bays to enjoy the sights. 
At times the wait can be 20 minutes! So bring some snacks! (For you, not the Kea!)
7. Falls Creek 
Falls creek isn't so much a creek but rather a rushing, turquoise blue waterfall that meets a beautiful river at the bottom of dark, rocky faced mountains.
If you want to see a beautiful NZ waterfall then look no further.
While yes you can see the falls from the car (if stopping for traffic at the one-lane bridge) I highly recommend getting out of your vehicle at the parking bay on the right and, stepping into the wonderful world around you.
If you're keen you could even take a dip in the icy blue water below the bridge? Be sure to let me know if you do!!!
8. The Chasm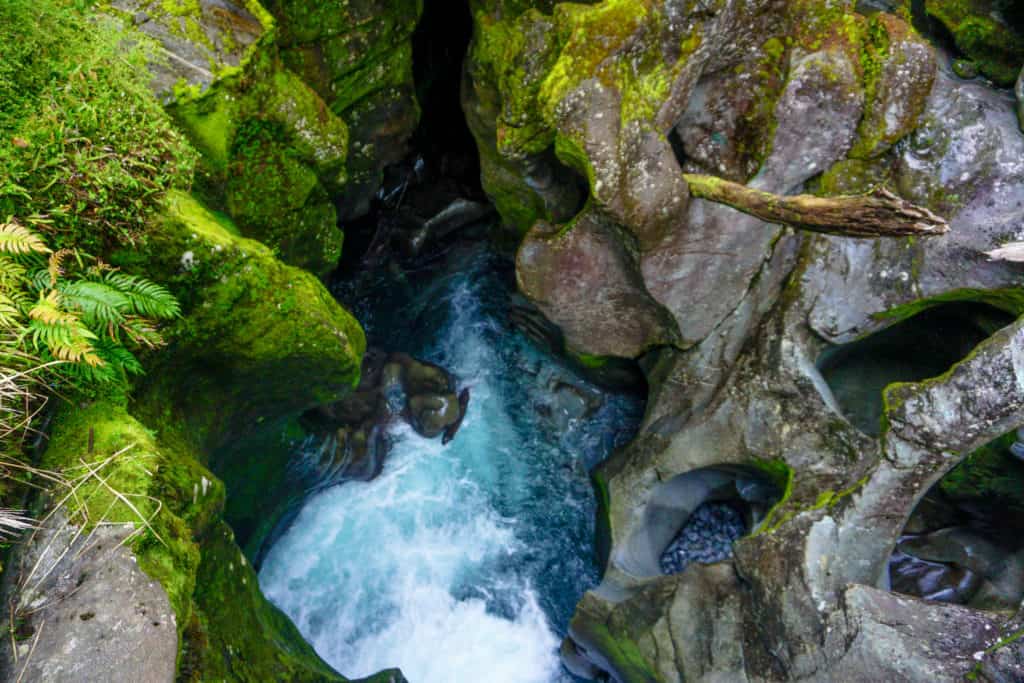 What is that rumbling thunder sound? 
There are many iconic Milford Sound waterfalls to see along your journey but this one is unlike any other. The Chasm is a powerful body of water rushing through avatar like rock structures. The viewing platform for the waterfall is above the water giving you a fantastic glimpse into its strength.
Take a glimpse of the water below you and enjoy the unique rock structures it has carved out along its journey. The colour of the water is like crisp mountain juice!
It is truly amazing like nothing else I have experienced in NZ and makes a sound like thunder!
The walk says 20 minutes but is more like 
5-10 and is a well-paved easy path you could walk in sandals.
Tip: If you are doing a U-Turn at the Chasm be careful as there are blind corners on either side. 
9. The Milford Swing
If you have spent any time on Instagram searching through Milford Sound photos then you are sure to have come across a photo of this mystical swing.  If like me, you would like to take a photo of this perfect (2 people) swing pop on over to my blog post to grab the directions to the Milford Sound swing.
The Swing is kind of "infamous" and is not on the local Milford Sound visitor centre information map, and rather hard to find!
10. Key Summit
Key Summit is an epic day walk and probably one of the most popular things to do in Milford Sound. It is apart of the popular Routeburn track but is definitely doable while driving along the Milford Road.
It is a 3.4km return walk track that takes around 3 hours. The most iconic photo spot is above the Lake Marian bowl that you may have seen before!
Access Key Summit at a place called The Divide (85 kilometres along the Milford Road.)
---
Extra activities you may want to try in the Milford Sound:
I didn't actually take a cruise because I had my little pug puppy with me (who is not actually allowed to set foot in the National Park but is allowed contained in your vehicle along the Milford Road) so, I had a look at the best cruises on offer for you guys! 
How long is a Milford Sound cruise?
Anywhere from 1 hour 45 minutes to 3 hours depending on the type of cruise you pick.
The best Milford Sound boat trip-
Try one of the epic options below!
Complete a Milford Sound hike!
Since I had my pug puppy I did not do any of the Milford Sound walk options so I did a little digging for information on this front. Of course, there is the famous Milford Track but it looks as though Key Summit Track is a must-do! Pop on over to Milford-Sound website (
here
) to view the best walks.
Tip:
If you're keen for a guided walk check out Ultimate Hikes. They are a great company (
find them here
) that can take you on the epic Milford track!
Related: If you are looking at staying more than 1 day in the area then you might like to check out a few of the great walks (some are literally called great walks) on offer. The Routeburn, Milford, Greenstones, Caples, Hollyford are all within reach in the area.
Other things to do in Milford Sound: 
Where to stay in Milford Sound
This post is aimed at spending 1 day in Milford Sound. However, I recommend staying at one of the many accommodation options in
Te Anau
to get the best use of your time or if you have more than 1 day I suggest trying Milford Sound camping along the Milford Road.
There are 8 Department of Conservation campsites along the Milford Road and one camp in Milford Sound village. View the DOC camping options
here. 
Tip:
You can also stay in Queenstown but it makes for a
looooong
day driving, especially if you do a cruise! One of my favourite
places to stay near Milford Sound
was actually in
Manapouri
which is 25 minutes from Te Anau, a lot quieter and in just as beautiful settings. If you are looking at going to Doubtful sound which is arguably a better cruise than the Milford Sound then likely you will want to stay here before or after.
Below are a few different accommodation options for you around Milford Sound. (My favourite option to find accommodation is Airbnb. Sign up to Airbnb here to grab $69 NZD off your first trip!)
Fancy a dash of luxury? Fiordland Lodge is for you! They have a restaurant, open architecture and are well known for their impeccable hospitality and it overlooks the stunning Lake Te Anau.
Fiordland Lakeview Motel and apartments are located on the shores of Te Anau with beautiful gardens and only a 10-minute walk from the town centre.
Te Anau lakefront backpackers is an awesome option for budget-friendly accommodation. Located on the lakefront and within a short walk to the town centre. They have glamping, camping and dorm bed options!
The road to Milford Sound conditions  
The road to Milford Sound is windy much like the roads throughout NZ. There are narrow and one-lane bridges. Take your time and be aware of the tour buses. During winter it is recommended to carry snow chains and check the road report on the NZTA website (
here
). The road conditions in later winter and early spring can be dangerous.
If you are worried about self-driving the Milford Road I suggest booking a tour with one of the many tour companies like
Contiki,
Jucy
,
Southern Discoveries
,
Go Orange
or
Real Journeys
. The Milford Road is extremely popular and therefore well maintained. As a new traveller to NZ, I can understand you may have concerns about driving on the road. I would be mindful of the tight corners, pull over to let other vehicles pass and be aware of the steep descents and ascents. Especially in and out of the Homer Tunnel.
Practical information about food/water/toilets: 
Water can be found in most campsites along the Milford Road however, some water may want to be boiled before use. There are drinking fountains in Milford Sound village and at the information centre and Wharf.
Coffee carts are located at some stop-off points along the Milford Road. While we were travelling there were coffee carts located at The Chasm and Monkey Creek. There is also a cafe in Milford Sound village.
There are many signs for toilets. You will be spoilt for choice along the Milford Road.
Tip: This goes without saying but I seriously encourage you to plan your trip to Milford Sound around the weather. The Fiordland National Park is the wettest parts of the entire country and the rain can get you drenched within 2 minutes. When they say it rains down there they really mean it! This will hinder your view and make you and your photos miserable.
A few important things to note about Milford Sound: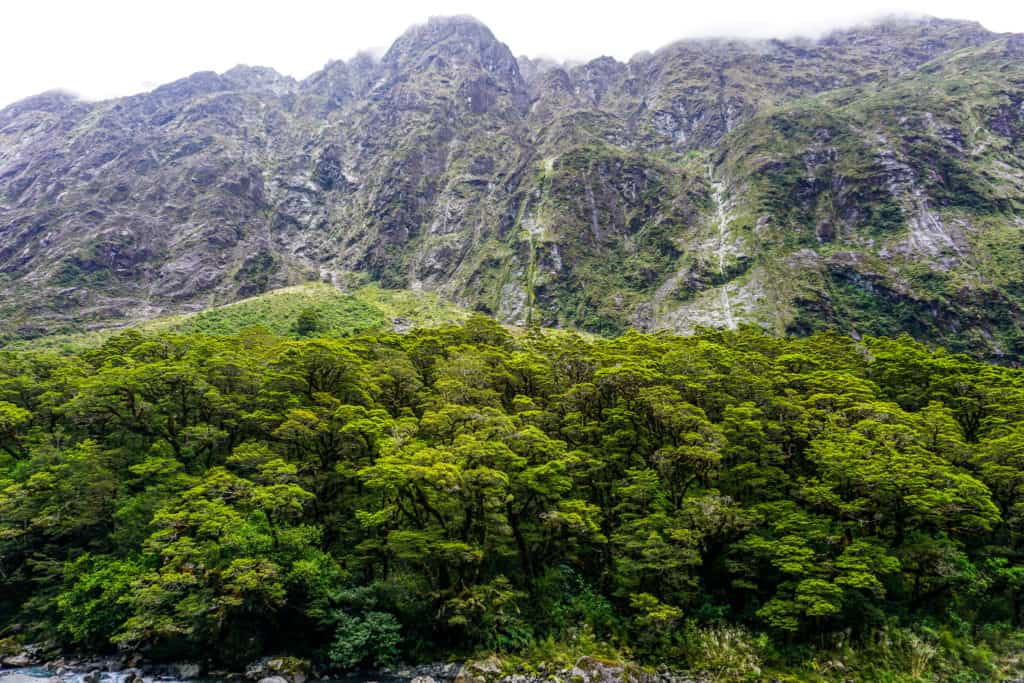 MAKE SURE TO BRING INSECT REPELLENT AS THE SANDFLIES ARE NUMEROUS. I wrote this in capitals because seriously, they are everywhere.
Be careful driving to Milford Sound. The Milford Sound Road is windy much like those of the rest of NZ.
The Milford Sound parking sucks. Sucks because it costs $10 per hour and, sucks because it is such a busy place you may be fighting for a park! I would suggest timing it after a cruise has come in so people leave and there is space for you.
The weather in Milford Sound is usually wet. Go when the weather is good. I actually can not recommend this enough. If the weather forecast is for downpour and clouds I would suggest waiting (if you can) until a little more reliable forecast comes. This will enable you to see all of the incredible views and really enjoy what this part of the country has to offer. If, like us, you only have 1 day to spend in the sounds and can not work around the weather then still go. But bring a good rain jacket!!!!
There is a cafe in Milford Sound.
September, October, November and December are the wettest months in the Milford Sounds Consider visiting outside these periods if you want to avoid a torrential downpour!
There is no cellphone reception along the Milford Road or in Milford Sound.
Doing a Milford Sound day trip from Queenstown and then a cruise makes for a reeeeally long day. The Queenstown to Milford Sound drive is 3 hours 45 minutes one way. I wouldn't recommend doing a Milford Sound day tour from Queenstown because I know how tiring travel can be. If possible try and stay in Te Anau or if you can, in Milford Sound itself. This way you can enjoy the sights refreshed and not hurry the trip because of tiredness.
Check the Milford Sound Road conditions on the NZTA website (here).
Have you been before? What else would you add to a day trip itinerary?
Loved this article on the best 10 stops from Queenstown to Milford Sound? Pin the images below for later! 
Other articles you will love: