The Tongariro Alpine Crossing is not only one of New Zealand's best attractions, it is considered one of the top 10 best day walks in the whole, entire world! Read the Tongariro crossing guide below for everything you need to know about this epic day walk! 
---
If you've landed on this page then I'm sure you've heard of this stunning hike and are interested in doing it for yourself. I am absolutely certain you will become a lover of NZ after doing this hike, and I can't wait to help guide you on your journey to this remarkable location.
What is the Tongariro Alpine Crossing? 
The best alpine day hike in New Zealand. The Tongariro Alpine Crossing is located in one of New Zealand's oldest national parks and is actually a dual World Heritage site, meaning it has important Maori spiritual associations and incredible volcanic beauty.
The two main volcanoes you will pass on the alpine crossing are, Mount Ngauruhoe (pronounced na her ro he) and Mount Tongariro with Mount Ruapehu off in the distance.
I think you'll love the Maori legend associated with this region so here is a little taster!
Maori Mythology:
According to Maori legends, mountains were gods and warriors of great strength. Tongariro was one of seven mountains in and around Lake Taupo and all of these mountains except one were male. The only female was called Pihanga and the mountains naturally decided to fight for the right to win her. As a result, lots of eruptions, smoke, fire and rocks burned in the area while the fighting was happening.
Tongariro won making him the supreme leader of the land. The rest of the mountains moved away, the closest being Ngauruhoe and Ruapehu (which you will see when visiting the national park), the furthest being Mount Taranaki who still cries for his lost love Pihanga. (Media.NZ).
Interesting, right?! Tongariro is the king and you'll see why when you cross by him on the alpine trail.
If you're keen on visiting one of the other volcanoes (Mount Taranaki) then a good overnight option is the Pouakai Circuit. Check out my related post: Your Essential Guide To Hiking The Pouakai Circuit.
Now, back to your trip…
Tongariro Crossing weather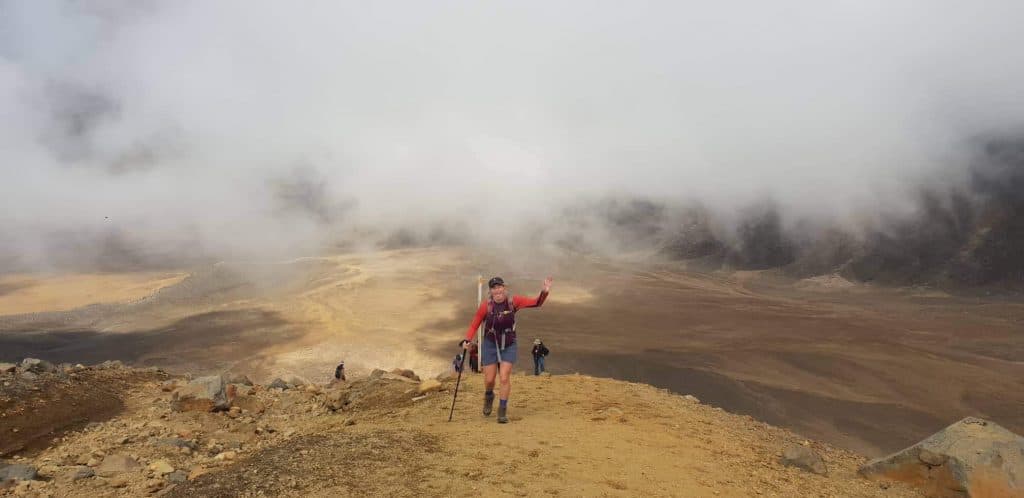 The Tongariro Alpine crossing is a long, challenging 19.4 km (6-8 hour) trek through volcanic terrain, valleys and saddles. The highest point is 1886 m above sea level and the weather on the crossing can be unpredictable. Keep in mind you are in an alpine environment so proper preparation is necessary (grab my hiking checklist below!)
On your trek, you will be greeted with incredible blue/green lakes, red-rimmed craters, mountains, volcanic rock and scree as well as some of the most dramatic landscapes you will ever see!
The best time to do Tongariro Crossing is actually in winter
This is because the views are incredible with the mountains covered in snow and there is a lot less foot traffic. With these weather conditions the Tongariro crossing difficulty does increase, you are only able to hike the alpine crossing in winter if you have a good level of fitness and a guide or if you are properly prepared with alpine hiking experience, crampons and an ice axe. But, for the majority of people hiking the Tongariro Alpine crossing, winter is not a viable option.
Keep in mind the majority of hikers travel through the crossing in summer (meaning you will be bombarded with hundreds of other hikers). On any given day in summer, there can be 1000 hikers on the trail. This puts into perspective how incredibly popular the hike is. 
Tongariro Crossing Guide: Directions
The Tongariro Alpine crossing is located in the Tongariro National Park, which is in the central North Island a few kilometres west south-west of Lake Taupo, 330 km south of Auckland and 320 km north of Wellington.
Access to the alpine crossing is from either Ketetahi car park located off state highway 46 or Mangatepopo road car park off state highway 47.
Mangatepopo car park is where most hikers depart from and finish at Ketetahi car park as this is supposed to be the less strenuous route, although you can walk the track in either direction.
Have a look at the Tongariro crossing map before heading out so you feel more confident in where you are going.
How to get there
In the winter months, you are able to park your car at either Ketetahi or Mangatepopo car park and grab a shuttle from either end back to your car or, you are able to catch a shuttle to the start and from the end of the track. There are shuttle companies offering various services depending on your needs, outlined below.
What about summer?
This is a little more tricky and pretty much requires you booking a shuttle from one end of the track. This is because from Labour weekend until 30 April there is a 4-hour parking restriction at both of the road ends, meaning you will need to book a shuttle for at least one direction and park your car in the shuttles car park at the end of the track to avoid the 4-hour restriction.
The most popular way to do this is to park your car at the shuttle providers car park on Ketetahi road end in the morning, and then grab the shuttle from there to the start of the hike at Mangatepopo car park. This way you can walk the track knowing you don't need to rush for a pick up at the other end.
Tongariro shuttle details:
There are many companies offering similar shuttle services throughout the National Park which makes picking one a little tricky! They are all around a similar price, especially for the one-way option ($35 pp) but differ slightly in pick up and drop off locations.
Below, I outline some of the shuttle companies and what they offer to give you a better idea of who to pick!
Tongariro Crossing Shuttles are a great company and probably the most popular option for your one-way ticket. They have a really good schedule and pick up from a range of spots located near the park and some locations that connect with the intercity bus. Check out their website here for more details. I personally used this service and dropped my car off at Tongariro Shuttle car park at Ketetahi road end. I then grabbed the 8 am shuttle ($35 pp) to Mangatepopo car park. Hiked the track and walked back to my car at the end of the day.
Mountain Shuttle looks as though they specialise in a one-way ride from Ketetahi road end to Mangatepopo car park for $35 pp. Click here to find out more.
Plateau shuttles specialise in flexible shuttles from the National Park village. Click here for more details. 
Other Tongariro crossing transport options:
If you're staying in Taupo, Turangi or at Tongariro Holiday Park then Tongariro Expeditions is probably your best bet. They also offer a one-way service, like most of the companies. Check out their website for more details by clicking here. 
Plateau Shuttles also offer a service from Turangi.
Tongariro National Park tour options
Check out one of the epic tour options below!
What to bring:
Tongariro Crossing Guide- Essentials: 
Water: You will need plenty as there are no fresh water drinking sources on the track!
Toilet paper: Some toilets have it, some don't. Be prepared!
Gear for all seasons: The Tongariro alpine crossing is known for its changeable weather conditions. Even in the middle of summer, it can be extremely cold up on the craters. As a general rule you would want to bring: A waterproof jacket, hat, gloves, pants, sunscreen, thermal, sunscreen, mobile, torch and food.
Hiking boots are incredibly useful even though I saw tons of people hiking the crossing in sandals. There are scree slopes which make for a difficult journey down and hiking boots are incredibly useful.
How long does the Tongariro Crossing take?
The Tongariro Alpine crossing is strenuous, steep and undulating. The track is well-formed but some sections are rough, uneven and possibly muddy. Tongariro crossing distance is 19.4 km one way but even longer if you have to walk the extra 1 km to your car at the end of the track.
Allow between 6 – 8 hours to hike the crossing. People can take longer depending on how many stops they have. As well as shorter if they take fewer breaks and don't stop for lunch.
Personally, the hike took my partner and me 5.5 hours. We had minimal breaks and had lunch in our van at the end of the trek because there were just too many people around to enjoy our lunch on the hike!
But, keep in mind you don't have to do the whole 19.4 km! You are welcome to hike as far as you like and turn around when you have had enough as you can walk the track in either direction.
Maybe, you would like a longer walk and do one of the most popular things to do in Tongariro National Park? If so, the Northern circuit might interest you. It is a 43.1km loop that travels around Mount Tongariro and Mount Ngauruhoe (only parts of it join with the Tongariro alpine crossing) and is 3- 4 days long, click here for more details! 
Volcanic risk on the Tongariro Alpine Crossing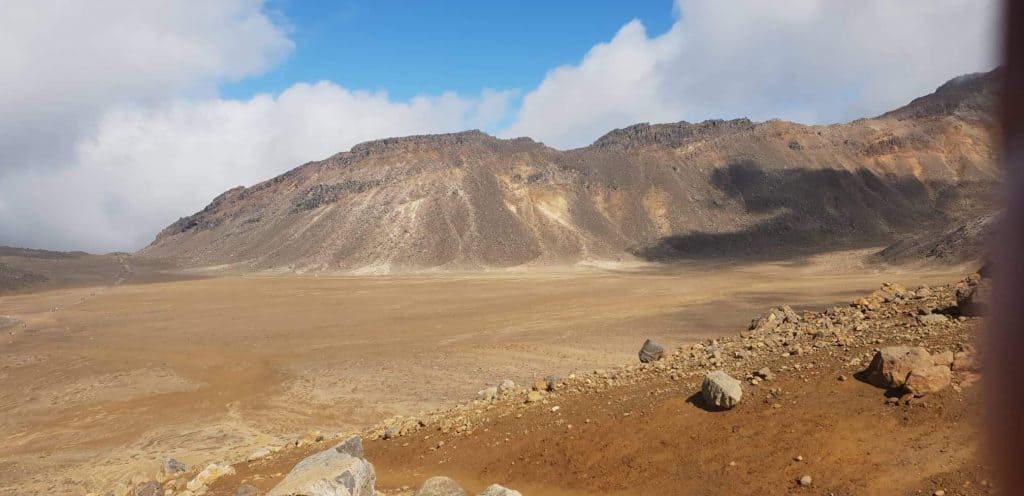 Mount Tongariro has two active volcanic vents – Te Maari Crater and Red Crater. Mount Ngauruhoe is an active volcanic vent. There are Volcanic Hazard Zones around all these vents and both tracks pass through these Volcanic Hazard Zones. Even when these tracks are open, volcanic risk exists. Check out this DOC factsheet for more information. 
The last eruption was in 2012 from Te Maari crater. Nobody was hurt during this eruption. If you are really concerned about the volcanic risk  I would check out the latest volcanic activity information on the Geonet website before you go, and talk to DOC staff and know exactly where the risk areas are. Of course, volcanic eruptions can happen at any time but I wouldn't let the fear of this stop you from experiencing one of the best possible hikes of your life.
A few important tips:
Start the

Tongariro day hike

early in the morning by 8 or 9 am (The best time to do the crossing is before 8am as you beat the crowds). So, you can enjoy the whole day and get off the track before sundown. If you can… Catch a shuttle that will get you on the track before the sun comes up. This way you can enjoy the crossing before everyone else!
Turn back if the weather conditions are poor. The weather in the valley is a good indicator, as the weather will get worse the higher up you go.
Bring lots of snacks as the track is rather strenuous in parts! I had some lollies in my pocket that worked wonders when hiking up the steep sections.
Take a good camera! The photos options are incredible.
Keep an eye on the weather conditions! Seriously, this is really important because the weather can change in an instance up there. And you also want to enjoy the crossing at its best.
Arrange your transport a few days prior but be prepared to cancel if the weather conditions are poor. Be sure to check the companies cancellation policies. But, most companies cancel if the weather is really bad.
Have fun! This could be one of your favourite hikes, ever! 
There you go! Your ultimate Tongariro Crossing Guide. I hope this post has given you some insight into what to expect on the crossing and given you a little clarity on your options for getting there!
I can't wait to hear about your experience! Let me know in the comments below, or if you have any questions, I am more than happy to help!