The West Coast region of New Zealand's South Island is absolutely breathtaking and full of awesome activities to try! If you are looking for the best things to do in Hokitika and the surrounding areas then you have come to the right place.
This article outlines 8 of the best things to do in Hokitika New Zealand and the surrounding area.
Where is Hokitika
Hokitika is located on the West Coast of New Zealand's South Island. The West Coast is not an extremely popular destination for travellers however it is home to some of the most stunning sights in the South Island.
The drive from Greymouth to Hokitika is about 30 minutes where other popular attractions await!
By the way there are awesome hiking spots on the West Coast. If you are going hiking and would like to know what to bring, grab your free hiking checklist below!
Other popular destination driving times to Hokitika:
Franz Josef Glacier to Hokitika: 1 hour 45 minutes
Queenstown to Hokitika: 6 hours 45 minutes
Haast to Hokitika: 3 hours 45 minutes
Chch to Hokitika: 3 hours 20 minutes
How to get to Hokitika
The most popular way to get to Hokitika is self driving. Or catching an Intercity bus.
Your other option includes getting the Tranz Alpine train that departs from Christchurch and finishes in Greymouth and hiring a car in Greymouth.
Check out the Greymouth I-Site website here for more information on transport options.
Accommodation in Hokitika
There are many different Hokitika accommodation options on offer including hotels, motels, backpackers, Airbnbs, holiday parks and bed and breakfast options.
The easiest way I have found accommodation on the coast is using Airbnb. (Sign up to Airbnb here to grab $69NZD off your first trip!)
But below are a few different options for you.
Keep in mind this post contains affiliate links. If you purchase anything through them, I will get a small referral fee and you will be supporting me and my blog at no extra cost to you, so thank you! 
The best Luxury accommodation option in Hokitika.
One of the best Hotels in Hokitika.
One of the best Motels in Hokitika.
The most popular Holiday Park in Hokitika.
One of the best Hostels in Hokitika.
The best things to do in Hokitika
There are soo many activities and destinations to see along the wild West Coast of New Zealand's South Island. Hokitika is definitely one stop you will have to make, even if it's just for a glimpse at the beach!
With so many things to see and do it may be hard to decide. This article will help you discover some of the best things to do in Hokitika.
1. Explore Hokitika Gorge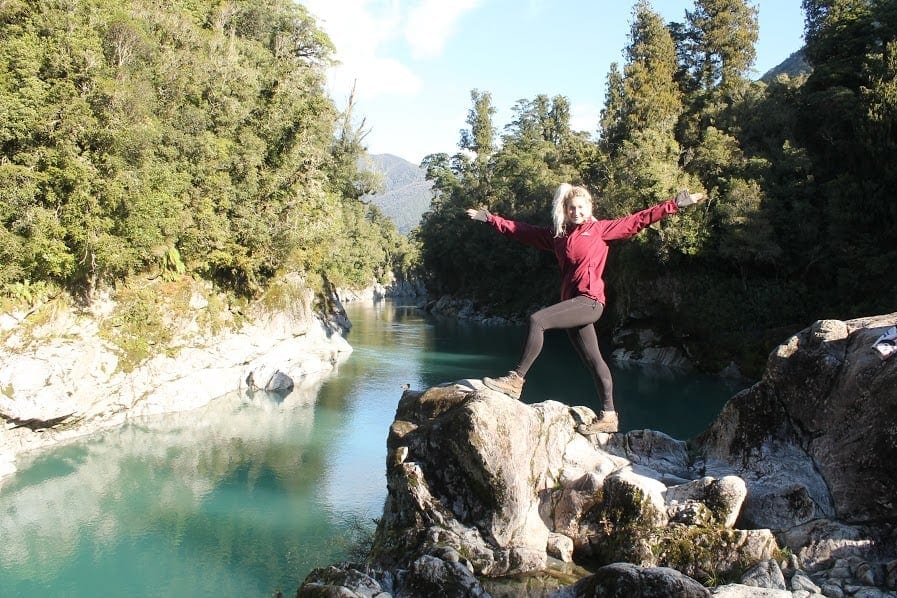 Keen to see some of the most stunning scenery in New Zealand? Put one of the best Hokitika walks on the top of your West Coast road trip itinerary.
The Gorge is one of the most popular Hokitika attractions and is well known for its milky blue colour and freezing temperatures. It's one of those spots that does actually look as good in photos as it does in real life.
If you're into photography this is one of the best spots to capture New Zealand native tomtits and fantails as well as Robins and a few more cheeky birds. The way to access the gorge is through a 650m long walkway that should take you around 10 minutes.
Oh, and did I mention there is a swing bridge?
How to get to Hokitika Gorge
Located 33km from the small settlement of Hokitika and sign posted the whole way. Take a glimpse at these directions from Hokitika.org below:
From Hokitika turn inland (East) on Stafford St from SH6/Fitzherbert St – this changes into Kaniere Road. Veer right onto Kaniere-Kowhitirangi Road.
At T junction, turn right to stay on Kaniere-Kowhitirangi Road. Head over a one-way bridge and at the first 4-way road junction, turn left to stay on Kaniere-Kowhitirangi Road, then go down one country block and turn right to stay on Kaniere-Kowhitirangi Road.
Drive down one more country block and turn left onto Johnston Road. Continue driving past one more country block and turn right onto Nielson Road. One more country block down veer left onto Whitcombe Valley Road. Follow this road until the Hokitika Gorge carpark.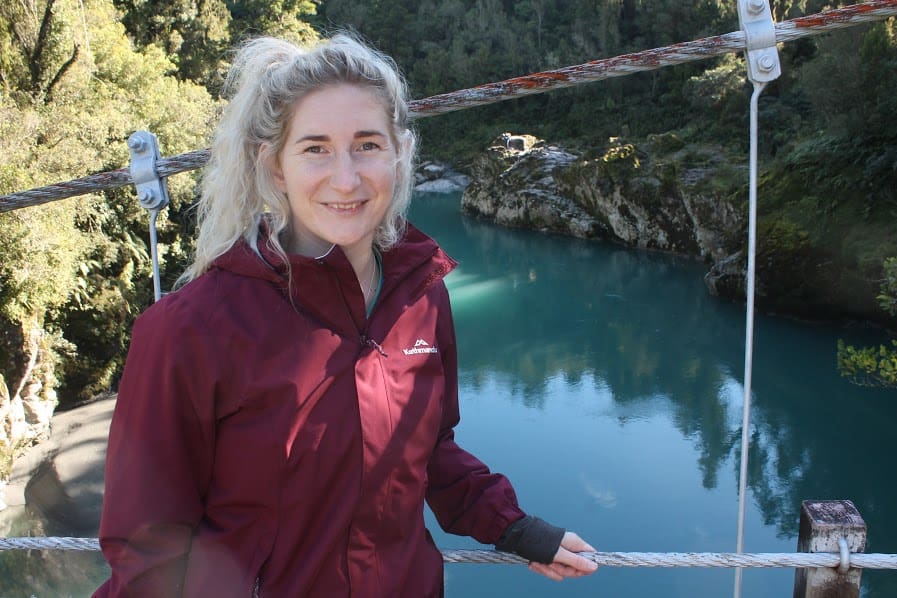 Things to keep in mind
On your West Coast road trip It is important to be aware of the changeable weather conditions. One minute you are in rays of sunshine, the next you're running to the car in an effort to escape an unforeseen hail storm.
Just keep in mind the weather changes quickly on this side of the Island so it is important to pack the appropriate gear.
If you are going hiking be sure to grab my FREE hiking checklist below!
2. Dorothy Falls
A pretty beautiful spot for a photo and a bite to eat during your West Coast road trip. The multi-step waterfall might just take your breath away. Especially if you fancy a dip!
How to get to Dorothy Falls
These incredible falls are situated about 30 minutes inland from Hokitika, just opposite Lake Kaniere. The road to the falls is sealed except for the last 4 km.
Directions from New Zealand Waterfalls below: 
From Hokitika travel east on Lake Kaniere Rd for 18 km until you reach the lake.
Here, turn left and follow the road along the lake for the next 6.8 km.
A small car park is found at Dorothy Falls Rd (on the left) immediately past a bridge over the Dorothy creek.
3. Visit Lake Kaniere
If you are visiting Dorothy Falls (above) then you will definitely want to visit Lake Kaniere. It is literally on the way! Sitting at around 8 km it is an awesome location to enjoy the beautiful scenery and enjoy a picnic!
Lake Kaniere is also a great spot to go for a walk, camp, boat and swim!
Follow the directions listed above for Dorothy Falls and check out the Department of Conservation website here for more details.
4. Check out some local Pounamu at Hokitika
Pounamu or Greenstone is famously found in Hokitika. And in every shop you will see hand crafted pieces of art made with Pounamu.
Pounamu is not that easy to find. But how do you find it?
Along the beaches, near Barrytown or near the river mouth. Basically look for anywhere that it is wet! Check out NZ pocket guide for more information here. If you do find some you can bring it into one of the carving studios and make something from your piece!
5. West Coast Tree Top walk
The tree top walk Hokitika is a popular attraction and definitely worth checking out. Walk along the tree tops in the wild West Coast forest and enjoy stunning views of the Southern Alps and Tasman Sea and native birdlife.
The walk is on a steel passageway and is completely safe and child friendly. Walk up to the tower for even better views.
The walk takes 45 minutes and it is best to wear sturdy footwear.
The cost: $28 for a single adult
Check out the website here for more details.
6. Visit the Glow Worm Dell
Experience magical glow worms at night just out of Northern Hokitika. There is plenty of parking and signage so you will know where to go and the access to the dell is only minutes from the carpark. You can see them year round.
It is recommended to bring a flashlight!
Completely free!
7. Hang out on Hokitika Beach
Hokitika Beach is a location in and of itself. It is unique for its wild waves and numerous bits of driftwood as well as stunning sights. Some of the best sunsets can be seen on the West Coast of New Zealand's South Island.
The beach in Hokitika is a bit more user friendly than Greymouth with a great walking path right next to the beach.
The iconic monument seen of Hokitika below is made from drift wood. Still to this day it stands!
The Hokitika Beach is definitely a great place to go for an evening stroll, some exercise or a gentle walk after a wine or two from the bars nearby. My favourite was a glass of red and amazing Pizza at Fat Pipi Pizza. Check out their Facebook page here.
8. Explore Franz Josef Glacier and Haast Pass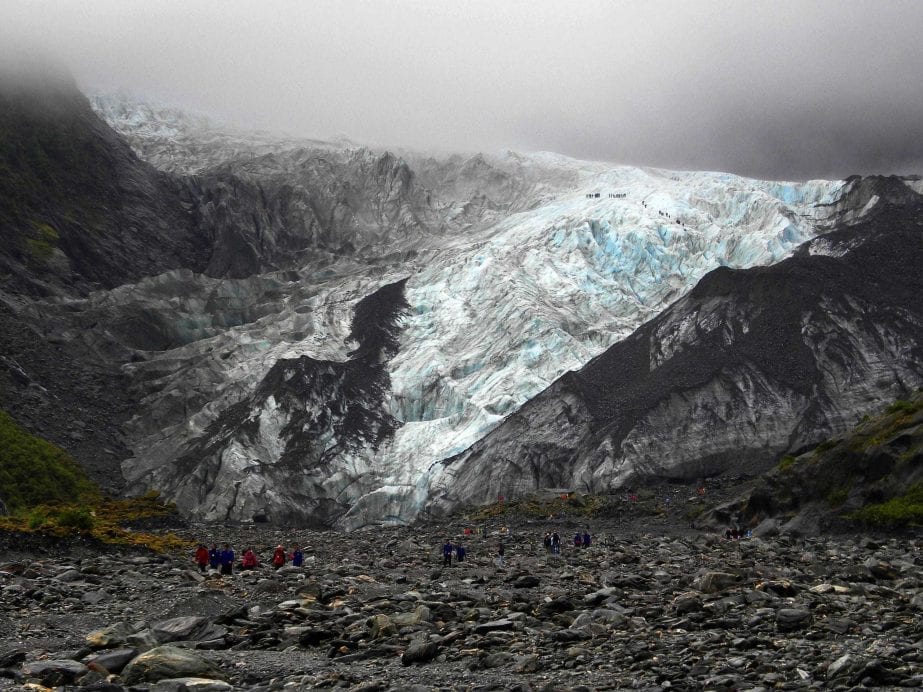 The Franz Josef Glacier is an incredible experience and not too far from Hokitika. You don't have to pay to see the glacier but unfortunately, due to a dramatic retreat that has occurred in the past few years, you can't access the actual glacier by foot.
If you want to have the best experience and splash some cash, this area of the South Island is a great place to do it! You can book in a scenic helicopter or plane flight tour that takes you over the glacier, a heli-hike or heli-ice ice climb, or just book yourself in a tour that takes you up to the viewing point.
How to get there/experience the Glacier: 
Simply drive south from Hokitika alongside State highway 6 for about 2 hours and you will reach the township. Keep driving for 5km past the town and you will arrive at an area where you can park the car.
The last time I went it was a very cloudy day, so you could hardly see the Glacier from the road, but if you visit on a sunny day the view is incredible.
What is so incredible about this Glacier is that it is only 19km from the coast. There is nowhere else in the world where you can see glaciers this close to the ocean!
Cost: Free if you just do a self-guided walk. If you want the high-rollers experience a Heli-hike which includes a Helicopter transfer and a hike on the glacier you are looking at around $479 per adult.
Scenic flights are from $280 per adult. If you need more info on pricing just check out the Franz Josef Glacier website by clicking here. 
Things to note:
The road leading to the carpark from the township was washed away recently so it is a bit bumpy. Keep an eye online for road closures as if there has been a large amount of heavy rain the road can be closed. Just a few months ago the Bridge out of the township got washed away.
25 mins south is another Glacier- the Fox Glacier. Unfortunately, the road out to the glacier has been closed for some time and will remain closed for the foreseeable future- so don't get the two glaciers confused!
Hopefully, this article has given you a few ideas on what to do in and around Hokitika.
This post was written with the help of Sophie Couper. Sophie is a keen traveller who has explored 13 countries and counts Canada and Mexico as some of her favourite places to explore. As a New Zealand girl at heart, her favourite place is the West Coast of New Zealand, and despite her love of beaches and summer she always seems to find her way back to the wild West Coast. You can find her on instagram at xsophiemayx.
Loved this article on the best things to do in Hokitika? Pin the image below for later!
Other articles you might like: