Looking for what to do in Greymouth New Zealand? You have come to the right place. Greymouth is the largest populated town on the West Coast of the South Island and full of epic activities to try!
If you are exploring the West Coast then a visit to Greymouth is almost unavoidable. This article outlines some of the best things to do in Greymouth New Zealand and the surrounding area.
Where is Greymouth
Greymouth is located on the West Coast of New Zealand's South Island. The drive from Greymouth to Hokitika is about 30 minutes. Hokitika is another popular destination on the West Coast. (Here is an awesome article on 8 things to try in Hokitika!)
Other popular destination driving times to Greymouth
Christchurch to Greymouth: 3 hours 20 minutes
Franz Josef to Greymouth: 2 hours 15 minutes
Westport to Greymouth: 1 hour 30 minutes
Fox Glacier to Greymouth: 2 hours 45 minutes
Punakaiki to Greymouth: 40 minutes.
How to get to Greymouth
The most popular way to get to Greymouth is self driving. Or catching an Intercity bus.
But perhaps the most stunning option includes getting the Tranz Alpine train that departs from Christchurch and finishes in Greymouth. Check out the Tranz Alpine website here fore more details.
Also, for more information on transport in Greymouth checkout the I-Site website here.
Taxis are the only way to get around in Greymouth if you do not have a car. The taxi number is: 03 7687078
Accommodation in Greymouth
There are many different Greymouth accommodation options on offer including hotels, motels, backpackers, Airbnbs, holiday parks and bed and breakfast options.
The easiest way I have found accommodation is using Airbnb. Sign up to Airbnb here to grab $69NZD off your first trip!
But below are a few different options for you.
The best Luxury accommodation option in Greymouth.
One of the best Hotels in Greymouth.
One of the best Motels in Greymouth.
One of the best Hostels in Greymouth.
I would recommend staying at the Greymouth Kiwi Holiday Park and Motels.
The kiwi holiday park has powered and unpowered sites for tents and campervans/vans etc. They have cabins if you're not the camping type!
All the cabins are fully self- contained which means you can save money by cooking up some great food from the comfort of your cabin. If you stay in the campground area there are BBQs you can use, plus you have access to a communal kitchen, toilets, showers and TV room.
This is a super affordable place to stay and the customer service is amazing!
Possibly the best part of staying here is that it backs onto the stunning West Coast beach which is located just across the street behind the park. Take a walk on a grassy track for 50 meters or so and you are on the rugged and incredible beach.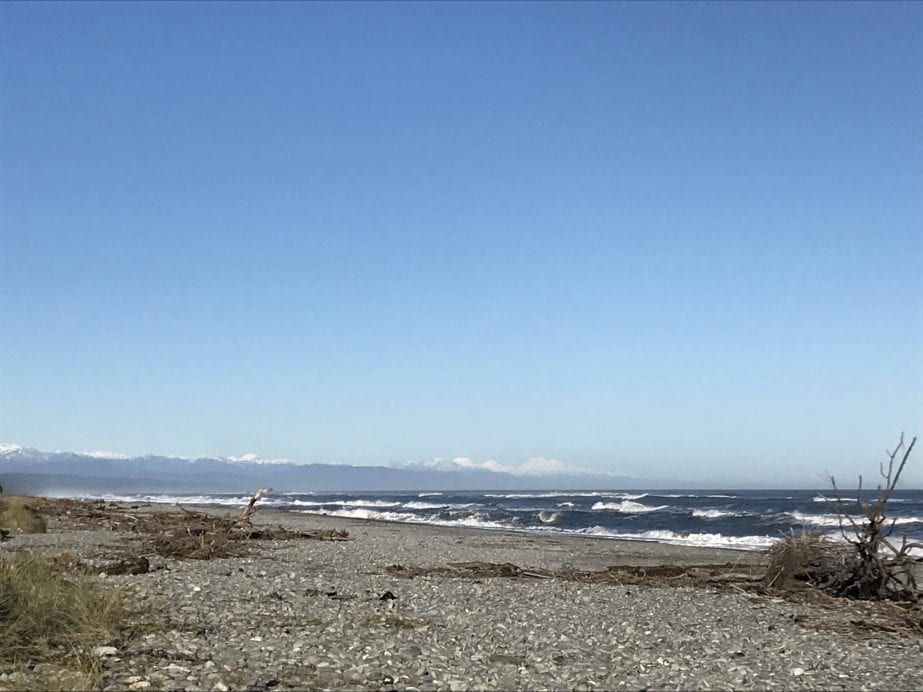 There are small pebbles, stones and rocks lying on the beach and heaps of driftwood, which really adds to the rugged feel. Maybe you could find some Pounamu?
Swimming is not recommended as West Coast beaches are notoriously rough and dangerous, but it is the best location to wander up and down, enjoy the wild waves and sea breeze and if you are lucky enough, catch an amazing sunset!
Tip: West Coast beaches are wild and rugged, and most beaches have strong undertows. I do not recommend swimming in the Greymouth beaches so just be aware of that.
The Kiwi holiday park is about a 5 min drive from the town centre so it's not easy to walk into town from there. If you want to be closer to the main drag you can also stay at the top 10 Greymouth holiday park instead.
Price
This is totally dependent on when you travel but unpowered sites are around $36 per night and powered from around $40.  Depending on the size of cabin you go for they can be as little as $55 per night, up until $135. This is just a rough idea as this is based on the website prices in off – season. Be prepared to pay a bit more if it school holidays or over Christmas etc.
Click here to view and book the Kiwi Holiday Park.
Another accommodation in Greymouth option I recommend is an Airbnb called "Janine's Karoro apartment".
Karoro is about 4 km out of Greymouth's town centre but a perfect location for a home away from home. Everything you could possibly need is located in Janine's Airbnb including milk and toast! She has thought of everything for a traveller missing home comforts.
What I loved most about this spot was the 5 minute walk to the rugged West Coast beach. There is a cycle trail you can wander along to enjoy the beautiful west coast feel after your morning coffee (yes, a Nespresso machine and pods are provided as well).
Cost
Depending on the time of year. When I visited it cost me $103 NZD including the cleaning fee.
The best things to do in Greymouth
Greymouth is an adventure lovers paradise with so many wonderful things to do in either direction. Some of the best things to do are in Greymouth itself while others are within a couple of hours drive of the town. Listed below are 8 of the best things to do in Greymouth and the close by area!
1. Monteith's Brewery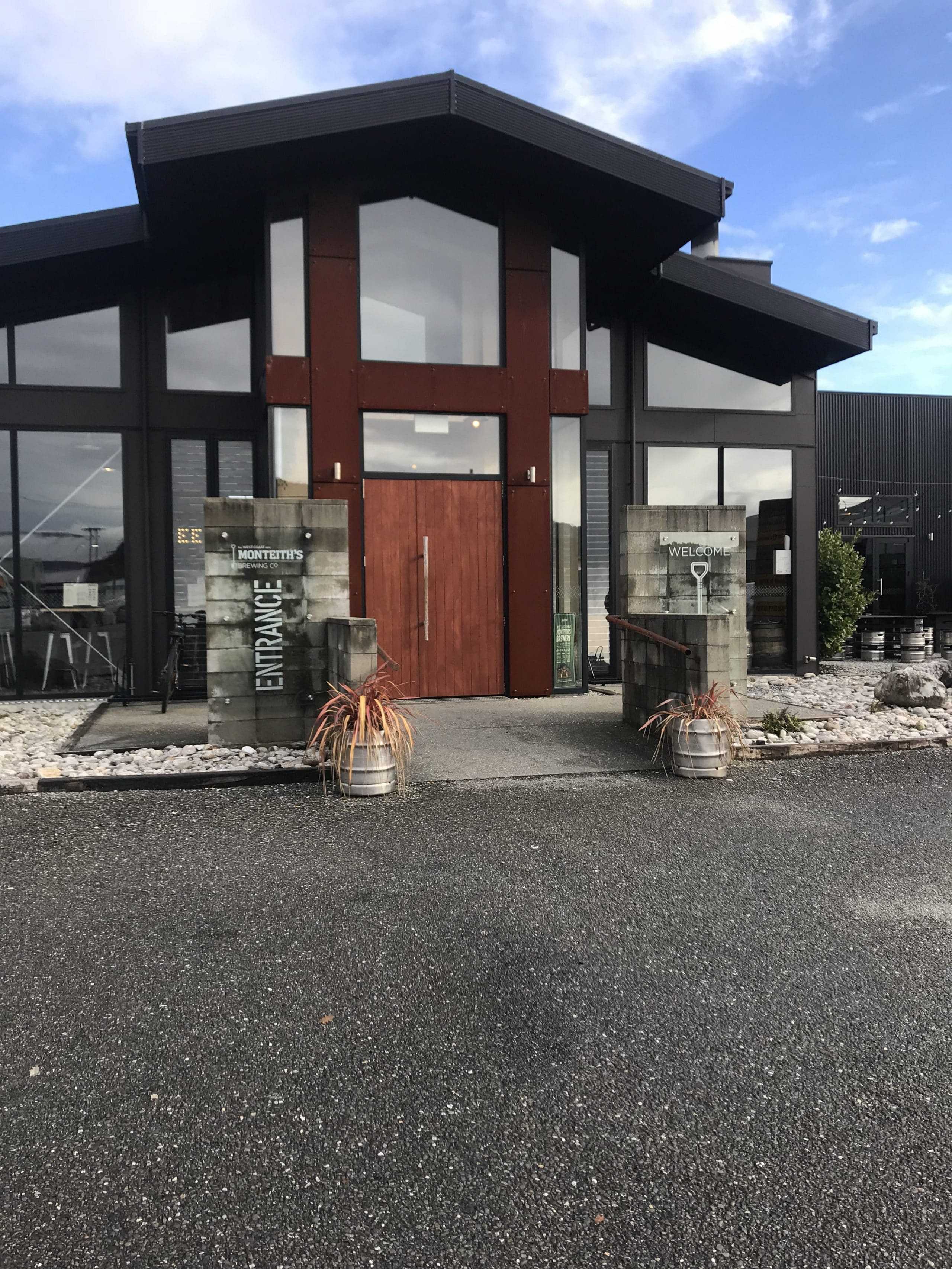 A legend of a brewery you must see while visiting the West Coast region. I highly recommend the brewery tour but the great thing is you can just pop in and have a beer if you're not interested in a tour and enjoy the vibes the newly refurbished place has to offer.
Some of the beers are absolutely delicious and award winning and some of the beers are exclusively produced and sold there. Definitely one of the best things to do in Greymouth NZ.
How to get to Monteith's Greymouth
Located at the corner of Turumaha & Herbert Streets in Greymouth. About a 15 minute walk from the train station.
Cost
FREE to enter. The brewery tour is $25 per person and you get 6 free tastings at the end! As well as a cute West Coast passport with discount coupons. See below.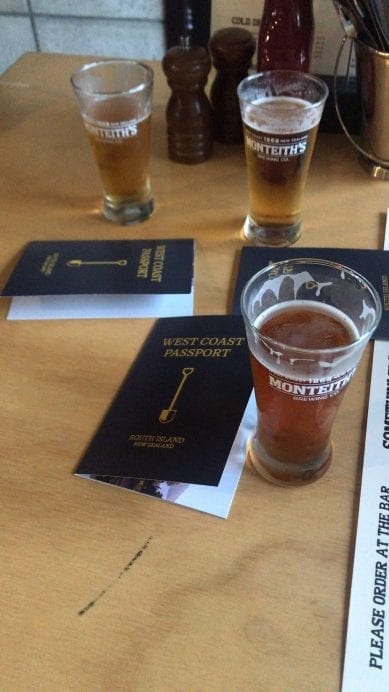 They have a place to store your bags which is pretty handy if you're travelling via the TranzAlpine! They are open daily from 11 am – 9 pm.
Taxis are the only way to get around in Greymouth if you do not have a car. The taxi number is: 03 7687078.
Take a look at their website by clicking here. 
2. The TranzAlpine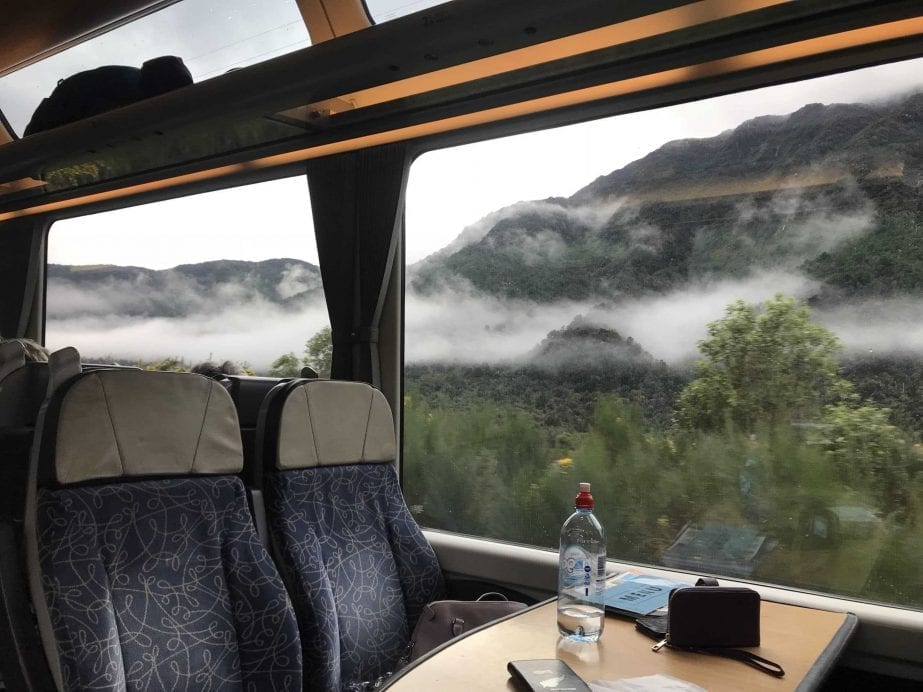 An absolutely stunning train ride through New Zealand's Southern Alps from Christchurch – Greymouth.
While yes, I understand this trip isn't completely isolated to the West Coast region, however, I still had to include it because it is a rather incredible experience and classed as one of the world's great train journeys! Plus, you can do a return trip!
Pass by some of the most beautiful scenery in the country and view a few rather authentic train stops and quaint little towns.
There is a little cafe cart on board (you have to walk to it).
Cost
The fares vary depending on the time of year. You can pick up a ticket for as little as $79. Have a look at the schedule and cost on the TranzAlpine website by clicking here. 
How long it takes
The train trip covers 223 kilometres (139 miles) one-way and takes just under 5 hours. It is possible to do a return trip in 1 day!

Things to keep in mind
You can't get off unless you have pre-booked a stop. There is one compulsory stop (you don't have to get off) in Arthurs pass. A perfect spot to sniff the fresh mountain air and to stretch your legs.
If you get motion sickness it is important to face the way the train is going!
Don't sit at the back of the cart as you will hear all the noises and screeching of the train.
You can take your own food and drink but not alcohol.
The best time of year to go is in the middle of winter when the alps are covered in snow.
You can travel one way or return.
The best photo opportunities are passing by the Waimakariri river and at Arthurs pass. As well as during the trip when you come to the dusted snowy mountains.
3. Visit Pancake Rocks
Ahhh pancakes, who doesn't love em? Seriously though what's awesome about this place is you CAN actually get pancakes at a cafe across the road from the rocks.
Pancake rocks walk is a pretty spectacular destination on the West Coast and one of the you probably don't want to miss. But if you do that's alright. They've been around for 30 million years so perhaps you could see them next time.
If you're keen to visit one of the best things to do in Punakaiki here is what you need to know:
The limestone rock formations are in the shape of pancake stacks (shock right?!).
The track to view the formations and blowholes is an all-weather track in a 1.1km loop 
The Punakaiki pancake rocks walk is on a well-paved concrete track that takes about 20 minutes.  There are also signs along the way that tell the story of the Pancake rocks, how they formed and the history behind it as well as, what is going to happen in the future.
The track has multiple viewing points along the way.
The sea is pretty wild and the views are spectacular.
Try to arrive at high tide to see the epic blow holes in action!
How to get to Pancake Rocks
These beauties are situated about 40 minutes north of Greymouth in a place called Punakaiki. Punakaiki lies in between Westport and Greymouth (44km north of Greymouth and 57km south of Westport) and is the gateway to the Paparoa National Park and all it has to offer!
The area is well sign posted. keep your eyes peeled for Dolomite point- that is where the walk starts. It is really close to the small Punakaiki settlement.
As for parking you will see a car park right next to the Pancake Rocks Cafe. Alternatively you can park just off the highway down from the toilets.
Just tap this one into google maps and you should arrive easily as it is literally on the main highway!
Cost: FREE! It is free to do the Pancake rock circuit. There are also heaps of picnic tables so pack yourself a lunch and enjoy watching the Wekas sneak up and try to steal your food (please don't let them or feed local wildlife!).
Things to keep in mind
On your West Coast road trip It is important to be aware of the changeable weather conditions. One minute you are in rays of sunshine, the next you're running to the car in an effort to escape an unforeseen hail storm.
Just keep in mind the weather changes quickly on this side of the Island so it is important to pack the appropriate gear.
If you are going hiking be sure to grab my FREE hiking checklist below!
For the best experience try and visit at or close to high tide!
You are more likely to see the blowholes in action. Head on over to Metservice.co.nz and under Marine and Surf they have all the high tide times around the country. You are after the Westport-Buller option, click here to go straight to the website. This will ensure you have the best viewing experience!
Lastly,  it might be tempting to cross the barrier to get that cheeky selfie but do not cross the barriers!  The shoreline and waves are unforgiving, and I do not rate your chances of survival if you fall in. Keep an eye on children and save that selfie for behind the fence.
Tip: Once you leave Greymouth there is no petrol along the way so make sure you have enough for the return trip or else you will be in trouble!
4. Shanty Town Greymouth Heritage Park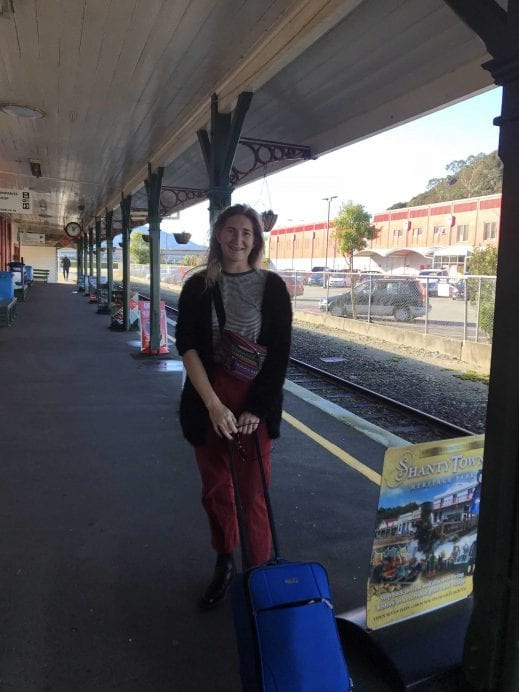 One of the most popular Greymouth attractions. Shanty town is a recreated gold rush town and is only 10km south of Greymouth. It is a bit cheesy to be honest and once you have done it once you don't really need to go back, but it is a super interesting and interactive way to learn about the West Coast region and New Zealand's gold mining history.
Your entry fee includes Steam train rides, entrance to the town, sluice gun demonstrations (how they used to get gold out of rocks) and a holographic theatre show. They also give you the chance to pan for gold which costs extra but I do encourage you to pay for that as it is a unique experience.
Try not to catch gold fever!
There are other things to do such as visit China town (a way to see how the large amounts of Chinese gold panners who came to NZ lived), several short rainforest walks, a sawmill, plus you can explore the village and eat at the café if you like.
Cost
Entry is $33.50 for adults, and $26.50 for students. Prices differ for seniors and children as well.
Gold panning is an extra $7 per pan
Things to note
It is a tourist experience, so it will be busy! However, it is definitely one of the best things to do in Greymouth New Zealand. If you are into doing touristy activities then it will be great, but if you like to get off the beaten track then this place probably isn't for you!
5. West Coast cycle journey
The West Coast is an awesome place to go for a bike ride because it is home to the Wilderness Trail! Sitting at 139 km the track is able to be completed in full or parts. It connects Greymouth with the small town Ross and moves through some of the best West Coast scenery, historical sites and flora and fauna as well as through West Coast towns.
If you would like to hire a bike to do some of the West Coast Wilderness Trail there are plenty of options to choose from.
There is also the option of luggage transfer and shuttle to the beginning or end of the trail.
If you would like to hire a bike to do some or all of the West Coast Wilderness trail check out Cycle Journeys here for more details!
For a day bike hire or for a short hire (as well as longer) check out Coast Sports and Cycles here for more details!
6. The Heaphy Track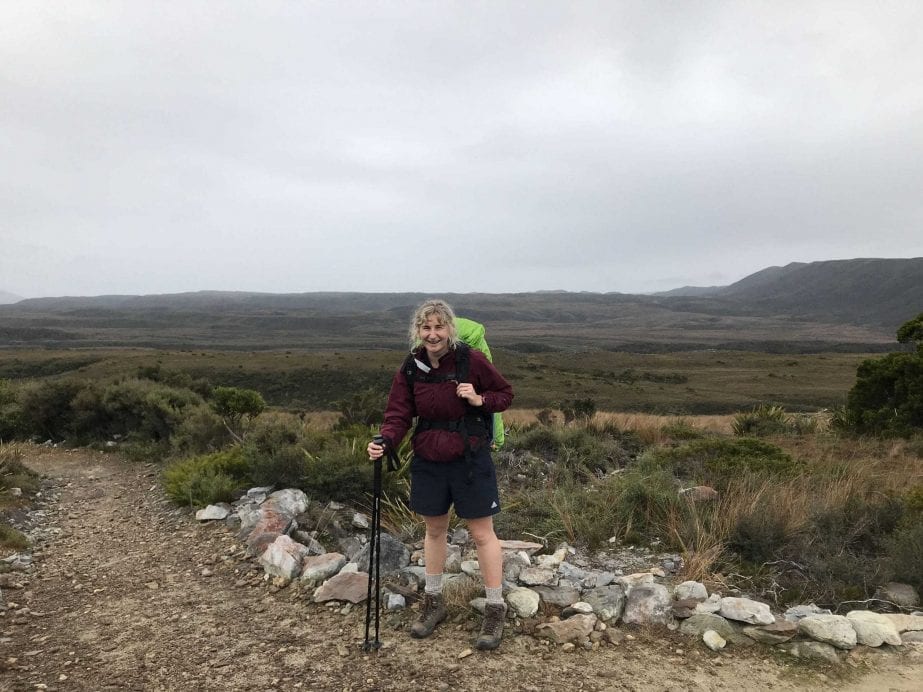 The Heaphy track is the godess of all hiking tracks and one you don't want to miss while exploring the West Coast region. The native flora and fauna is absolutely breathtaking and changes each day of the walk.
There is just so much colour, formations and textures to explore including open tussock, lush forests, wild West Coast bush and stunning beaches. If you're interested in discovering more about the Heaphy Track head on over to my post all about it by clicking here. 
Hang on, is this the West Coast region?
Technically no, if you do the entire thing you'll end up in Nelson/Tasman region. But, I had to include it anyway. If you're keen to stick purely to the West Coast region on your trip then, a hike into the Heaphy Track should be on your list.
The entire hike is 78.4 km. However, you do not have to go this far to enjoy the Heaphy track and awesome West Coast bush.
The best way to discover some of the Heaphy track if you are on limited time would be to hike into Scott's beach, a beautiful sandy cove enveloped by steep cliffs and covered in dense rainforest and majestic nikau palms. To learn more about this hike head on over to the Heaphy Track website by clicking here. 
How To Get To Kohaihai (The start or end of the Heaphy track). Directions from DOC: 
Kohaihai is 110 km and a 1 hr 45 min drive from Westport. To reach this western track end:
take SH 67 from Westport to Karamea (95 km)
at Karamea head north to the car park and campsite at the Kohaihai River (15 km).
Cost
Hiking the track is FREE. But if you would like to camp or stay in a hut you will need to pay. Campsites are $14 per night and huts are $34 per night. To make a booking click here to go to DOC website. 
How long the walk takes
Hiking into the Heaphy track takes as long as you want it too. If you want to hike the entire thing it takes anywhere from 3-5 days.
Things to keep in mind
Sanflies are pesky little buggers on the West Coast! Make sure you pack appropriately for any hiking mission in New Zealand. Check out my ultimate day and night hiking packing list below to get you sorted.
7. Buller Gorge and swing bridge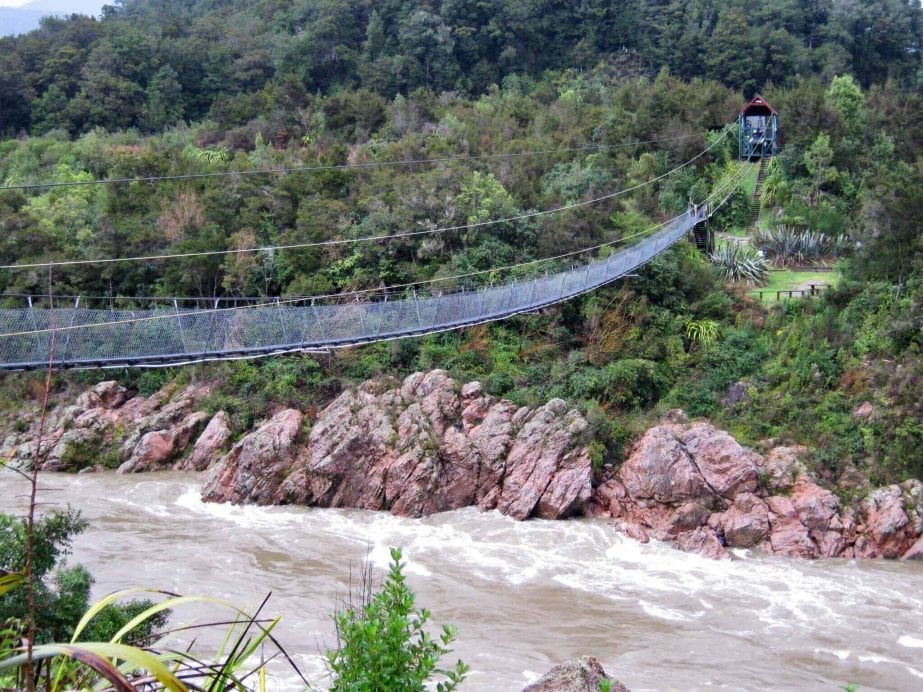 The first stop while exploring the West Coast region (if you are coming from the North) or last (if you are coming up from the South). The Buller Gorge is a ridiculously picturesque river valley formed by the Buller river and place you don't want to miss while travelling to or from Greymouth.
The drive itself is amazing, although I recommend driving it in daylight! We were ¾ of the way through when darkens hit and those windy and twisty roads are a bit hairy in the dark! – Remember, NZ roads can be narrow, usually have a single lane of traffic in each direction and are windy a lot of the time!
Just past Murchison on State Highway 6 is the Buller Gorge Swingbridge. This is NZ's highest swing bridge. It is suspended 19 meters above the Buller river and is 110 Meters long. A perfect place to stretch your comfort zone if you're afraid of heights!
Once you cross the bridge there is a loop walk that takes about ten minutes, or feel free to explore other paths and see where the water rose to in past floods.
You can spend up to a few hours doing specific hiking tracks in the area but if you are just stopping off in your way through, then the loop is a perfect option.
Cost
$10 for an adult and $5 for a child for the bridge. The drive through the gorge is free!
Directions
From Picton it takes about 2 and a half hours to get to the Swing bridge if you follow state highway 63, and then follow state highway 6 once you hit Kawatiri.
After the Swing bridge you can either turn onto state highway 69 and travel 1 hour and 51 mins to Greymouth or stay on State Highway 6 and travel the 2 hours 20 mins along the coast to Greymouth.
Things to keep in mind
The Bridge is quite high up and as any swing bridge does, it sways a lot! So, if you are really scared of heights I do not recommend crossing. Also- West coast mosquitos are numerous. This was the first stop on my trip and I got incredibly bitten. Make sure you stock up and use insect repellent constantly all throughout the West Coast region!
8. The Croesus track – Blackball
One of the great things to do in Blackball just out of Greymouth is the well-known Croesus Track.  The Croesus track is a miners' track that takes you from the town of Blackball, through the Paparoa rangers and through to Barrytown.
The whole coast was hit with the massive gold rush and gold fever that struck New Zealand in the 18 and 19 hundred's so there were a heap of miners tracks in the region, but this is one if the only remaining ones and is in excellent condition. 
During the tramp you can see multiple examples of the local gold mining heritage and also spot some native wildlife and vegetation. 
How to get to Blackball
To get to Blackball itself just follow the signs in Greymouth- it is about a half hour drive North from Greymouth and is really well signposted! To get to the Smoke-ho carpark drive 1 km through Blackball and head to the sealed road to Roa mine. Look for the signpost pointing right, indicating the gravel road to the Smoke-ho car park and to the start of Croesus Track.
There are a few routes you can take. Possibly the most popular and easiest is starting at the Smoke-ho carpark in Blackball and tramping to Ces Clark Hut. This hike is 4-5 Hours return. The Ces Clark hut is first come first serve and has 16 bunk beds. 
Which route to hike
There are multiple tracks to choose from but the Garden Gully side trip is a good option.  
Start the walk to the Ces Clark hut, but turn off at the Garden Gully Junction. From there it is a 45-minute return trip past an old miner's hut that you can explore, a suspension bridge and from there you have two options.
1) Head left and follow the marked route to climb up the creek until you reach the century-old quartz crushing battery stampers, which is from the gold mining era. It is also a great place to eat your packed lunch!
2) Instead of turning left, turn right (or do both- why not!) and walk uphill for 15 mins until you arrive at an old collapsed mine entrance.
Spare 6 hours return for the trip (to the stampers and then back to the carpark) just to be on the safe side as it is very easy to get distracted by the scenery. 
If you love the outdoors and are super fit, then make sure you take part in the Goat Race. The Goat Race traverses the Croesus track from Blackball to Barrytown and is 25km long mountain trail. It starts from Formerly the Blackball Hilton on Blackballs main street. It is open to anyone over the age of 15 but has limited spots.
Things to keep in mind
Be prepared! A good place to start would be to read this post about being prepared in the NZ outdoors, click the link here to view!
You are probably thinking it can't get that bad for a small bushwalk but the weather on the Westcoast can change very quickly but it can!
Always pack a lightweight rain jacket as staying warm is the main thing! A thermal in your bag is also a great idea. Wear good walking shoes as the ground can be a bit uneven sometimes and take lots of water!
9. Blackball and the Brunner Mine site
If you don't have time/don't want to do a hike, then still definitely visit blackball for an hour or so!
How to get there
It is only 30 mins North of Greymouth so is easy to just go for the morning!
On the drive to Blackball and 11km outside of Greymouth is your first stop- the Brunner mine site. This site was one of New Zealand's first industrial sites, and they mined coal here which was then manufactured into Coke, Firebricks and other products.
There is a 2 Km loop you can do but, in all honesty, you can just spend 30 mins wandering around the historic Coke ovens, Brick factory and the remains of the tunnel entries. 
DOC have done a great job with providing a heap of info and making it an interesting and interpretive place to explore. 
Keep in mind
The Brunner mine disaster happened on 26 March 1896 and was NZ's worst mining disaster. 65 men died during this explosion and at the site there is a memorial for all those who perished. Just be respectful and take time to read the memorial for all the men who perished. 
After you have visited the Brunner Mine Site, keep driving on to Blackball. There is not too much going on in this sleepy town of 291 people, but it is a great place to check out since you are already in Greymouth!
It used to be booming town and was the birthplace of the New Zealand labour party, which came to be after the longest running miners' strike in history in 1913. However, once the Roa mine closed a lot of people moved on as that was where the majority of people worked.
There is something special about visiting a real unique NZ town. No matter when you visit as soon as you drive up the hill you are welcomed with the smell of coal smoke.
Pretty much all the fires are coal meaning the entire town smells like Coal smoke most of the time! Also, it always seems to be covered in a thin layer of mist, so that adds to the eccentricities of the place! 
10. Drive Haast Pass!
I highly recommend doing the drive from Greymouth, through Hokitika, visiting the Glaciers and driving all the way through to Queenstown via the Haast pass.
In my opinion, the Haast pass is the most scenic drives in the country. I won't go into too much detail as it technically isn't the West Coast region.
The drive takes about 7 hours of constant driving but is definitely worth it and can be combined with some of the awesome activities on offer in Greymouth in either direction you are driving through the West Coast!
I hope this post has given you some insight to the West Coast region and what to do in Greymouth NZ and the surrounding area.
This post was written with the help of Sophie Couper. Sophie is a keen traveller who has explored 13 countries and counts Canada and Mexico as some of her favourite places to explore. As a New Zealand girl at heart, her favourite place is the West Coast of New Zealand, and despite her love of beaches and summer she always seems to find her way back to the wild West Coast. You can find her on instagram at xsophiemayx.
There are numerous places to explore and we have picked some of the best and well-known activities that we think everyone will enjoy. If you have any questions or concerns please comment below. Also, if you've already been we would love to hear from you and learn your favourite spots!
Be sure to check out more South Island travel articles! Or, pop on back to the home page.
Loved this post on things to do in Greymouth New Zealand? Be sure to pin the images below for later!
Other articles you might like:
8 Epic things to do in Hokitika