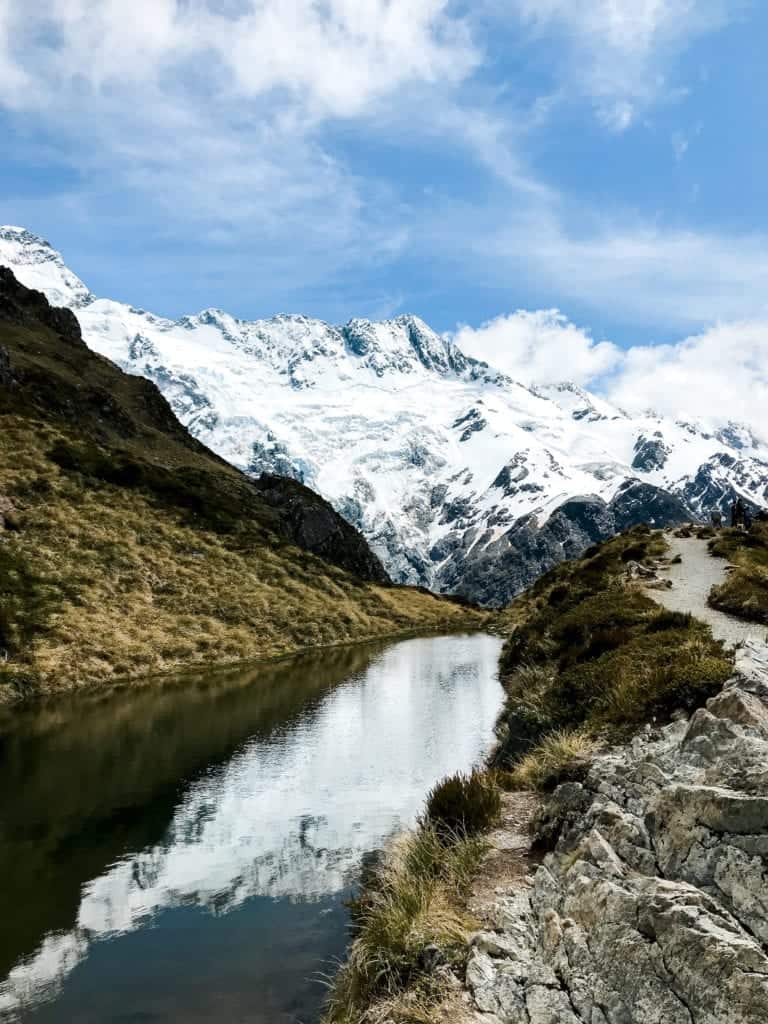 Planning a trip to New Zealand? How about doing a South Island road trip? The South Island is an outdoor lovers paradise and an absolutely stunning destination. It is well known for the Southern Alps, glaciers, lakes, hiking and adventure activities.
Because there are endless NZ South Island things to do you might be confused about where to start on your road trip… So I have created this travel guide to help you plan your best New Zealand South Island itinerary. Even if you aren't doing a road trip this article is for you as I answer all of your South Island New Zealand travel questions!
I have lots of information for you to use on your South Island travels. Make sure you use the table of contents below to go directly to the section you need answers for!
South Island New Zealand overview:
Where is the South Island of New Zealand?
This is a valid question as there are actually 3 main islands in New Zealand! The North, the South and Stewart Island.
Hopefully, the South Island map below helps to give you a better understanding of the layout! Stewart Island is the small island located at the bottom of the South Island- South of Invercargill.
Map of New Zealand (South Island is the bottom Island):
There are lots of oceans surrounding the South Island! The Tasman sea lies to the West, the Pacific Ocean lies to the South and East and the piece of ocean between the North and South Island is called Cook straight.
I should probably take a second here to let you know, just in case you were wondering… New Zealand is not part of Australia! It is its own country and a 3 and a half hour flight from Australia.
How big is the South Island?
Big, but not full of people! The South Island is the largest island of New Zealand sitting at around 150, 437 square kilometres. However, it is smaller than the North Island in regards to its population!
New Zealand South Island population: 1.038 million
How to get to the South Island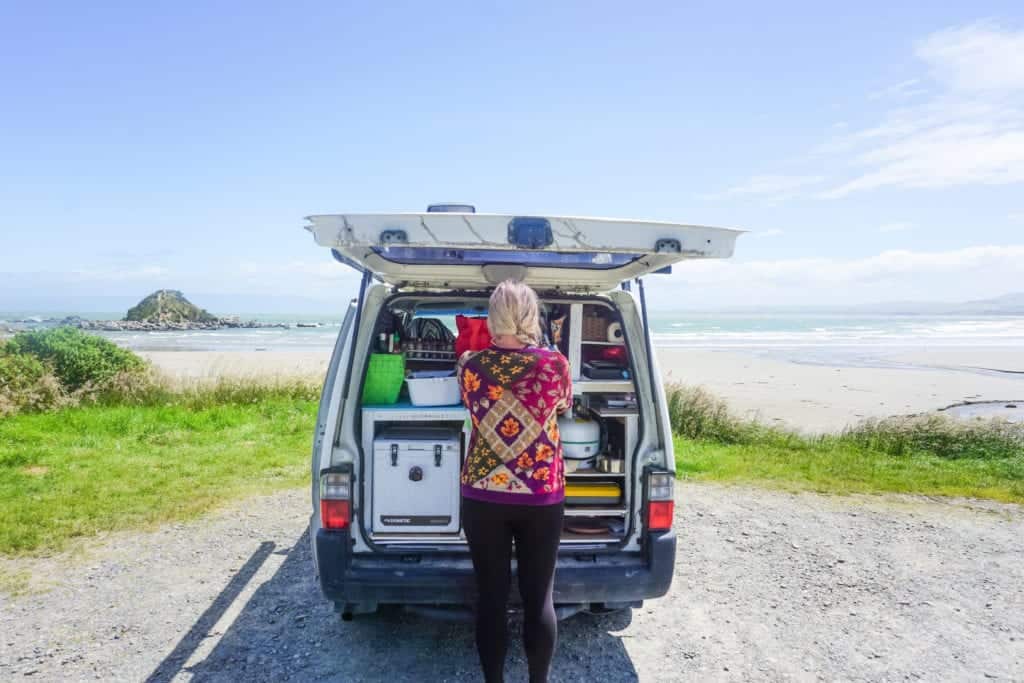 Getting to New Zealand's South Island definitely isn't as easy as the North Island. Most international flights land in Auckland (in the North Island). The biggest city in the South Island is Christchurch and some places fly direct into the city. Pop onto the Christchurch airport (here) to see if you can fly directly from wherever you are!
The most popular way to get to the South Island is a direct flight to one of the major airports from Auckland. The major airports in the South Island are:
Christchurch
Dunedin
Queenstown
The other way to get to the South Island is via one of two Ferries that cross the Cook Strait from Wellington to Picton. This is my favourite option and one you will need to take if you are travelling the length of the country by campervan! The two ferry companies are:
Both companies have similar pricing.
South Island transportation
New Zealand's public transport sucks including the South Island. Hiring a car or campervan is the most popular option to get around and gives you the best opportunity to see more than the mainstream tourist spots.
If you are backpacking around New Zealand you might like this article from The Broke Backpacker with awesome budget backpacking tips throughout NZ.
Travelling the South Island by car: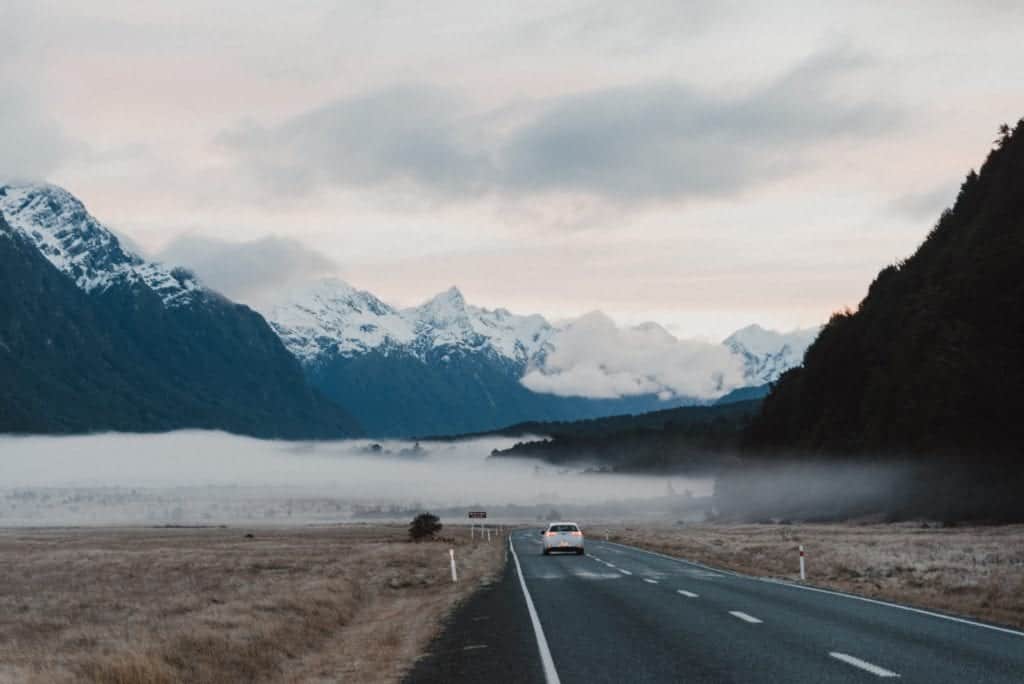 Perhaps you have landed on this article because you are keen to do a South Island road trip! That's great. Travelling the South Island by car is the best option to see all of the beautiful destinations on offer and to give you ultimate freedom. There are many rental car companies located in most major towns. The only downfall to travelling by car is the high petrol cost. Even for locals, we are amazed at the rising prices! The highest price I have seen is $2.48 per litre. Also, the price of hiring a car per day can be expensive.
How to find cheap car rentals in the South Island?
Look around- Check out the website Vroomvroomvroom that compares rental prices
Book in the off-season – Between March and October
Book early
Look out for deals on the rental companies website
Be aware of hidden costs- Read that fine print! Most companies charge for one-way fees, young drivers and additional drivers. Check out NZ Pocket Guide (here) for more details on how to find cheap car rentals!
Travelling the South Island by campervan or van: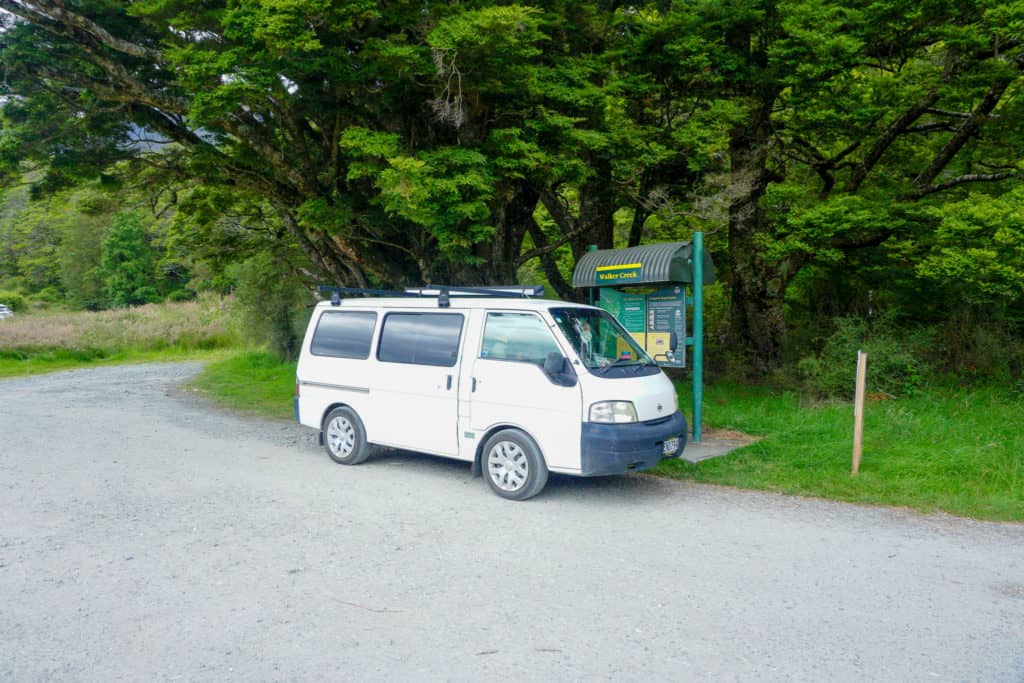 My favourite way to see the South Island! Travelling by campervan or van is one of the most popular ways to get around. The #vanlife culture in NZ is strong!
Related Read: Discover the best places to travel in a campervan in NZ! 
The feeling of freedom and beautiful places to park up is out of this world. Speaking of parking up, the South Island has HEAPS of camping grounds to choose from. Finding them are made easy with the app CamperMate (check out the app here).
Travelling the South Island by bus:
Choose to travel by public transport or a backpacker bus. The public system is very slow and again, very limited. A backpacker bus is definitely the way to go! These buses are made for travellers and give you greater flexibility with some companies providing a hop on hop off service!
A few of the best companies that will get you to most major towns, cities and tourist destinations:
There are lots of other smaller bus companies that can get you to where you are going. For example, in Milford Sound, there are many bus companies to choose from.
If you are wanting to do one of the Great Walks then there are also bus companies/ van operators that can get you to where you are going. The best option is to Google where you are going and see if they have a service you need! Or pop into a local visitor centre called an i-site.
Travelling the South Island by train: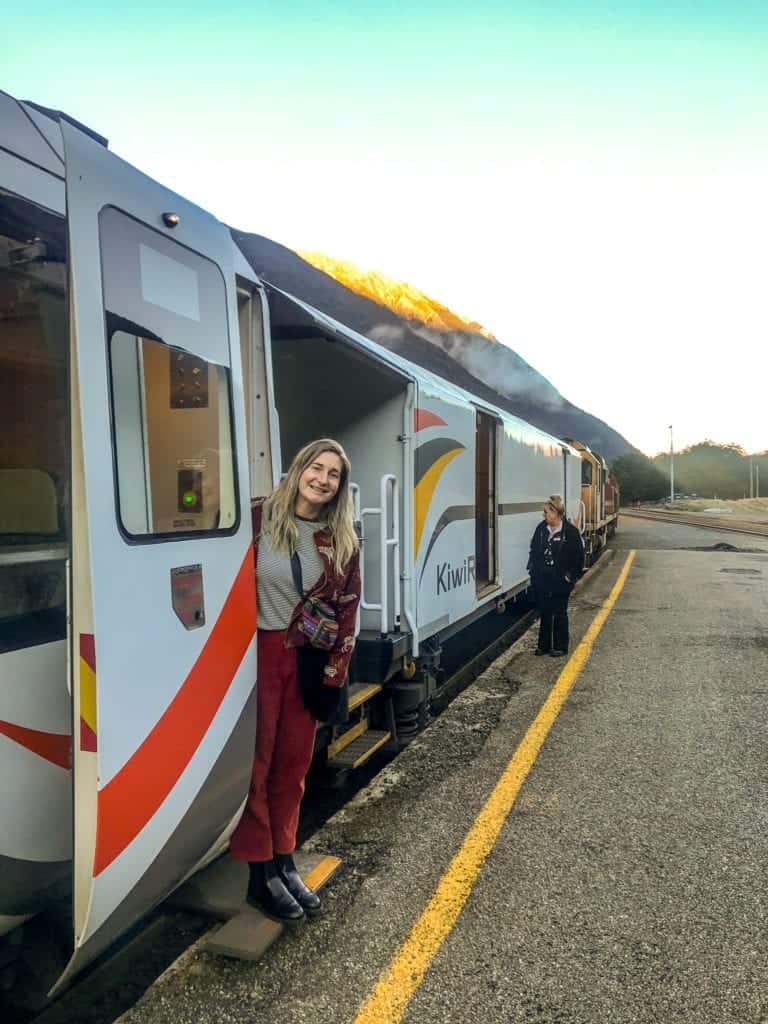 Yes, you can travel part of the South Island by train! It is definitely a less popular option and there are not many services. However, it is possible. There are two major services outlined below:
The TranzAlpine- This is a magnificent journey from Christchurch- Greymouth, through the Southern Alps and Arthurs Pass and other stunning locations along the way. I trip I highly recommend doing to get a feel for the South Island's unique beauty.
The Coastal Pacific- A journey from Christchurch to Picton. This one has recently opened again after the Kaikoura earthquake and is definitely on my list!
Also, check out Dunedin Railways for short scenic trips around the Dunedin region!
Hitchhiking in the South Island
Hitchhiking is a popular way to get around in New Zealand and usually pretty safe. Lots of locals I know pick up hitchhikers and lots of my friends from different countries have managed to get by in NZ well by hitchhiking.
I have picked up numerous hitchhikers over the years and had some good conversations along the way! Here is an awesome article by Chur New Zealand who gives you insightful tips and stories about hitchhiking in New Zealand!
South Island driving times:
Below are a few of the most popular driving routes and times from Christchurch:
It takes roughly 11.5 hours to get from Picton (at the top of the south) to Bluff (at the bottom).
Christchurch – Queenstown: 8 hours
Christchurch – Lake Tekapo: 3 hours
Christchurch – Picton: 4.5 hours
Christchurch – Dunedin: 4. 75 hours
Christchurch – Nelson: 5.5 hours
Take a look at the New Zealand travel insider website (here) to find more driving distances.
South Island weather and when to visit
The weather in New Zealand is changeable. It is completely possible to experience 4 seasons in a day! This is no different in the South Island.
Except it can be slightly wetter than the North. It is home to one of the wettest National Parks in the country… The Fiordland National Park! It receives rain on an average of 200 days per year! A rain jacket down that way is definitely needed (Milford Sound is in the Fiordland NP).
The South Island of New Zealand is colder than the North because it is closer to the South Pole. In winter temperatures can get to -10 in some places.
Most of the towns are close to the coast which means there is heaps of sunshine, moderate rainfall and mild temperatures (except in the South of the South where you can experience chilly frosts in the winter mornings!). Outlined below is what you can expect in the South Island in every season.
Summer (December, January and February)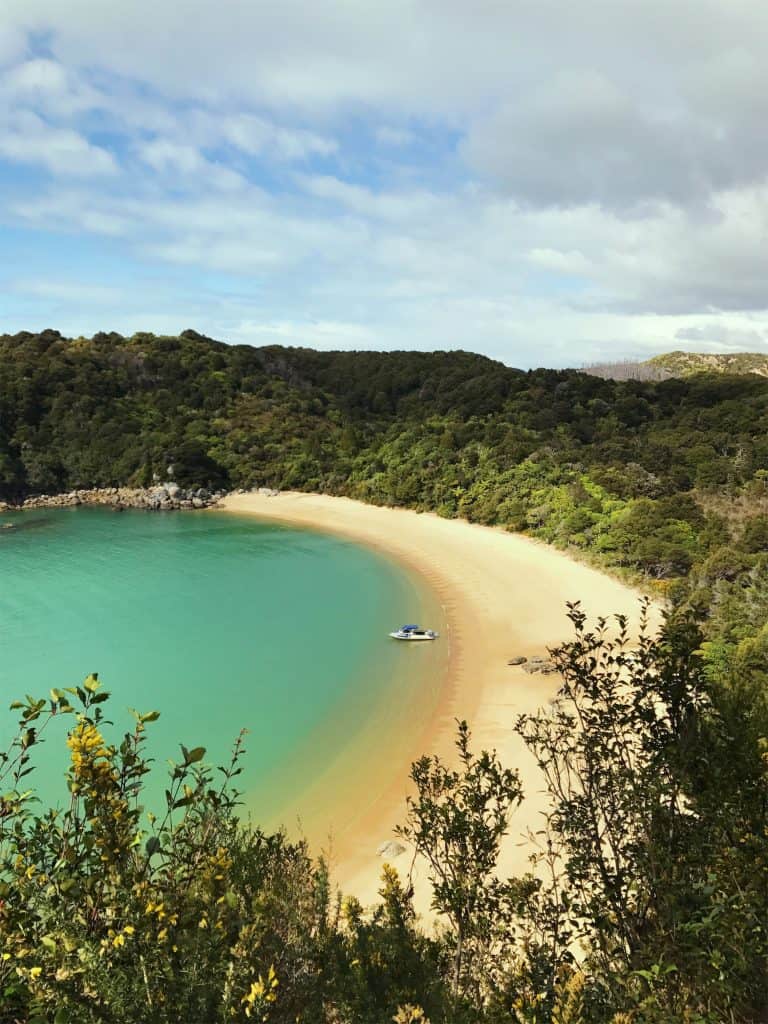 The most popular time to visit New Zealand is in Summer. This is when rental car prices are most expensive, flights and activities. It is also when children are on school holidays so it is a hectic time of year for most places!
New Zealand has daylight savings and in summer the nights and days are long. Alexandra (in Central Otago) is the hottest town in NZ in summer with average daily highs of 25 degrees. Most places range between mid to low 20s (°C).
It is incredibly important to regularly apply sunscreen in New Zealand as you can get burnt spending just 10 minutes in the sun (as I have found out multiple times).
Autumn (March, April and May)
A beautiful time of year when the leaves are falling and temperatures are starting to decline. Dew on the window becomes more frequent at this time of year and the feeling of winter approaching creeps in!
The weather can still be amazing in Autumn and swimming in the lakes and rivers is still completely possible. It is a season that has the most settled weather.
Temperatures will be around 15-20 degrees in most places. You will need to be a bit more careful when in the outdoors at this time of year particularly if you go hiking. This is because the weather can change instantly and will be a lot colder than in Summer meaning extra layers and care is needed.
Central Otago is one of the best places to be in Autumn because of all the changing tree colours. #thatwanakatree looks stunning at this time of year!
Winter (June, July & August)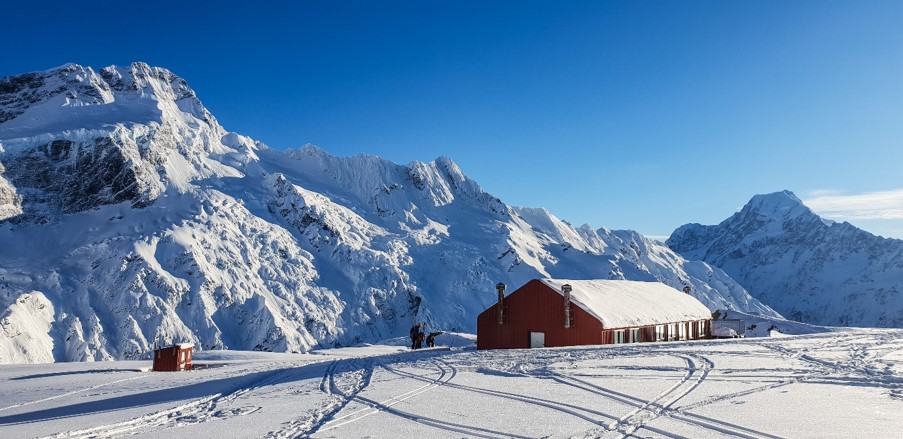 The Mackenzie basin and Central Otago are the coldest parts of the South Island in winter and home to some of the best ski fields! If you are into snow sports this is an awesome time to visit New Zealand.
Winter temperatures throughout the South Island average at around 8 degrees, with most average highs between 9-15 degrees. The further north you go the warmer the weather!
Nelson is a lovely place to explore in winter including the popular Abel Tasman National Park! One of my favourite times to visit this park is in winter when you almost have the entire track to yourself!
Be careful of black ice when driving in winter. Extra care is needed!
Spring (September, October, November)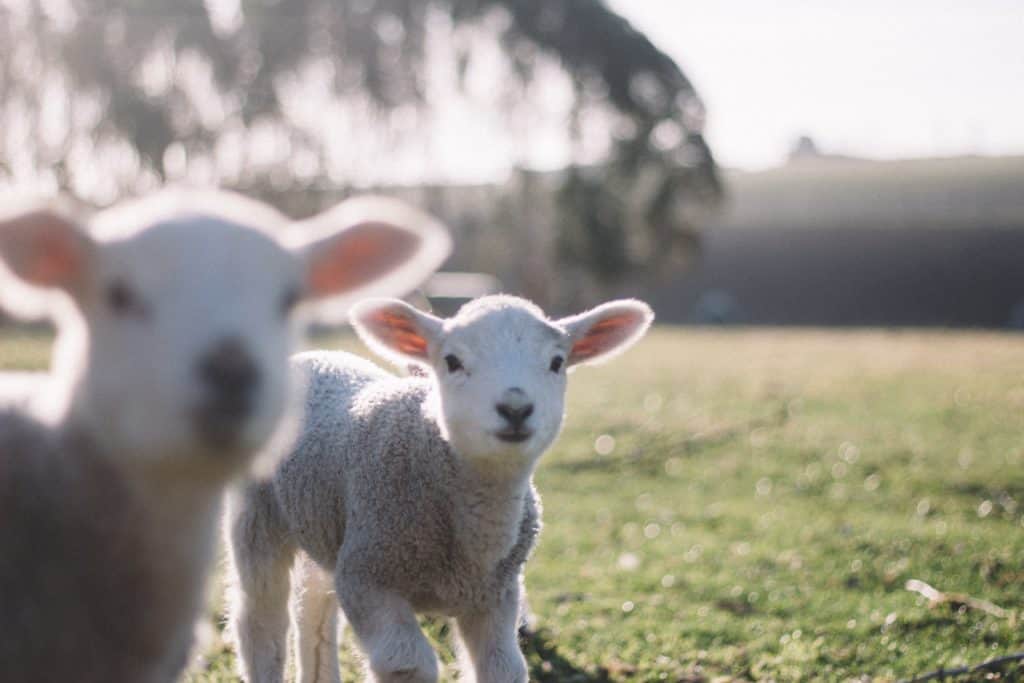 Sub-zero temperatures are still present at night at this time of the year but the weather is warming! The average daily temperatures are between 10 and 20 degrees.
This time of year is particularly beautiful as lambs are being born and the trees are blossoming. Alexandra in Central Otago celebrates spring with a blossom festival!
New Zealand travel insurance
My favourite travel insurance recommendation is:
World Nomads– I have personally used World Nomads when travelling abroad because of value for money. Here in New Zeland, it is important to get insurance that covers the adventure activities you might like to do! They have two great plans depending on your budget and the type of insurance you want!
Here is a little blurb from their website:
You can buy and claim online, even after you've left home. Travel insurance from WorldNomads.com is available to people from over 130 countries. It's designed for adventurous travellers with cover for overseas medical, evacuation, baggage and a range of adventure sports and activities.
New Zealand South Island cities and regions
There are 4 major cities in the South Island of New Zealand and 7 regions.
South Island cities:
Christchurch (the largest)
Dunedin
Invercargill
Nelson
South Island regions:
Tasman
Nelson
Marlborough
West Coast
Canterbury
Otago
Southland
South Island road trip: Where to go!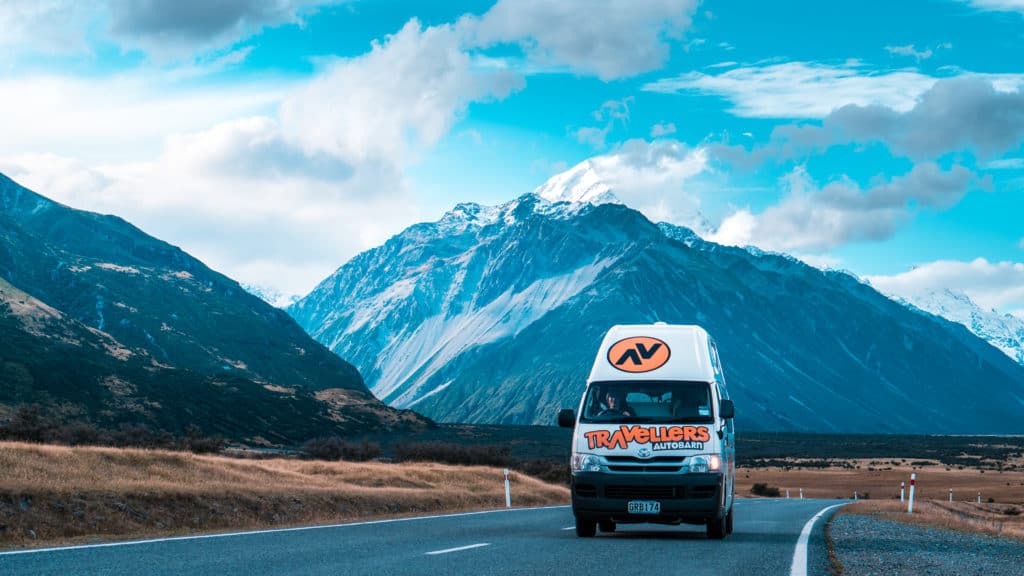 I have an article coming soon about the best things to do in New Zealand South Island to help you better plan your South Island road trip but for now, I recommend visiting:
Marlborough Sounds
Nelson
Abel Tasman National Park
West Coast
Christchurch
Lake Tekapo
Mount Cook
Wanaka
Milford Sound
The Catlins
Keep reading below to find out the best things to do in each location and a typical 7 day itinerary!
NZ South Island things to do and places to visit:
There are many South Island must see destinations. Deciding where to go and what to do can be a tricky task. The good thing is you can see most of the South Island in a short amount of time. Where you go really depends on what you want to do.
How do you decide the best things to do on the South Island of New Zealand?
Below are the best 3 things to do in each of my favourite locations in the South Island:
Marlborough Sounds: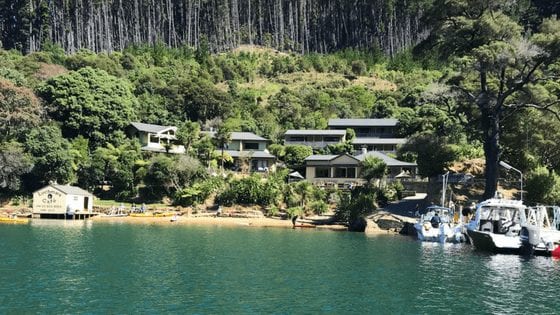 Nelson:
Visit the Freehouse craft beer pub
Head to the Motueka Sunday markets
Take a stroll to Whispering falls (read about the 4 best walks in Nelson here)
Pop on over to Golden Bay in the Tasman region (over the Takaka Hill) and explore the sights! 
Abel Tasman National Park:
West Coast:
Read more about epic things to do on the West Coast! 
Christchurch:
Take a stroll up the Port Hills
Visit Cave Stream
Have an ice cream in Sumner
Explore Hanmer Springs! 
Take a 2 hour drive South and explore my home town of Timaru! 
Lake Tekapo:
Climb up Mount John
Visit the Tekapo hot pools
Ski at Roundhill
Read more about some amazing things to do in Lake Tekapo! 
Mount Cook
Visit the Lavender farm
Rock climbing at Sebastopol
Hiking Hooker Valley track
Wanaka:
Visit the lavender farm
Climb Roys Peak
Visit Cardrona Hotel
Milford Sound: 
Stop by Mirror Lakes
Swing on the Milford Swing
Stop by the Homer tunnel
Read more about the best stops from Queenstown to Milford Sound!
The Catlins: 
Visit Nugget Point
Visit the gypsy caravan
Explore cathedral caves
Read more about the best things to do in the Catlins! 
Read more about the best things to do in the Southland region! 
South island itinerary
There are so many NZ South Island things to do most people don't have time to cover everything. Most people spend 1 week in the North Island and 1 week in the South. This is a short amount of time meaning you need to pick and choose where to go.
Be sure to check back as I am in the process of constructing a South Island New Zealand Itinerary. 7 days is enough to explore some of the best spots quickly however, I would recommend spending a full 2 weeks in the South Island. Especially if you want to do one of the many hikes on offer and have the best South Island trip possible!
Below is a typical 1 week South Island itinerary that lots of people follow: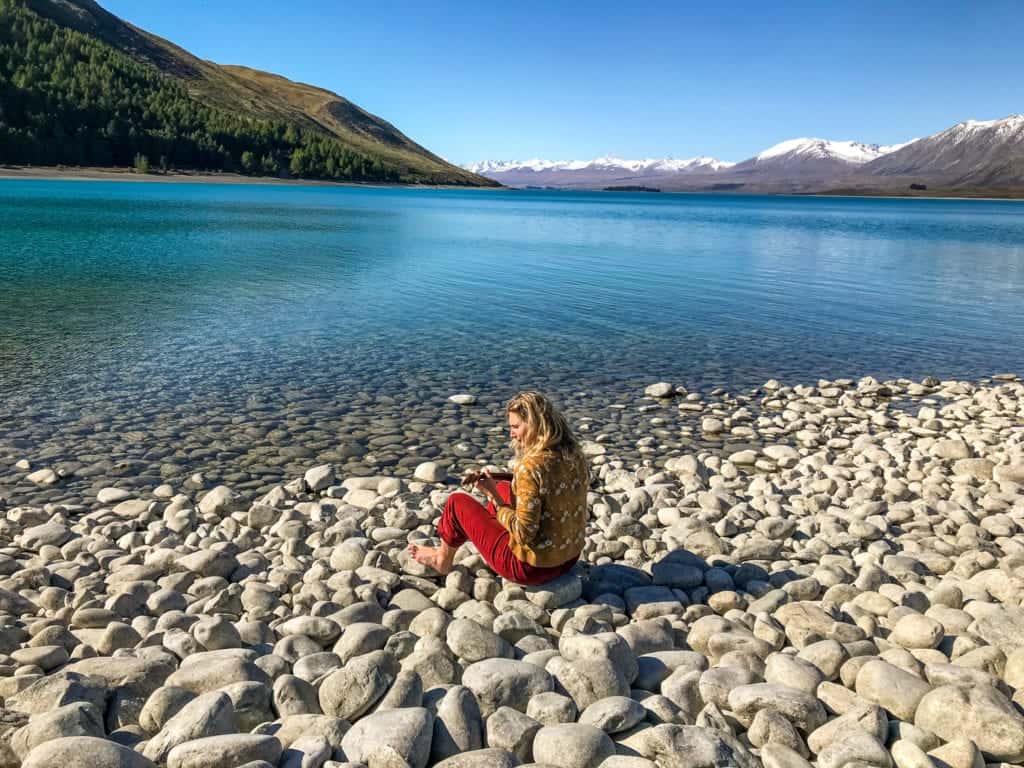 Starting in Christchurch.
Day 1: Explore Christchurch and drive to Lake Tekapo for further exploring.
Day 2: Drive from Tekapo – Mount Cook National Park and stay the night or drive to Twizel.
Day 3: Drive to Queenstown and explore the area perhaps visiting Milford Sound or Glenorchy.
Day 4: Drive through the Haast Pass (stopping by Wanaka) then through to Franz Joseph Glacier.
Day 5: Drive further up the West Coast (as far as Punakaiki) and through the Buller Gorge to Motueka.
Day 6: Explore the Abel Tasman National Park.
Day 7: Drive from Nelson- Christchurch via Kaikoura.
Check out CKTravels post for a more in-depth itinerary from Christchurch to Queenstown over 7 days!
Be sure to check back soon on for a more detailed South Island itinerary!
Hiking New Zealand South Island
There are endless hikes to explore in the South Island of NZ! You will be spoilt for choice and might want to incorporate some of these into your South Island road trip.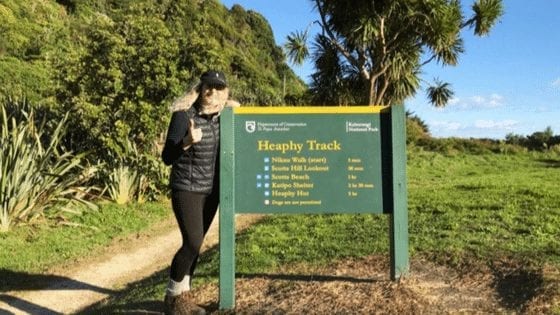 Some of the most beautiful Great Walks are located here including:
Milford Track
Routeburn Track
Kepler Track
Rakiura Track
Heaphy Track
Abel Tasman Coastal Track
Paparoa Track (the newest Great Walk)
There are 9 National Parks in New Zealand's South Island and most of the best walks are located within the parks. The 9 National Parks are:
Kahurangi
Nelson Lakes
Arthurs Pass
Westland
Aoraki Mount Cook
Mt Aspiring
Fiordland
Rakiura (Stewart Island)
Some of the most popular walks you may have heard of include:
Roy's Peak – Wanaka
Ben Lomond- Queenstown
Mueller Hut- Mount Cook
Hooker Valley Track – Mount Cook
Mt Owen – Tasman region
Mt Fyffe- Kaikoura Range
Mount Sunday- Lord of the Rings hike in Canterbury
Mt John- Tekapo
Greenstone-Caples Track – Glenorchy
Hollyford Track – Fiordland
Dusky Track – Fiordland
Te Aroa Trail – The length of New Zealand
What are the best hikes in South Island New Zealand?
There are many to choose from that you may be a little confused about where to start.
My personal favourites to date are the Heaphy Track and the Abel Tasman Coastal Track.
The Heaphy Track is a 3-4 day trek located at the top of the South Island between Golden Bay and Karamea on the West Coast.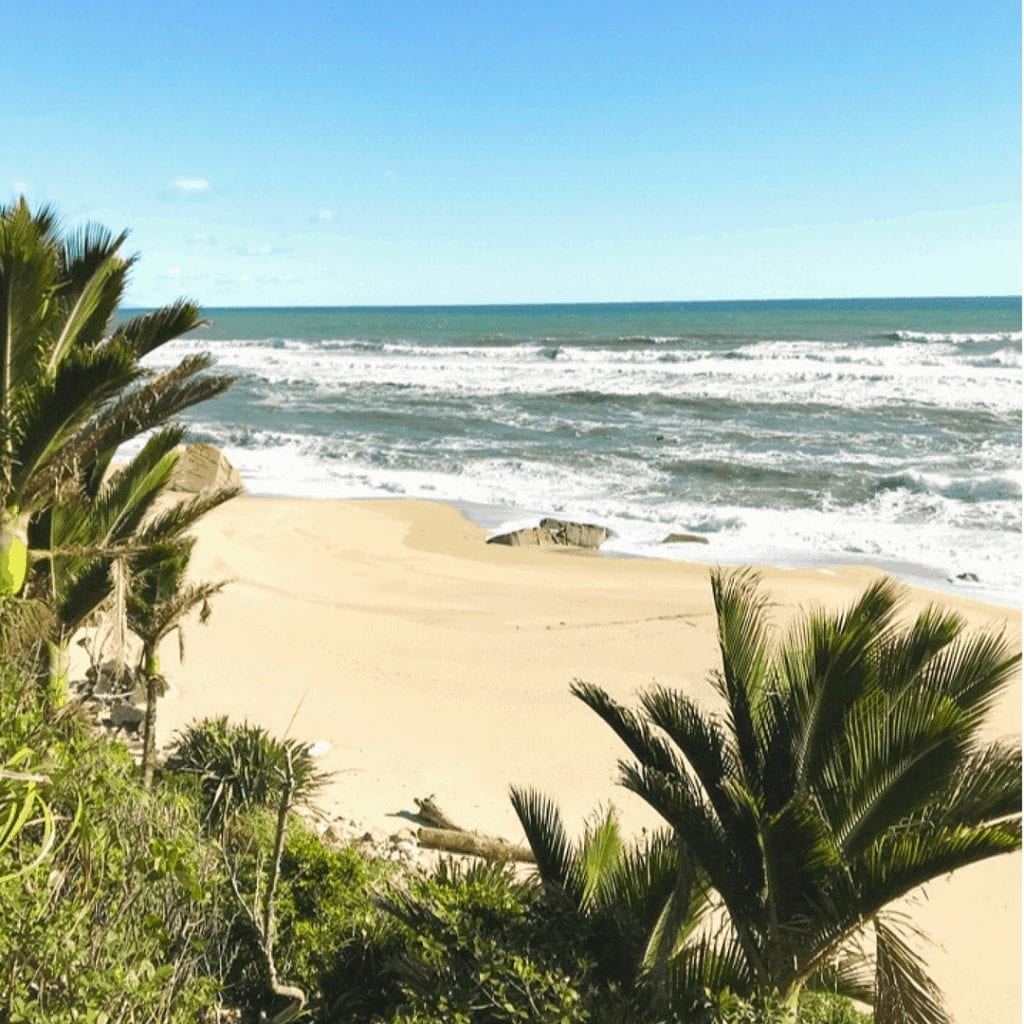 The Heaphy track is one of the most spectacular walks I have experienced in New Zealand (to date). The native flora and fauna is absolutely breathtaking and changes each day of the walk. There is just so much colour, formations and textures to explore including open tussock, lush forests, wild West Coast bush and stunning beaches.
The facilities along the trail are amazing too with a few new purpose-built huts (as well as old classic ones). Most huts provide cooking facilities and equipment which means you can pack lighter!
The Abel Tasman Coastal track is full of beautiful golden sanded beaches, stunning beech forest and world-class views. The Abel Tasman coast track itself is only 60 km long (one way) and can be accomplished in anywhere from 1 – 5 days. Although there are lots of day walking options!
What are the best beaches in New Zealand South Island?
There are many beaches to pick from in the South Island and yes they are as stunning as the North! Just not as numerous.
My favourite beaches are located in the Abel Tasman National Park and in the Marlborough Sound. But since most South Island destinations are on the coast you will be spoilt for choice deciding which beach to visit.
The West Coast is known for its surfing and ruggedness. But it is usually too rough to swim in with massive waves and big rips. If you are looking for relaxing swimming beaches then the East coast is the place to be. Or, the top of the South!
Some of the most picture-perfect beaches are located in the Nelson/Tasman region and the Marlborough Sounds.
The best South Island tours?
If you are not travelling the South Island by car, campervan or public bus services you may want to consider one of many South Island tours!
As mentioned above in transportation options there are a few bus tour companies providing hop on hop off services as well as full-blown tours! Tours are a great option if you have limited time and want to jam pack in as many activities as you can without the hassle of driving. Plus it's a good idea to meet like-minded travellers!
Some of the best tour companies I have seen and heard of are:
For more information on tour companies in the South Island check out Backpacker Board (here).
South Island Accommodation options
There are many accommodation options to choose from in the South Island of New Zealand including staying in gorgeous yurts, cabins in the woods, beach shacks, luxury villas and more!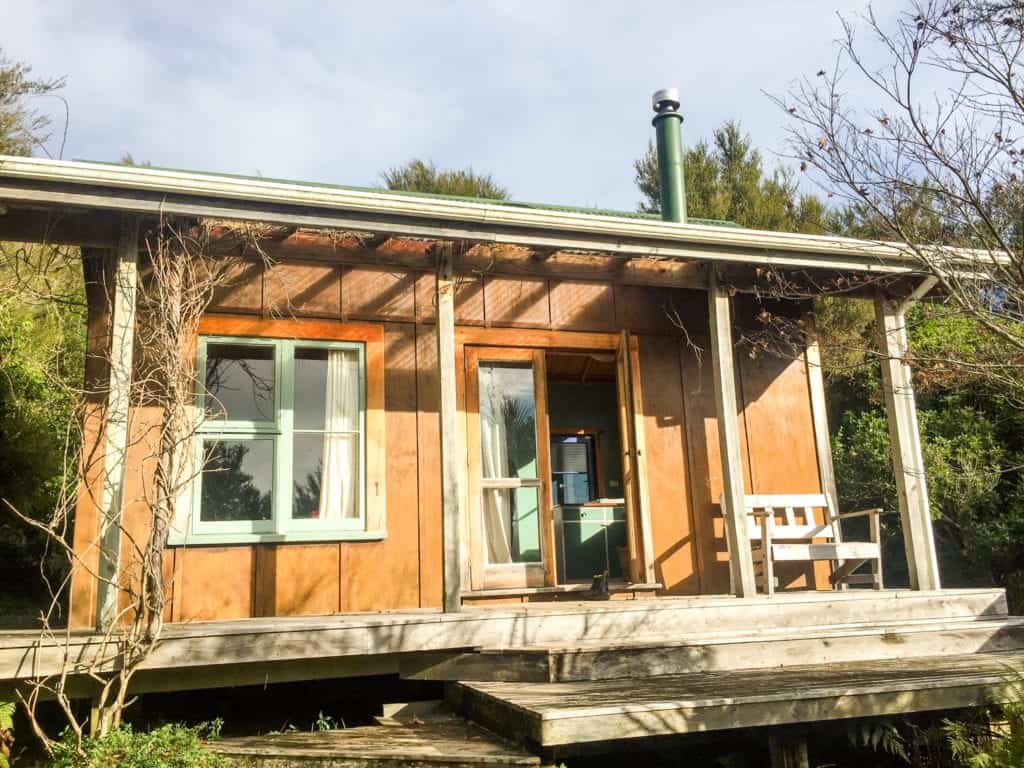 Hotels: They are the most expensive option and there definitely aren't as many around as in the North Island. Check out booking.com for options, prices and availability!
Hostels: New Zealand is a backpackers dream filled with many amazing hostels to visit! Check out Hostel World for options, prices and availability!
Airbnb: Is an awesome way to stay in the most amazing places! Fancy staying in a yurt or a cute cabin in the bush? Airbnb is by far my favourite way to travel. Click here to get free $69 Airbnb credit towards your first trip when you sign up!
Doc camping grounds: There are many Department of Conservation campsites throughout the South Island you will be spoilt for choice. I often stay at Doc campsites because they are almost everywhere and usually very cheap or FREE! The best way to find them is on the app CamperMate as mentioned above. Or, through the Department of Conservation website.
Other camping grounds: There are other campgrounds in the South Island not run by Doc. These are usually privately owned. The most popular being a Top 10 Holiday Park – These are located in almost every town.
To find further accommodation options again, use the app CamperMate – It is a lifesaver! 
New Zealand North Island vs South Island
By now I hope you are convinced of trying a New Zealand South Island trip. I truly believe it is the most beautiful island (but I am biased because I grew up there). The stunning mountains, various lakes, glaciers and fiords make it a truly unique location.
The South Island is known as being more beautiful than the North. However, the North Island has many geothermal spots and more active volcanic terrain. The North Island is also more well known for its beaches.
If you had to pick one island on your New Zealand travels I highly recommend opting for the South Island. It is not as popular of a destination as the North but has (in my opinion) a lot more to offer which hopefully I have convinced you of in this article. Did I mention it's home to the famous Aoraki Mount Cook?!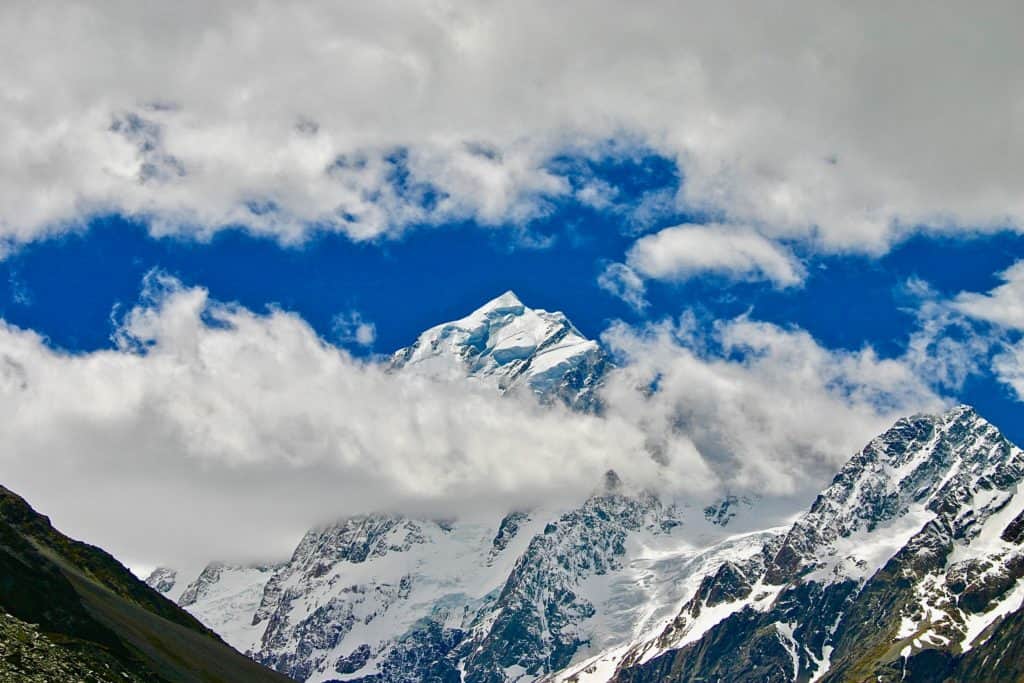 ---
Hopefully, you have all the information you need for your South Island road trip (or know where to go to find it). If you have any further questions be sure to comment below!
Other articles you will love:
Love this South Island road trip and travel guide? Pin it for later!