Wondering how on earth to get your self contained van sticker? NZ has strict requirements but this article outlines everything you need to know about your van life conversion and getting that blue sticker for your DIY self contained van conversion in New Zealand.
Why a self contained van?
Self contained vans provide more freedom than non self contained vans. There is more freedom camping options available and lots of free campsites to choose from.
Freedom camping is only available in certain areas in New Zealand. In most places, it is not acceptable to pull over on the side of the road and camp. To find out more about freedom camping spots in New Zealand I highly recommend the app CamperMate, check it out here.
A self contained van in New Zealand means a vehicle that is able to be fully self efficient for 3 or more days. Meaning having a water supply, grey water and waste water. And that's putting it simply.
If you're anything like me you have probably come across many misinformed websites and are beginning to get a little frustrated on how to get through this process in New Zealand. I mean what even is an evacuation hose?! Anyway, I am here to ease the load and hopefully be your one stop source to all of your self-containment questions.
What about a non self contained van?
Living in a van in New Zealand with a non self contained vehicle is still a really good option due to the tight freedom camping restrictions. However, there are less camping spots to choose from and less free camping options. I want to assure you that I did just fine living in a van NZ for 3 months in a non self contained van. There are lots of cheap and free options to choose from which I found on the app CamperMate. 
To learn more about the advantages of non-self contained vehicles, especially if you are considering renting a van check out Spaceships website here. 
Although, I now know what it takes to make a campervan self-contained my campervan is actually not self-contained. This is because we ended up building our bed before we found out about the requirements regarding the toilet needing to be inside the van while the bed is made up.
We ran out of energy and money to re-build! So, in order to release my frustrations, I have written this blog post to set the standard for all of you travellers, locals and anyone out there attempting a DIY self-contained van build in NZ!
If you are travelling to New Zealand and wanting to live the van life you might like this article on buying, selling and converting a campervan in New Zealand!
Keep reading below for your self containment checklist.
How to get a self contained van sticker in NZ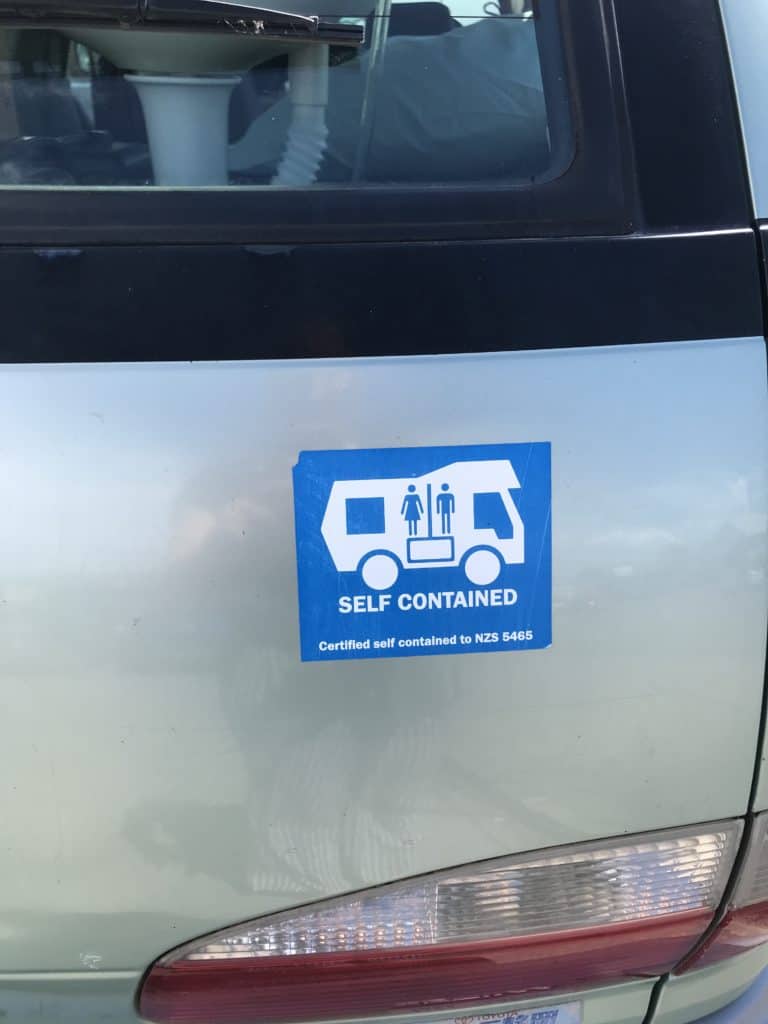 To get a self contained van NZ you will need to build your van to meet certain requirements (outlined below). Then you need to get someone to check over your van and issue you with a sticker to chuck on your back windscreen. Sound easy? Well, to get your van certified self contained the requirements are pretty strict as of Feb 2018 and you can't just have any water tank or toilet…
You can find the requirements from NZMCA by clicking this link here. However, below I elaborate on the requirements for you because quite frankly, they aren't that easy to follow!
Self contained fresh water tank
For a DIY self contained van in NZ there are many requirements. Firstly, you need a clear water container (see above photo) with a minimum of 12L per person. So, if you're 2 people you need a 24L minimum tank.
You need this much water to keep you going for 3 days regardless of the fact you might not use this much or fill up before 3 days is up. The tanks can be bought from Mitre10, Supercheap Auto, Briscoes and Bunnings to name a few places. (They cost $20-$30 each).
Self contained waste water tank 
Again, this needs to be a minimum of 12L per person. It is best not to get a clear container although apparently this doesn't matter. To be on the safe side I would use a coloured tank. Most people use blue and can be bought from the same locations listed above for the same price.
Self contained sink (+ vent for your waste water tank)
You can go as fancy or as poor as you like (see our $8 Briscoes mixing bowl above). Most DIY projects use a metal or plastic bowl (any size) for around $1-$10. We bought an actual sink plug, drilled a hole in the bottom and sealed up the sides, then got a random connecter to the squiggly hose.
You then need to connect your sink to a sealed, watertight waste water container. Most people use a water trap that looks like a twisted pipe. Click here to see what I mean from a photo on Backpacker Guide NZ. 
These are useful to stop the water bouncing back into your sink and making a mess. But I have seen many pictures of self contained vans that do not have this. To be safe, I would try your best to use a trap.
To get a sealed watertight container, you need to get a pipe into a fitting that will seal around your tank. You can get the sink plug, tubing and fittings from Mitre10 or Bunnings which costs around $80 for all of the parts.
The trickiest part is getting your waste water tank vented… Yeah, that evacuation hose self contained thing I was talking about earlier.
This requires you to attach a piece of tubing/pipe (minimum of 10mm in diameter) to your tank (watertight) that goes past the height of your sink and back down through a hole to the outside of your van. This is to stop the smell of the waste water. And you will need to connect your fresh water to a pipe/tank.
If you're stuck on ideas for your sink conversion check out my post: 3 Easy To Do Sink Ideas For Your Amazing Van Conversion 
Self contained rubbish bin
This needs to have a sealable lid (swinging lids seem to work fine). Don't get a little compost bin, get a bin that can hold a good amount of rubbish (a supermarket bag full). These cost from $6-$10 from the Warehouse, Bunnings, Kmart, Briscoes to name a few spots. Although, the requirement is to have a waste bin… It doesn't actually specify what size but, to be safe I would get a regular sized one.
Self contained toilet- Portable or fixed
That must be used in the van when the bed is made up and to be used with sufficient elbow, head and legroom. 
Most people buy a plastic portable toilet as they are easy to pull apart and store. You are required to have a toilet that can hold a minimum of 3L per person for 3 days. The smallest toilets around are 10L and can be purchased online from Burnsco, RVworldstore and equipoutdoors to name a few, they range from ($100-$180).
The toilet needs to be in a spot that you can use it inside the van with the bed made up and still have sufficient elbow, leg and headroom to use it.
This makes it really tricky for small campers and requires you to think about this before you build your bed. I suggest setting aside a corner where you can use your toilet and building your bed around it, you may have to build a smaller bed or compromise cupboard space, and believe me the bed needs to be down while you use the toilet, it can't be in couch form.
There is no budging on this rule as it just came into effect in Feb 2018. Even if you won't use the toilet in your van this is still a requirement. I was told that once you pass this part of the check you can then use your toilet outside. I really can not see the point in this law!
But anyway, its a new requirement.
Secure your stuff
Everything needs to be secure while the camper is in motion. You can not use bungee cords to keep things stable you need to build a wooden frame or use web strapping.
Have cooking facilities
This is not a strict requirement to get be self contained but is pretty important. To be classed as a campervan it needs to be a "place of abode, and have facilities for cooking, eating, sleeping and washing and is not a passenger vehicle". I would recommend having your mattress and cooker set up before you take your van in to get certified.
Who Will Certify My Van?
This was almost impossible for me to find out! It's like there is a little secret society that only "in" people can get access to accurate information. I live in a small town, Timaru and absolutely no one could help me get self contained. Many websites said registered plumbers and the NZMCA would help me out.
BUT NO.
Every plumber I rang had absolutely no idea what I was talking about, even multiple people from RV stores and workshops avoided me like the plague. It's like when they heard DIY they ran a mile.
Anyway, just to save you time…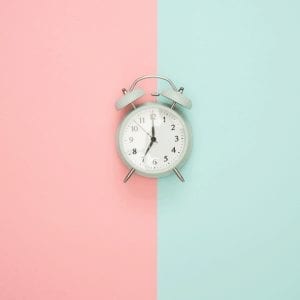 Yes, the NZMCA certifies self contained vehicles but only to members and you can't be a member if you have a small van, which most backpackers have (they have a temporary stay list, to deter backpackers I'd say, check out the list here).
SO… HERE IS YOUR FIRST AND ONLY POINT OF CALL… allpointscampingnz.
By the way there are hardly any testing officers in the South Island. It's a bummer if these people aren't located near you but unfortunately, it's the best you're going to get.
Once you think you have met all of the requirements listed above, make sure you give one of the officers a call with any queries you possibly have before heading in to see them because you may have to fix some things and head back again, and again and again which will cost you valuable time, effort and fuel.
It seems like different officers have different levels of strictness. It shouldn't be this way but unfortunately, it is. I called Peter from Chch who was pretty helpful.
What Happens When I see A Testing Officer?
You prove to them you meet the requirements. This is done by getting an officer to physically check over your vehicle. They will let you know what needs to be done to pass if you don't quite meet the requirements.
If you do they will give you some paperwork to send away to allpointscamping (easily done online via email) and pay via their paypal link. The paperwork (bluesticker) usually takes 3 weeks to arrive and costs around $30.
If you want some more information on what happens at this stage head on over to Kelsey's super helpful blog travelinfools, she also has fantastic rants about the process which will make you laugh oh, and she actually got her van certified!
So, there you have it. GOOD LUCK! I really hope this is your one stop guide for any questions you have about the self contained camper requirements and process here in NZ. If you think I have missed anything please let me know and please, please feel free to ask questions. I will help you ASAP! I know how painful this process is and there is limited and confusing information out there.
But DON'T WORRY if you're not self contained! You still have access to a lot of camping spots around NZ and yes, even free ones! It's not the end of the world.
Freedom camping in NZ
There is no such thing as freedom camping anymore. Most regions are strict on where people can and can't camp. It's not like the good old days when you could pull over on the side of the road and rest up for the night. Nope, there are specific places that you are to go to 'freedom camp'. In saying this there are quite a few motorhome friendly towns in New Zealand.
Freedom camping is regulated. Meaning if you are caught illegally camping you can face a $200 fine. Honestly, the only way to know you are safe is to look up the app CamperMate. It has EVERYTHING you need to know in there and is a great tool to help you find self contained only campsites as well as mixed.
Found this article useful? Pin the images below for later! 
Other articles you will love: