The Marlborough region is by far the most gorgeous wine country of the South Island with over 30 cellar doors. Just driving through Blenheim will give you an immense appreciation for the beautiful vineyards and exquisite terrain they are situated on.
There are many incredible Marlborough wine tours to choose from and this article will help you decide which wine tour is best for you and the wineries worth visiting.
There are a few different types of Marlborough wine tours to choose from: A minivan tour, bus tour, private car, or by bike. You can choose either a self guided or guided tour option in all cases. Thge trips outlined in this article include Blenhiem wine tours as well as Renwick.
Keep in mind this post contains affiliate links. If you purchase anything through them, I will get a small referral fee and you will be supporting me and my blog at no extra cost to you, so thank you! 
The best marlborough wine tour
If you are keen on visiting some of the best wineries in Marlborough while enjoying the sun, the beautiful landscape and getting in some exercise then I am sure you will enjoy my first and favourite option.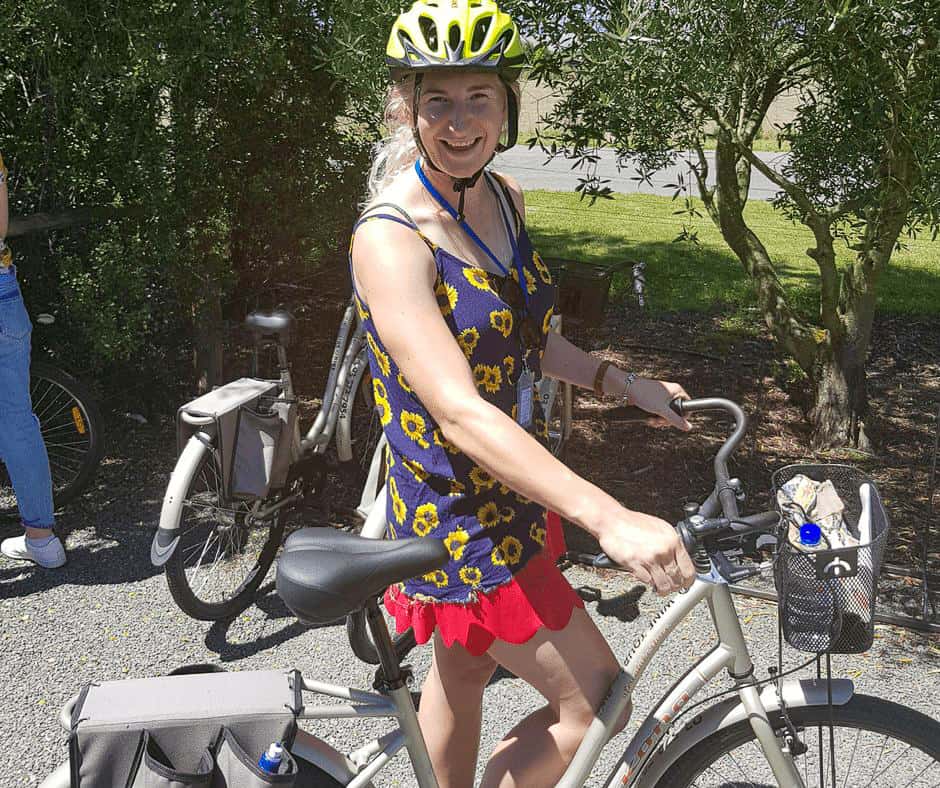 Wine tour by bike (self guided)
Some of the best fun can be had drinking wine and then riding a bike especially in a picturesque landscape.
Why not experience the beautiful Malborough region NZ with the wind flowing in your hair, sun shining down on your face and wine in your belly? After completing the wine tour by bike in Renwick I grew a new appreciation for the region, the wine and biking!
The tour details: 
The wine by bike tour is based in Renwick which is about a 10-15 minute drive out of Blenheim (towards Nelson). You have the option of either driving there yourself or, getting picked up from your accommodation (within a 15km radius) in the mini van for free.
Speaking of accommodation the most popular way to find accommodation in Marlborough is Airbnb (sign up to grab a FREE $69 NZD off your first trip), holiday houses, bachcare, book a bach and my favourite booking.com. 
Upon getting either picked up in the mini van (where you are given all the information you need for the day in a clear file and your VIP tag) or, arriving at the base, you will be greeted by the lovely guides (either Jo or Steve) and their cute dog.
Then you get your bike!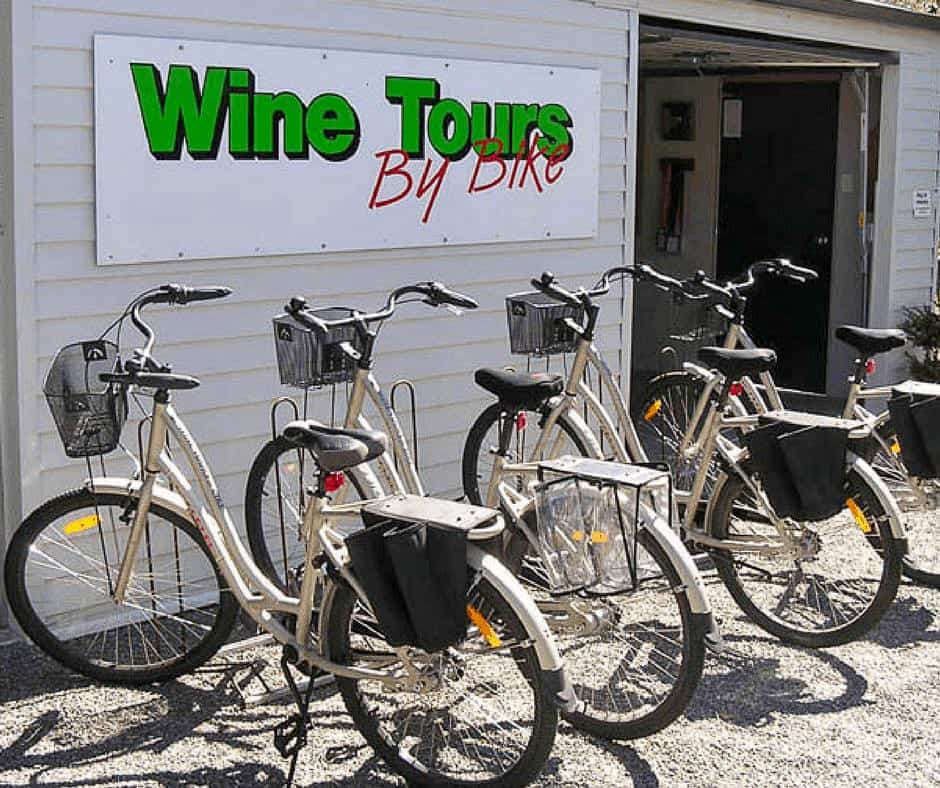 The guides (Jo and Steve) will make sure you recieve a bike suited to your needs and check that you are okay riding it. They have tandem and single options that have enough storage for 4 wines (if you need more no problem, just talk to Jo or Steve who can arrange a pick up for your bottles). Water for your trip is also provided.
Single bikes cost $45 per person
Tandem bikes cost $80 
(They also have trikes and roadsters at different prices if you're interested).
Once your bike is all set up you move inside for a brief but really important slide show about the wineries. You are given a map with all the wineries within biking distance. It is really important to map out your trip before you head off otherwise you could be missing out on some much needed wine tasting!
The slide show provided gives really great insight into what all the wineries offer. We ended up picking around 5 wineries we wanted to visit because of this.
Then you are all set to go and explore the wineries. You just need to ensure you are back at the base before the tour finish time. And if you need a ride Jo or Steve can take you back to your accommodation.
Specific tours: 
They have 3 specific Marlborough NZ wine tours by bike to pick from that are scheduled around the cellar doors opening and closing times. The earliest cellar door opens at 10 am and the latest one shuts at 5 pm.
Have a look at the breakdown of the tours below!
Bike Hire A
Complimentary Pick-Up from your accommodation from 9.30am
Bike Hire ends at 3.00pm
Drop-Off back to your accommodation by 3.30pm
Bike Hire B
Complimentary Pick-Up from your accommodation from 10.30am
Bike Hire Ends at 4.00pm
Drop-Off back to your accommodation by 4.30pm
Bike Hire C
Complimentary Pick-Up from your accommodation from 11.30am
Bike Hire ends at 5.00pm
Drop-Off back to your accommodation by 5.30pm
We picked Bike Hire C which meant we could have a lazy morning with a sleep in but completely up to you. Most of the wineries who serve food stop serving around 3:30pm so just bare that in mind if you're thinking about lunch!
How to book: 
Head on over to their wine tour Marlborough website here. 
Once you send a request for a booking Jo or Steve will be in contact with you shortly to confirm your dates. (Make sure you let them know where you are staying if you need picked up. We stayed at a Airbnb in Blenheim (sign up to grab a FREE $69 NZD off your first trip).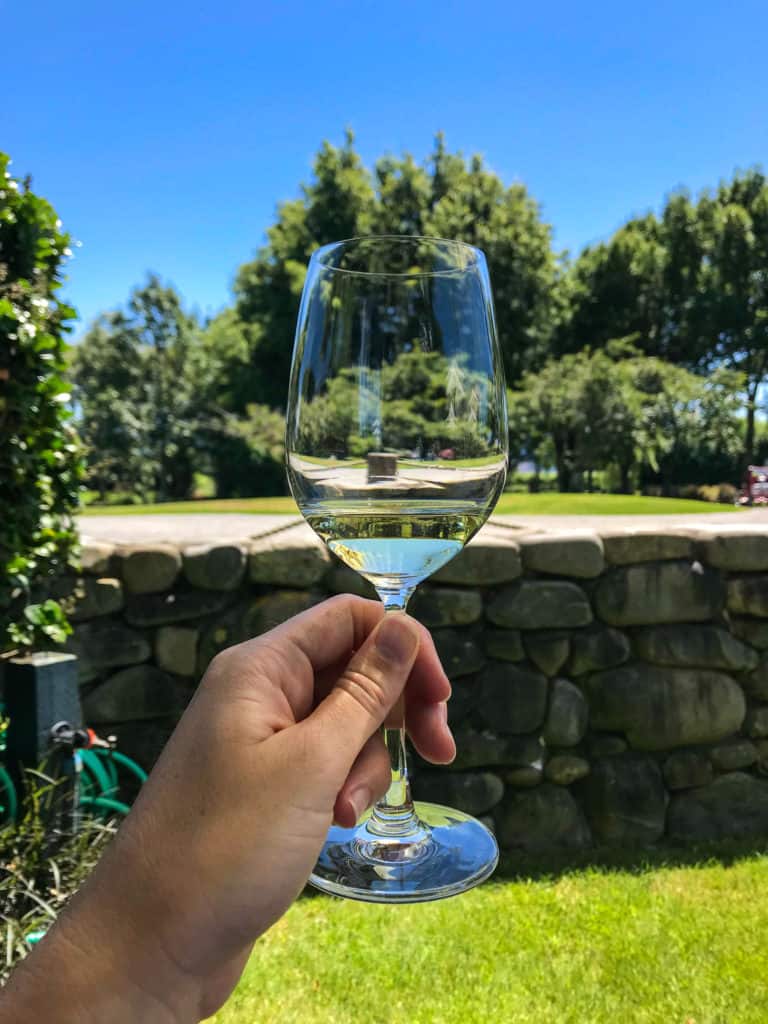 Other Marlborough wine tours
There are quite a few Marlborough wine tours nz to choose from ranging in price, time and details. Below is a little information on the different Marlborough New Zealand wine tours available.
Is more of a luxury option. Be picked up at your accommodation in a Mercedes vehicle and enjoy wine tasting at a slower pace. Pick up and drop off is included. They have different tours available ranging in length and number of wineries.
Food is available on their Gourmet Lunch wine tours. Marlborough has a gorgeous chocolate shoppe and as part of their tour they stop at the delectable shop!
They do private tours on request.
They have a focus on small, intimate groups of 2-4 people with an interest in wine gardens. They focus on giving you an authentic Marlborough experience from a locals perspective. They tailor trips to suit the activities you would like to do in the area and give you a true taste of Marlborough.
They love wine, food, art and the outdoors.
A bus tour company providing a hop on hop off service through Marlborough. They have experienced drivers with extensive knowledge of the region. Their tours are fully customisable so you can partake in any of the numerous activities on offer in Marlborough, not just the wineries!
A unique tour offering Marlborough wine tasting and beer! The tour starts with a behind the scene look at a winery where you will get to taste grape juice fresh from the press. The tour then moves onto your choice of wineries followed by lunch, visiting a few of Marlborough's finest activities and finishes with a stop at a local brewery.
Offers private and group tours with a focus on matching wine and food. They also offer scenic tours of the region and can tailor to suit your requirements. They have 6 or 11 seater vehicles, full, half day and evening tours with felxible timetables.
Private guided driving tour from a knowledgable guide that will provide you with all the information you need to know about the wines and the region. They can cater to individual desires or preferences and the tour includes a pick up and drop off at your accommodation as well as a winery tour that is well matched with food.
A private wine tour with the option of full or half day trips. They are available for large or small groups wtih no fixed schedule. They cater to the needs and desires of the group.
Experience a tour in a luxury BMW with a local knowledgable driver. The guide will help you choose the best wineries to visit and can also provide tours to other activities and destinations in the region.
A behind the scenes intimate wine tour designed for people who want to know about the wines, their history and the region. Their focus is on a slow wine tour in a small group environment.
---
There are so many tours on offer it may be a little daunting deciding what one to choose. To help you decide on a tour I suggest figuring out what type of tour would suit you best.
For example, ask yourself. Would I like to take a full or half day tour? What about a self guided or guided tour? Would I like to be in a private or group setting? Do I want to know about the history of the wines? Do I want a slow or fast wine tasting? Am I keen on biking? 
There are numerous wonderful Marlborough winery tours to choose from. But if you like exercise and drinking wine then I highly recommend the wine by bike tour mentioned above!
The best Marlborough wineries to visit
Here is an awesome interactive map of Marlborough wineries to help you figure out where to go on your tour.
One of the best Marlborough winerieis with a stunning and delicious tasting tray! In 1988, Forrest Wines was created by Doctor Brigid and John Forrest. They set out to craft wines of real character and quality.
According to Forrest Estate they have:
"New Zealand's first, naturally crafted, full flavor, lower alcohol wine."
All of their wines are delicious and I loved being able to sit outside with a tasting tray. Many other wineries did not offer this option.
If you take the wine by bike tour mentioned above then this winery is a great option as it is 2 minutes down the road.
This was a really fascinating winery as you could see the wine barrels through the cellar door. The building and wines are inspired by the Nautilus shell and they have a focus on pairing wines with food.
According to Nautilus Estate:
"Whilst Nautilus wines can easily be enjoyed on their own, we believe they are even better when paired with delicious food and the philosophy of creating food-friendly wines is paramount for winemaker Clive Jones."
The staff were exceptionally knowledgeable and professional. They had some really nice white wines and a gorgeous Marlborough pino noir. The tasting was free.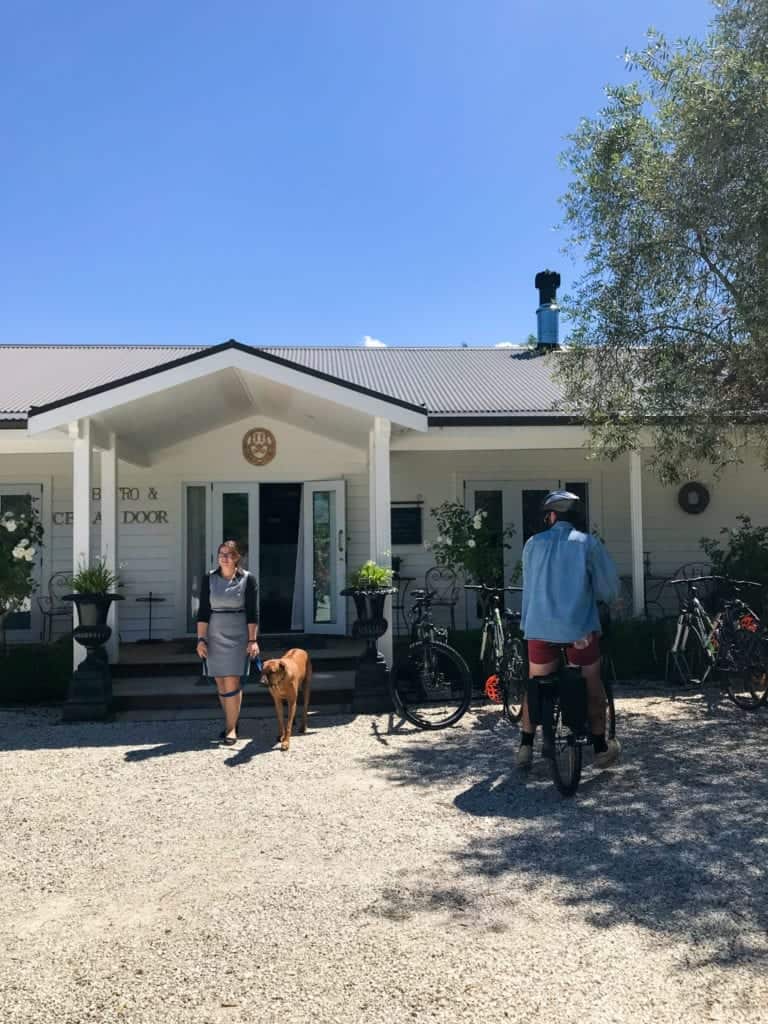 If you are heading to this winery on a bike tour I will warn you now that this is a bit of a bike ride away but is well worth the trip! The cellar door is absolutely beautiful with a gorgeous white cottage theme. The staff were professional and knowledgeable. The tasting was $5.
According to Hanz Herzog Estate:
"The famed wines have stolen the hearts of wine lovers all over the world. An amazing collection of rare grape varieties handcrafted in some of New Zealand finest wines."
The wines are made by hand without any additions of artificial ingredients. They don't even add tannins, bacteria, enzymes, acid and yeast that are present in almost every wine in the world.
Looking for the best Marlborough pino noir? I found my absolute favourite wine here!
The staff were again very professional and knowledgable even when it was very busy. Their moto, quality without compromise, is reflected in the taste of their wine.
Whitehaven claims that:
"Whitehaven prides itself on a genuinely singular vision… consistently creating stunning wines of character and beauty from only the finest 100% Marlborough fruit… our vintages truly reflect the nature and spirit of Marlborough."
The setting of this cellar door is great, right next to a lolly and gelato shop!  The tasting cost $5 but if you grab an amazing Marlborough pino noir the tasting is free. (You don't have to only purchase a pino noir I just really recommend it!)
A gorgeous boutique winery in a stunning setting. The cellar door is beautifully designed, full of bright and vibrant colours. A great place for a photo! The host is very personable, knowlegeable and professional.
The tasting was free.
What I love most about this winery is that they are organic. They don't use any herbicides, pesticides or insecticides in their vineyards. They also do not use any artificial additives.  They have a diversity of wildflowers for the residential beehives. And they use the natural procedure grown in the vineyard to sustain the environment.
On their website they have some great recommendations of things to do in Marlborough as well:
Take a walk in the Wither Hills.
Catch a fish for your supper.
Go bird watching in the bush.
Go from avian to aviation at the Omaka Aviation Heritage Centre.
Eat a gourmet pie from The Burleigh.
Enjoy some Cloudy Bay Clams as you eat, sip, gather at Arbour Dining.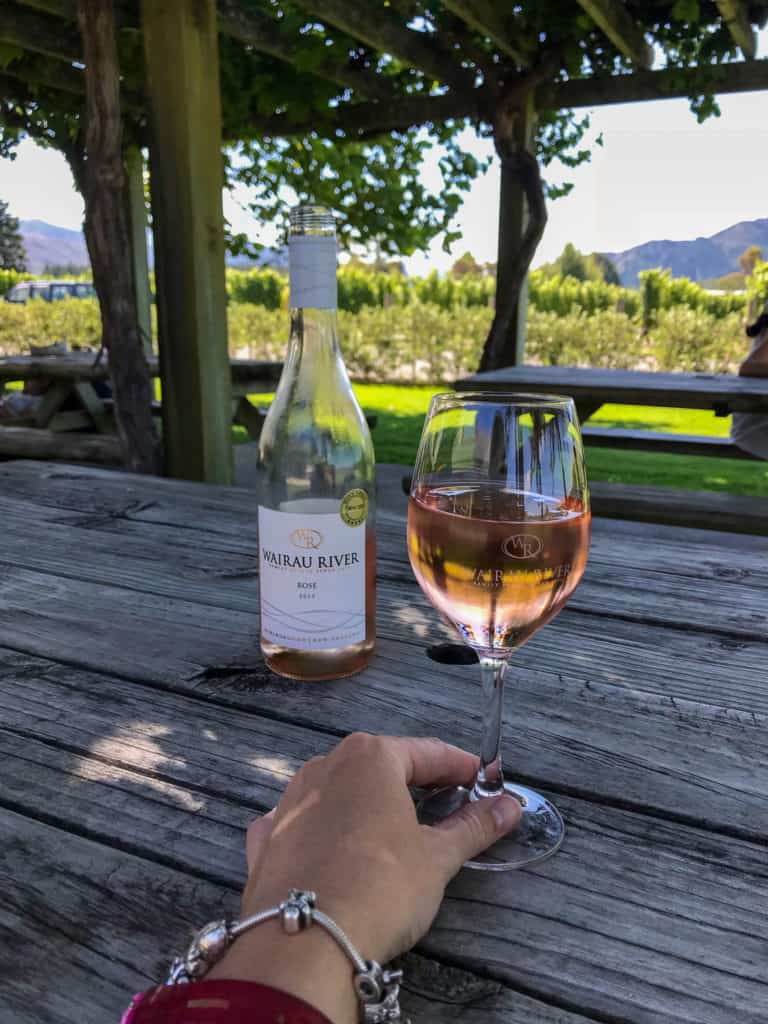 A lovely winery to sit and enjoy the scenery. We sat outside on one of the picnic tables with a bottle of Rose and just relaxed.
Wairau River has a long and proud history. You can tell this by just being in on the property. They have five children that are strongly connected to Marlborough and are the main part of the family business.
I would definitely recommend heading to this winery if you want some lunch because their restaurant looked amazing! The tasting was free as we brought a bottle but the regular tasting is around $5 if you don't buy a bottle.
---
If you are looking for the best wineries in Marlborough, hopefully the information above has helped you decide on where to go.
If you decide to take a wine tour by bike my most important tip to you is to make a plan before you set off! Otherwise I can imagine how much time would be spent aimlessly biking around or back tracking! This way you will make the most of your day.
Loved this article on the best Marlborough wine tours? Pin these images for later!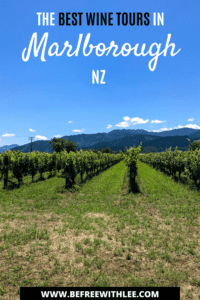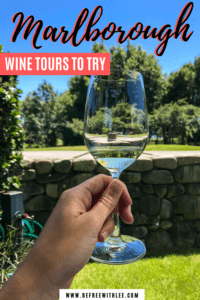 Another article you might like: