Canyoning in the Abel Tasman is a pretty incredible way to enjoy the park. I can confidently put my hand on my heart and say canyoning was one of the best experiences of my life, even better than sky diving! If you're travelling through the South Island, heading to the Abel Tasman National Park in the Nelson/Tasman region or looking for the best canyoning in New Zealand I highly recommend Abel Tasman Canyons!
This article is dedicated to describing my experience canyoning in New Zealand in Nelson with Abel Tasman Canyons, what you can expect and why you might like to try it for yourself!
What Is Canyoning?
Good question.
Before my canyoning trip, I had never really heard of it before and assumed it was a type of rock climbing. Little did I know you literally float down waterfalls, jump rocks, abseil, dive into pools, climb stuff and a do a whole lot of swimming!
I can't even begin to describe how much fun and joy I had during the trip and hopefully, the details below will give you a little idea about what canyoning in New Zealand looks like, specifically in the Abel Tasman National Park and encourage you to try it for yourself.
Where to go canyoning in New Zealand?
New Zealand is an adventure-lovers paradise. There are many spots to go canyoning in New Zealand that you will be spoilt for choice. If you have outdoor education experience then there are tons of options for you.
If you are a beginner and need to go guided canyoning in New Zealand then the best locations are Nelson/Tasman, Queenstown, Wanaka, Geraldine Auckland, Thames and Raglan. I personally recommend Big Rock Adventures in South Canterbury.
What's The Best Canyoning Company?
I was lucky enough to do my trip with Abel Tasman Canyons who run the only guided canyoning trip in the Abel Tasman National Park just out of Nelson. The team is so incredibly professional and I felt completely safe in their care.
They are also a really good laugh and bring some much needed humour into challenging situations. They helped me to push my limits jumping off really high rock faces into the river pools below. Without their help there is no way I would have attempted this!
Details of the guided canyoning trip with Abel Tasman Canyons in the  Nelson/Tasman region
The trip starts off with a briefing in Marahau (the little village before the Abel Tasman National Park) at their little base at the back of Aqua Taxi.
This is where you try on the wetsuits, get your gear ready and then load up on the water taxi which takes you out to Anchorage Bay (this in itself is a wonderful experience, see photo below & if you would like to read more about the beaches in the Abel Tasman National Park please head over to my post: The Three Best Beaches In The Abel Tasman by clicking here).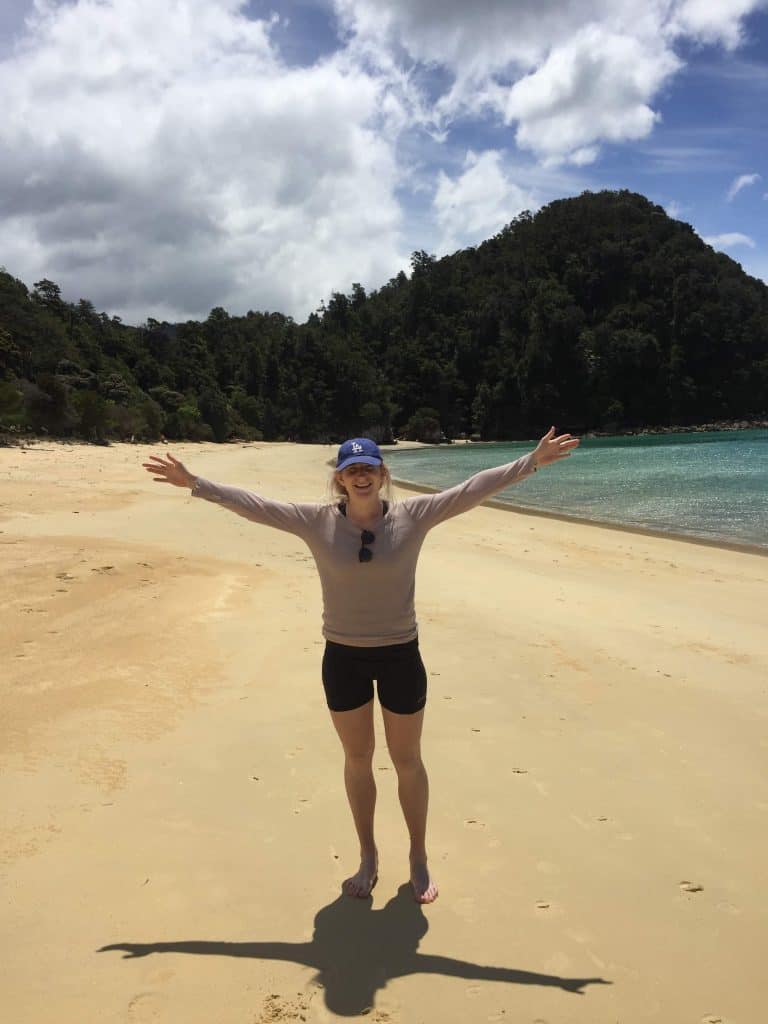 At Anchorage Bay you gather together to get your gear ready (you walk with the wetsuit and harness over your shoulder and it's surprisingly comfy) for the 1 hour hike up a hill to the top of the Torrent River Canyon. But don't worry if that sounds tough as you stop for a little juice break during the trip.
Finally, when you reach the top of the canyon you stop for lunch and have a much needed drink of water from the fresh river. (Good luck drinking the water without falling in!).
Once you have had your lunch you get into your wetsuit and harness and take your first plunge into the water! (It was freezing but you soon warmed up!).
I found I felt rather stupid floating down a river in sneakers, unable to swim properly because I was so flamboyant in the wetsuit. But this added to the fun!
Note: Getting into the wetsuits was an interesting experience. Please don't make the mistake of putting your wetsuit on backwards as it is super tricky to get on and off! Also, when you make it to Cleopatra's pool make sure you keep your wetsuit on as you have to walk in it back to Anchorage Bay.
Finally, when you get to the bottom of the canyon you walk back to Anchorage Bay and catch the water taxi back to Marahau.
The cool thing is you don't have to worry at all about taking photos as they do that for you! They send you out photos and videos two days after the trip which is such a laugh!
Now get ready to enjoy booming waterfalls, slides, jumps, floating and a whole lot more!
How I felt:
Alive, exhilarated, empowered and like I really could do anything. I also felt like I wanted to be a canyon guide afterwards. It was such a magical experience being able to push my limits.
You feel as though you are really in touch with nature as you literally have nothing on your back and can float down the river sipping away at the fresh water. It's such a wonderful experience that I can't really put it into words, so just take this photo as proof of how happy I was, haha.
My favourite part was doing the knees up bomb down a massive waterfall slide.
One cool part was being lowered down a waterfall and feeling the heavy rush of the water on top of my helmet.
I also really enjoyed swimming under intense waterfalls- Nothing makes you feel more alive.
Leaping off the rocks was an exhilarating experience and not overthinking things was key! As the guides will tell you.
The only thing I had to worry about the most throughout the whole trip was what hand gesture to pull and pose to do for all the numerous photos they take!
Overall, it was one of the best activities I have done in my life and I can not recommend it enough!
What to bring for the Abel Tasman canyoning trip:
Start the day off right with a massive breakfast because you won't eat a whole lot during the day.
Togs.
Towel (For later).
Muesli bar or a little snack (For when you're back in Marahau).
Jandals.
Spare T-Shirt & Shorts (To wear when you're back at Anchorage Bay).
Walking clothes (You walk for about 1 hour).
Water bottle (For when you're back in Anchorage Bay as you can drink water from the canyon).
Sneakers that you will wear in the canyon (You want shoes with little grip as these go better in the canyon!).
I really hope this post has given you some good insight into what canyoning in the Abel Tasman National Park in the Nelson region of NZ is like!
Have you ever been canyoning before? Yes or no, I would love to hear from you!! If you're keen to see more of the epic activities on offer in the Abel Tasman, head to my post about hiking the track, or, about kayaking!
Loved this post on canyoning in the Abel Tasman National Park? Pin the images below for later!