The Marlborough Sounds of New Zealand are one of the most stunning destinations at the top of the South for the beaches, scenery and activities. While exploring you will need to stay somewhere right? This article is dedicated to helping you find the best accommodation in Marlborough Sounds to ensure you have the most amazing trip possible.
Picking decent accommodation can make or break your trip. You want to make sure you get it right. Marlborough Sounds are full of amazing accommodation options ranging from camping to luxury resorts. Outlined below are 5 different types of Marlborough Sounds accommodation options you may want to consider.
Keep in mind this post contains affiliate links. If you purchase anything through them, I will get a small referral fee and you will be supporting me and my blog at no extra cost to you, so thank you! 
But first, you may be wondering…
Where are the Marlborough Sounds?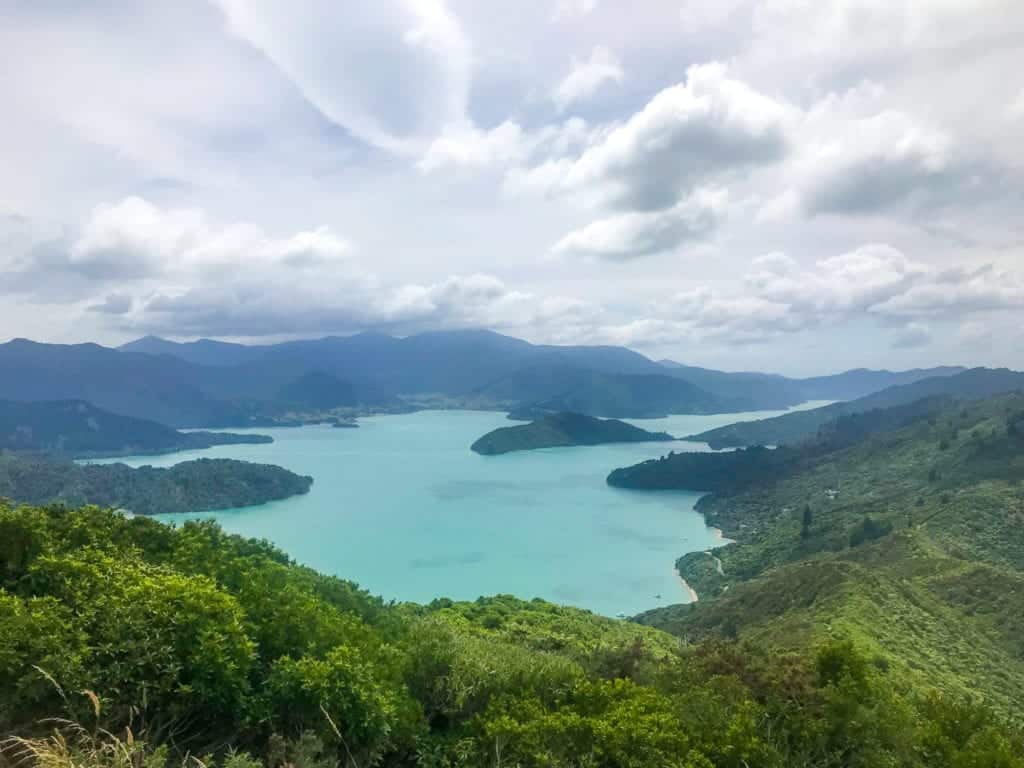 The Marlborough Sounds are located at the top of the South Island. There are 4 sounds: Queen Charlotte, Kenepuru, Pelorus, and Mahau. They are absolutely stunning locations and are each a little different.
Map of Marlborough Sounds
Driving time varies between sounds but to get to Anakiwa (the base of the Queen Charlotte Sound) from Picton it takes 1.5 hours. To get from Nelson – Piction it takes 1 hour 45 minutes. Picton is a popular departing point for boat trips. As well as Havelock, which is on state highway 1 about 30 minutes drive from Blenheim. 
The amazing thing about the Sounds is the three bodies of water: Queen Charlotte, Kenepuru and Pelorus Sounds are separated by hills which are full of amazing flora and fauna and a great place for a bike or hike or overnight stay. It really is an outdoor lovers paradise!
Alright, now let's delve into the different accommodation options.
1. Stay at an Eco Village
Mistletoe Bay on the stunning Queen Charlotte Sound is home to a gorgeous Eco Village (rightly named MistletoeBay Eco Village). They have a focus on energy and water conservation as well as other sustainability and conservation practises. Their main focus is spreading environmental awareness with their visitors.
The village is nestled on a pristine bay tucked away from the main straight of the Queen Charlotte Sound. They have a range of accommodation options to choose from such as a lodge, cottages, cabins and camping on a tended lawn.
They also have a range of activities on offer including access to the popular Queen Charlotte walking track, kayaking and paddleboarding, sea kayaking, mountain biking, swimming, visiting alpacas, wildlife and quite possibly my favourite viewing phosphorescence.
Phosphorescence can be viewed down at the wharf or along the driveway. I personally enjoyed viewing them at the wharf where I ran my hand through the water and watched the amazing light show! Check out this youtube video here if you are unsure what I am talking about!
2. Stay at a Lodge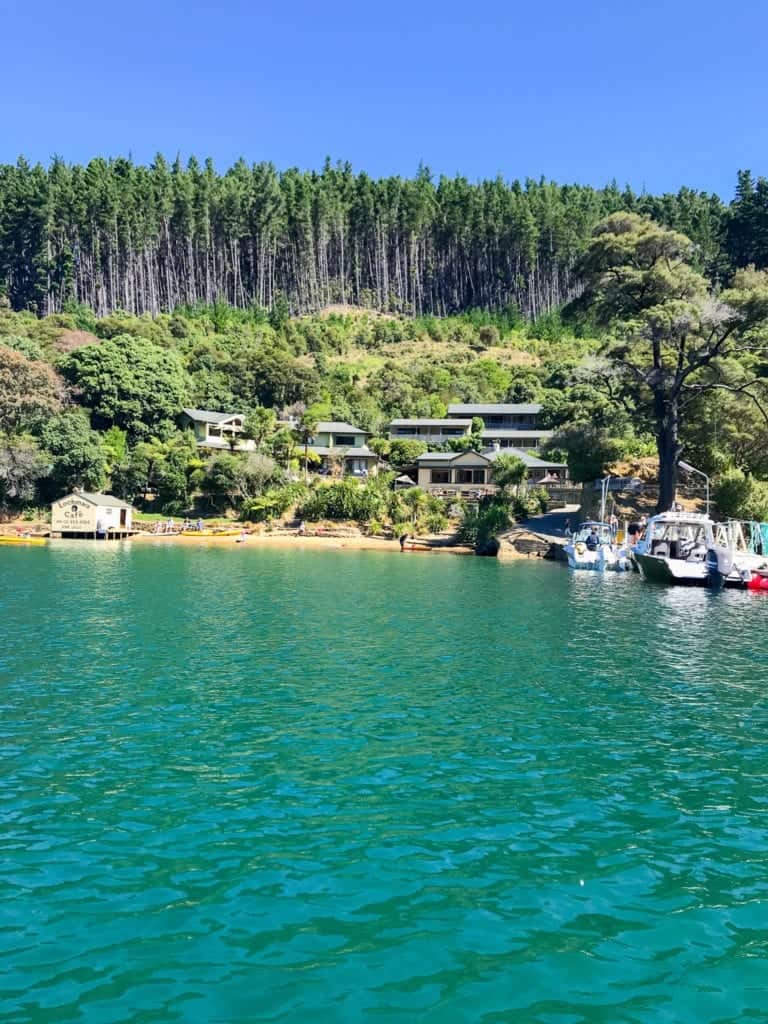 There are many Marlborough sounds lodges to choose from. The most popular sound is Queen Charlotte because it is very easy to access from Picton. If you would really like to get off the grid then Kenepuru or Pelorus Sounds are a good option.
The lodge I recommend is called Lochmara Lodge which is a wonderful hidden oasis a small boat ride away from Picton on the waterfront in the Queen Charlotte Sound. They have units and chalets to choose from.
Lochmara is also a Wildlife Recovery and Arts centre. They offer incredible activities such as cruises, massage, underwater observatory, animal feeding, kayaking, paddle boarding, bush walks, star gazing, laying in hammocks, glow-worm viewing, flying fox a delicious cafe and more.
My favourite thing about Lochmara Lodge was visiting the wildlife. I love Kune Kune pigs and when I was there they had little babies! I hope they are still there when you visit. We also went and had a look at the eels and birds.
But my favourite spot was in the hammocks just above the edge of the water. I truly recommend this place as it is like a little slice of paradise.  This place made me feel revived and I have awesome memories of natural scenery and incredible wildlife.
For other lodges in Marlborough Sounds check out booking.com.
3. Stay at a camping ground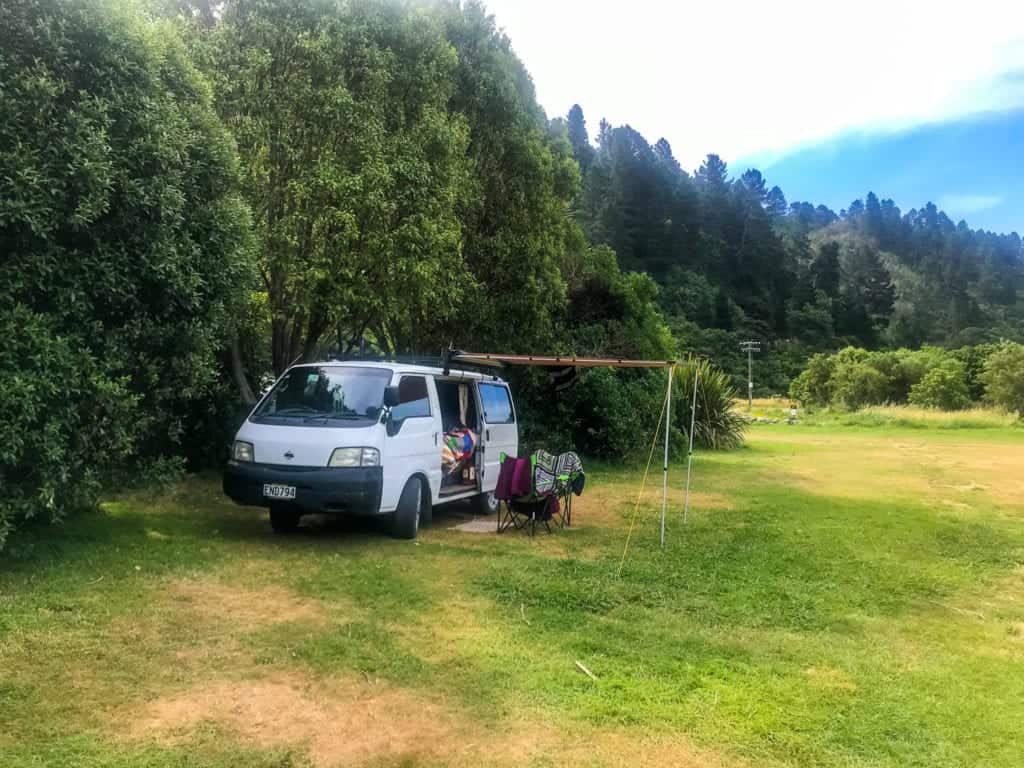 The South Island is an awesome place to go camping. There are numerous stunning Marlborough Sounds campsites to choose from. My favourite way to pick was on the app CamperMate that I mention in all my articles (it's like a one-stop-shop to everything you need for a road trip!). It is a really useful tool to help you find awesome Marlborough Sounds camping spots.
One of my favourite camping grounds to access with a car was 10km out of Picton. The campsite was called Whatamango Bay campsite and it was tucked away out of the hustle and bustle with great views and a relaxed off the grid feel.
The most popular camping grounds are along the Queen Charlotte drive particularly during the holiday season and long weekends.
There are also amazing campsites to choose from if you are hiking. Check out this comprehensive guide of camping options in Marlborough Sounds.
4. Stay at a Resort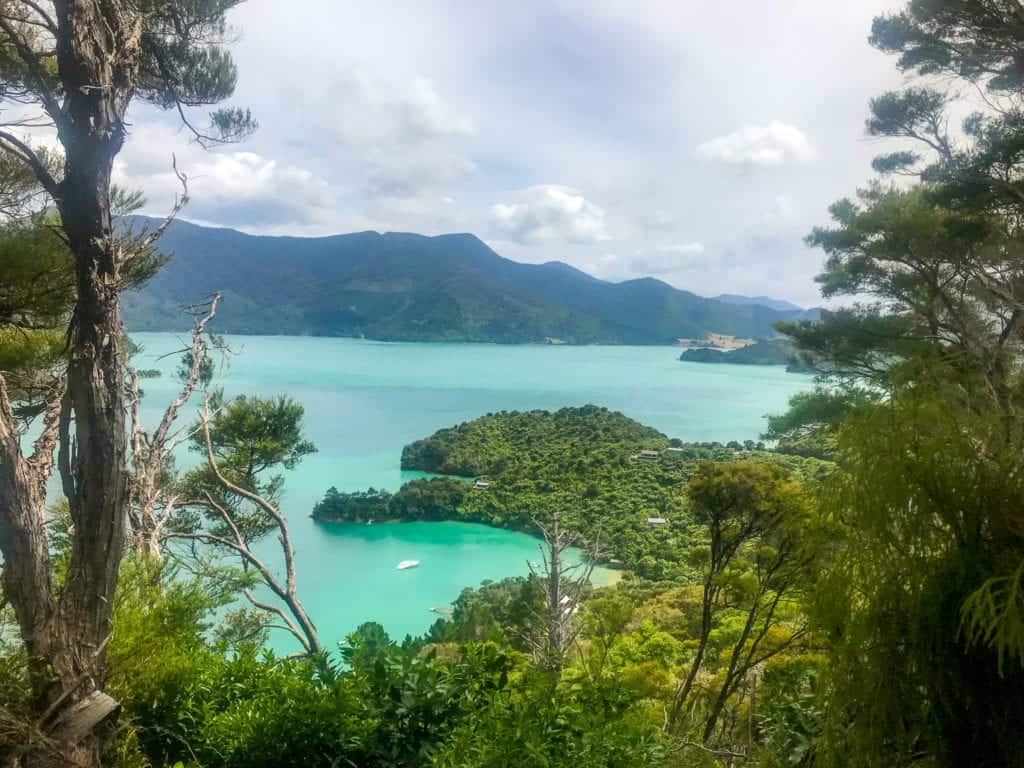 You have lots of luxury accommodation options in Marlborough sounds to choose from. I have heard good things about Bay of Many Coves Lodge. They provide luxury accommodation options, have their own secluded bay, world-class chefs, cruises, spa and lots of other goodies.
5. Try Glam-Camping
Who doesn't want to stay in a yurt?
Ngahere Hou is s stunning destination located on the Queen Charlotte Track at Kenepuru Head in a 40 acre private bush reserve. They have a 6-metre yurt or summerhouse cabin accommodation option to choose from. They also have a hot tub, bbq, private beach bikes, kayaks and awesome wildlife.  An amazing off the grid experience in a breathtaking location.
How do I get to accommodation in Marlborough Sounds?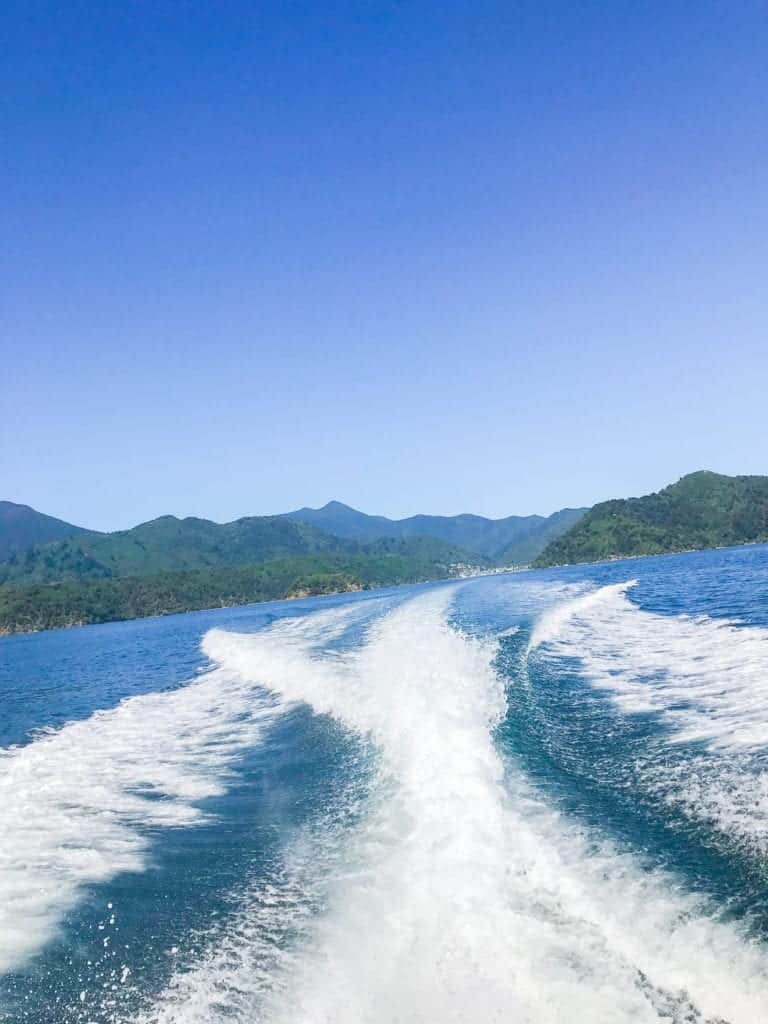 Marlborough Sounds are made up of 4 sounds. Queen Charlotte, Kenepuru, Pelorus, and Mahau. The most popular are Queen Charlotte and Kenepuru. You are able to drive to all sounds but some of the accommodation options and some of the most stunning locations require a boat. Most people get a water taxi from Picton or Havelock.
Most of the accommodation options have a section on their website letting you know how to access them. And some places provide their own transport while others use public water taxi options.
How much does a water taxi cost?
It depends on how far you are travelling and which company you go with. There are a few different companies to choose from and specific lodges and accommodation options also have their own.
It will be a lot cheaper to travel to the Queen Charlotte Sound from Picton. For example, the taxi from Picton to Lochmara Lodge is $30 per adult. The trip only takes 15 minutes but it is a journey in itself. If you're lucky you will be able to see some of the sounds incredible wildlife (we saw dolphins!).
To get a better idea of pricing. Check out a few different companies.
Other accommodation options in Marlborough Sounds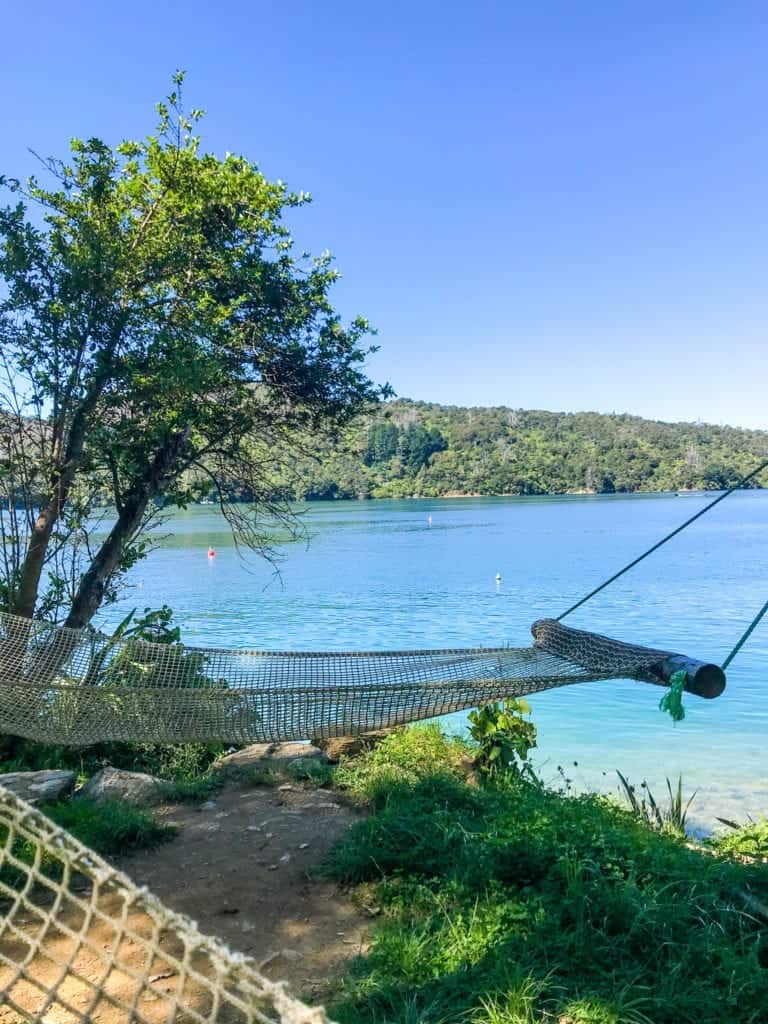 There really are endless options to choose from in all 4 Sounds. I am sure any place you pick will be stunning and a great choice. To help you choose the best accommodation for you I think it is a good idea to think about what you are looking for.
How much are you willing to pay? What activities are you looking at doing? What type of accommodation are you keen on?
The most popular way to find accommodation in Marlborough Sounds NZ is Airbnb (sign up to grab a FREE $69 NZD off your first trip), holiday houses, bachcare, book a bach and my favourite booking.com. 
If you are hiking the Queen Charlotte Track you may like to check out some of the accommodation options along the track. You do not need to camp at Doc campsites the entire journey. Why not add in a splash of luxury after your hard day's hike or bike?
Check out the accommodation options along the Queen Charlotte track here.
Other activities on offer in Marlborough Sounds
The most popular activities in Marlborough Sounds are boating, fishing, diving, hiking and wildlife viewing including dolphin watching (my favourite).
As mentioned above staying in Marlborough Sounds is a great thing to do and while staying at your accommodation you might get the chance to try various activities such as kayaking, spa treatments, cafes, biking, swimming and more. Check out this article on kayaking in the Marlborough Sounds.
But my favourite activity is hiking. There are many Marlborough Sounds walks to choose from the most popular is the Queen Charlotte Track that takes 3-5 days to complete. The great thing about this track is you can do a day walk.
You could also grab a water taxi to and from Picton and walk a section of the track. The easiest option and one I have done many times is a day walk from Anakiwa (home to Outward Bound) to Davies Bay (you do not need to pay for a walking pass to this section).
Check out the Queen Charlotte walking track website here for more details.
Hopefully, this article has helped you decide which Marlborough Sounds accommodation you would like and given you a little taster of what's on offer in this stunning part of the country.
Loved this post on finding accommodation in Marlborough Sounds? Pin these images below for later so you don't forget about the best places to stay!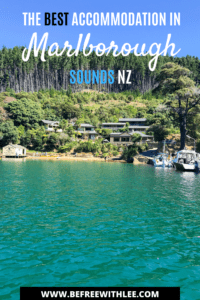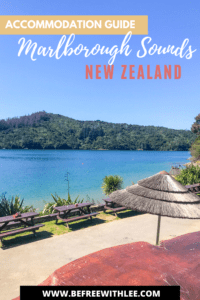 Other articles you might like:
Everything you need to know about travelling the South Island of New Zealand